An Interview with Louise Redknapp
The Beautiful Game
Nobody could accuse Louise Redknapp of being another WAG wannabe. She was already a fully fledged pop star before she met husband and former footballer Jamie, and had a TV career in full flow long before father-in-law Harry nearly bagged the England manager's job.
Here, the mother of two discusses her beauty secrets, her beauty heroes and her beauty faux-pas – as well as the art of growing old gracefully…
Tell us about your hair history. What colours have you been in the past?
I'm naturally quite dark and in my Eternal days my hair was completely untouched. We were very low maintenance. I started having golden highlights added about e years ago and as time went on I gradually got blonder and blonder. About two years ago I shot a front cover for a magazine and couldn't believe how blonde I'd become. It really wasn't a conscious decision; it just slowly built over the years. I decided to go back to my roots recently and turned a wonderful deep chocolate brown. I felt that my hair really needed a break and the rich tones have definitely added shine and condition to my hair.
"Trust my own opinion"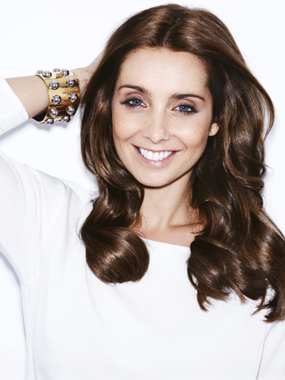 What has been your favourite look or trend to date? Which looks make you cringe?
I've always had fairly long hair so I wouldn't say I've had many "styles", but I did have a fantastic shaggy bob a few years ago. I loved it because it was a proper "style". It was such a different look for me. I could play around with different clothing and accessories like scarves, roll necks and chunky necklaces. I haven't got particularly thick hair so I once had hair extensions woven in. They were absolutely awful – they made my head look square and you could see all the rows underneath my natural hair. They took 12 painful hours to put in and then another 12 hours immediately after to take out!
At what age would you say you felt most confident with how you look?
I think I learnt very early not to be too concerned with what other people thought about how I look. This industry can give you a completely false sense of security going from photoshoots, where you look the absolute best you can, to then seeing pap shots of you, without make-up on holiday. I learnt to ignore it all and just trust my own opinion and instincts. But I'd probably say I've had two periods in my life where I've felt completely comfortable in my own skin. The first was in the early days of my solo career. I didn't over-think how I looked back then and pre-babies, I didn't have all the lumps and bumps. I'd say the other period is now. I'm older, wiser and I've learnt how to make the best of myself. I know what suits me and what doesn't, so I'm confident that I make the most of myself.
"Different shades"
Do you like experimenting with your look?
Being in the music and TV industry, fashions are always changing so I've had lots of clothing looks over the years. I've never really experimented with my hair and make-up looks though to the point of destruction or disaster. I have to feel comfortable with any changes I make, so I spend a lot of time considering the change before I make it. I could have a million stylists telling me to make a change but if I don't feel comfortable with it, I won't be persuaded. The biggest risk I've ever taken was probably having the 6/7 inches cut off for my bob.
Who is your hair icon?
Helena Christensen. I love the colour, the cut, the 'undoneness' of it. I love how she experiments. If I could have anyone's hair it would be hers.
You've gone from blonde to brunette recently, what advice would you give to anyone thinking about a drastic hair colour change?
Do your research, consider your skin tone and always ask for advice if you've already got a colour on your hair – but otherwise I'd say go for it! Hair colour can always be changed back. I've had so many women approach me since turning brunette, saying they've been considering a change for some time but haven't had the guts. It's so refreshing to have a complete change, it can really give you a confidence boost. LIVE Salon Style has a great app on their Facebook page which allows you to try out different shades before you commit, they also have experts online who can advise if you're still not sure.
"Experiment"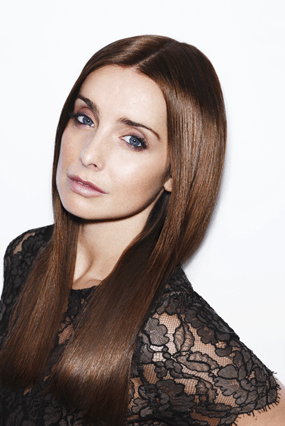 Why is hair colour so important?
The way you present yourself speaks volumes about who you are and how you want to be perceived. Of course a bright red hair colour will say something different to a mousy brown shade. I think as you get older hair colour becomes more important as the texture and intensity of your hair can change. The right hair colour can make you look younger and healthier and give your hair a glossy shine. It can give your 45 year old self the hair you had when you were 25.
What are your top secret beauty tips?
I always use a really good facial scrub before a night out. It gives your skin a lovely natural glow and I love the slightly flushed/rosy look. A good bio oil on your skin works wonders. What is your budget beauty tip? For an intensive hair treat use your usual conditioner and then wrap your hair in a warm towel. It will really replenish your locks.
What is your ultimate style tip?
Dress to suit your shape. By all means experiment with new trends but work with what you've got and pick the trends that work for you. Also invest time in finding a good pair of jeans.
"Healthy choices"
You've got two small children and a busy career, any time-saving tips you can share with us?
For me it's about finding products that are easy to apply. I've been known to put my make up on in the car mirror outside the kids' school, so I look for products that are sheer and don't require a lot of blending. I also believe if you have a good hair colour you can get away with quite a lot. If you haven't had a cut or you haven't had time to style, you can scrape your hair back and the colour will still frame your face beautifully.
How do you keep in shape?
I'm fairly active and go for regular runs but I find Pilates is really brilliant for targeting all of those stubborn areas like arms, bums and tums.
What's your favourite body part?
Honestly, I don't have one. It's really sad isn't it but I'd say I'm fairly ok/mediocre everywhere.
How do you make sure you find time to relax?
I'm really lucky because I do get a lot of help. My mum helps with the kids and we have a lady who lives with us, so when I get home I can just chill. I also know I'm lucky because we get to have nice holidays where I can fully relax. I know people who work a lot harder than me and don't have the same opportunity, so I'm grateful for that.
"Incredibly stylish"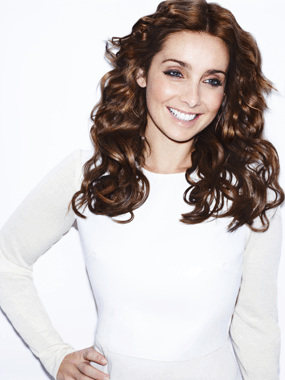 Do you think the media caters for women aged over 35? Do you think women over 35 can identify with popular culture / fashion trends?
I don't really see it like that. I know women who are 25, 35, 45 and 65 who can all wear the same things and do the same things. It's crap that people feel they are too old to wear this or that. You're not too old, you just choose what works for you and have the confidence to go for it. 35 is most definitely the new 25 – some of the world's most beautiful women are over 35 years. Look at Elle McPherson, Cindy Crawford and the original supermodels. We now have the knowledge to look after ourselves much more than previous generations. We know if we smoke 20 a day we'll have terrible skin by the age of 40 and 10 cups of coffee a day will give us cellulite. It's about making healthy choices. Personally, I don't feel at 37 years old there's anything I'm too old to wear.
What do you think ages women the most? Wrinkles, grey hair, frumpy clothing?
Lifestyle. Modern women have so much to contend with. Stress, tension and unhealthy choices will always catch up on you.
What's your opinion on women who dare to bare their grey hair?
I think some women like Dame Judi Dench look fabulous and incredibly stylish with silver hair. I think if you've got the confidence, then be proud. My gran has white hair and is incredibly glamorous; I don't think it ages her. Equally I don't think there is any shame in dyeing your hair if you don't like it. I don't have any grey hairs at the moment but I will probably always colour my hair.
Louise is the face of Schwarzkopf LIVE Salon Style a range of salon-inspired professional quality, permanent home hair colours available nationwide RRP: £5.99. For more information or to try the LIVE Salon Style colour booth app visit facebook.com/livesalonstyle