An Interview with Leigh Francis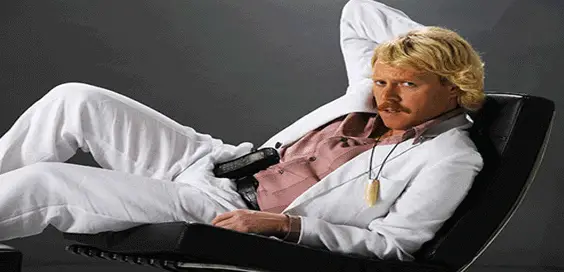 Shy Bo!y
As Leeds-born Leigh Francis leaves his notorious Bo!Selecta masks behind and unleashes his new ITV2 creation, Keith Lemon, he talks to Matt Callard in an exclusive, rare, out-of-character interview.
I'd been forewarned, so I'd come prepared. He just won't talk unless he's in character, they said. So, ever the professional, I'd written two interviews. One for his latest creation Keith Lemon, the fright-wigged, moustachio-ed blonde-bombshell, whose new ITV series sees him globetrotting and trouble-making with a host of willing celebs. The other, more in hope than expectancy – for Leigh Francis, the former graphic art student from Morley in Leeds who'd spent a few years at the Yorkshire Evening Post before Davina McCall happened upon his celebrity mask-madness and gave him his big break on MTV. So, it's with some relief when, despite the Keith Lemon 'tache and hair still being in full-on promotional abundance, Leigh Francis introduces himself as, well, Leigh Francis.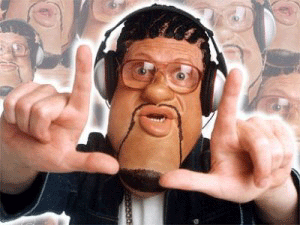 I've a surprise for him too. One of On: Yorkshire Magazine's designers is an old acquaintance of his from their days together as graphic art students at Leeds's Jacob Kramer college. The name jogs his memory, surprises him – disarms him a little too, I feel. Indeed, On:'s hunch that the name of one of Leigh's characters, the frankly terrifying celebrity-stalker Avid Merrion, is inspired by one of his old tutors from those days, one Lem Mierins, and not, as is popularly thought, the hideous eighties shopping-shed that is Leeds's Merrion Centre, proves to be correct.
"Old props"
"That's totally true," he says. "Lem Mierins – that's where the name Merrion comes from, because I didn't know how to spell his surname." Scoop! In fact, by coincidence, Leigh has recently met up with the Latvian artist for the BBC: "I've just done a show called Comedy Maps where they focus on a comedian from a different part of the country. I came back to Leeds and met up with Lem for this show – I was chatting to him. It was great to see him again."
As part of the show, Leigh actually knocked on the door of his old house and was surprised to find some of his prototype designs still languishing there: "I used to keep all my old props in the loft and I went up there and a lot of my old things were there. The people were so nice who lived in the house. They said, 'I think one of your cousins phoned us and asked if they could have them.'"
Whoever those mystery cousins were, they probably had their beady eyes on the pre-cursors to Leigh's iconic Bo! Selecta masks. No doubt with a certain popular auction site in mind.
"When I was making that stuff I had no intentions of being on TV," he says. "I was a graphic designer, so that's what I thought I would become one day. I used to make silly videos and models. My friends would say, "Why do you make 'em?" and I'd go, "So I can show you before we go out." Then they said, "Why don't you send them to TV?" And here I am talking to you!"
"Movie ideas"
He seems genuinely surprised, and not a little humbled, by his success. Bo! Selecta was a bona fide phenomenon and it won't be easy to follow. Have those characters been put to bed for good?
"Never say never again. I don't know if I'd do Avid again, even though I think Bo! In The USA was the best one we did, because the idea of him being a stalker can't really work – he's too well known. That's why we thought of having him own a hotel. But I think the masks can come back. If some weird story about Michael Jackson happened in the press I'd like to do a one-off special – a spoof of that story or whatever."
Does he regret he never waded in for the heavy cash like those other comedy juggernauts, League of Gentlemen and Little Britain and opt for the full-on stage tour or movie?
"I write movie ideas all the time but I get to page five and I go, oh let's do a TV show instead. Everyone keeps saying, 'would you do a Bo! Selecta movie,' and maybe I should have done one when Bo! Selecta was on. I think it's too late now. Whatever the next TV idea is, it would be nice to follow it up with a movie. So if Keith Lemon goes down well, we might do some movie spin-off as him, if I'm lucky enough. It's not just as easy as, 'hey we're gonna do a movie'. You have to do all that begging for money."
"Proper comedian"
And what of his greatest comedy creation – the bed-wetting, spec-wearing, kestrel-brandishing, R&B supernova that is Craig David – surely the music scene is in dire need of more 'Soda Pop'?
"If Craig David keeps slagging me off in the press I'll keep doing him. He let us know how much he liked the show and quoted lines that even I couldn't remember but, over Christmas, he was in the press saying I came up to him in a corridor and apologised for the harmful effects I'd had on his career. He called me a two-faced so-and-so, a one trick pony – absolute rubbish. I never said sorry – I didn't do anything to his career. He wrote his songs, not me."
Quite why a slick, sculptured, wannabe-serious music artist would object to being portrayed as a deluded incontinent, is frankly, beyond On: Magazine. "He's been saying if I was a proper comedian, like Ricky Gervais, I'd move on. Thing is, I'm not a proper comedian. I'm just lucky that my job is messing about."
Despite Leigh's insistence that his comedy is just 'messing about', there's always been a cruel, mean-streak running through the material (Kat Slater's massive, flapping bingo wings, anyone? – ouch). It's hard to gauge whether his material comes from a genuine love of celebrity culture or an absolute hatred and antipathy towards it.
"Likes the spotlight"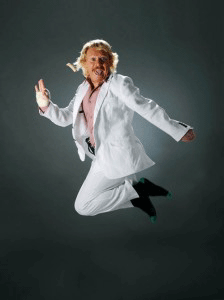 "I did enjoy celebrity and was interested in it. It's hard not to be interested in it. It's weird when some of the people I've done a homage to have ended up as friends. Then I forget that they're celebrities. I think celebrity is changing in general. I watched that Kerry Katona show on MTV (What's the Problem?) and I think, isn't it weird that people are doing those kind of shows and they're celebrities now rather than people who are talented. Now the reality star is a bigger celebrity than an artist. I couldn't believe that show. I couldn't believe that people would want to watch her doing what she does – slagging, swearing and stuff. Don't you work for Iceland? You're gonna wreck your contract."
I wonder aloud who could possibly be advising her, then realise its the big daddy of all PR gurus, a certain Max Clifford. "He's in the show himself. I just thought, eh? You're her agent and you're in the show now. Do you want to be famous as well? He likes the spotlight himself, doesn't he."
So the mask is down. Unsurprisingly, Leigh Francis is normal, unassuming. The razor's edge unpredictability of his best comedy moments are conspicuous by their absence. He's bright and intelligent but seems slightly bewildered why anyone would be interested in Leigh Francis the person at all.
"People have said to me I should do more interviews as myself but I feel a bit egotistical sat talking about myself. I'm not Leigh Francis the stand up comedian. I sell my ideas – so when I'm promoting my ideas I tend to do it in character. I don't really harp on about my personal life. Not that I'm especially private or anything it's just I don't think people are interested really."
"Quite endearing really"
When I try to suggest that people really are genuinely interested, he bristles a little. But he might be warming to the idea. "Well it's funny, I was saying to my agent, when I'm doing these interviews as me I don't feel any pressure to be funny at all. But with a character it's like, right gotta be funny."
And Keith Lemon is funny, by the way. Not as instantly, shockingly, unforgettably, funny as the first time you saw Bo! Selecta. But funny nevertheless.
"I think ITV1 were a bit worried it might be a bit rude for them, but Keith is a character that's not too rude and doesn't swear. If he does swear, it's bleeped because he's worried his mum might watch it. I think he only gets his penis out twice. But pixelated!"
Keith Lemon's Gap Year follows the former Leeds Securipoles salesman as he travels the world with a host of celebrities (Dermot O'Leary, The Kaiser Chiefs, Tamsin Outhwaite, Stephan 'Paul Robinson' Dennis) with an intention to discover traditional cultures, sample local delicacies and visit infamous landmarks. Or, in Keith's words to, "Fatten his horizons and texturise his conversations'. So was this a case of better call the embassy, Keith Lemon's in town?
"No, I think he's quite endearing actually – unlike Avid. I think everyone's scared of Avid. When we went travelling around the world Keith Lemon just made friends with everyone because, unlike me, Keith will just go up to people and have a chat to them. But I'm always a bit shy and nervous. He's a lot more confident than me."
"Stupid hair"
It's an amazing statement, really. Try to get to grips with the notion of a bad hair cut and a dodgy moustache transforming this mild-mannered northerner into a character who seems (I need to make a word up here) 'unembarrassable'. Who needs masks? Actually the whole thing seems, in hindsight, to have been a colossal feat of method acting.
"I was in character for three months. Because we're mixing with real people, I couldn't wear a wig or a fake 'tache or have make-up, really. I grew my hair, dyed it. I've still got the stupid hair and I've still got a 'tache and I've still got a fake tan because it doesn't wash off. I have to walk around every day like I'm the bass player out of Black Lace. All the crew call me Keith Lemon. It's the same crew I've worked with for years so whatever character I'm doing they always call me by their name."
And is there some dark part of Leigh's past that acted as inspiration for this character?
"I don't think he gets the joke"
"My best friend in Leeds is called Keith Lemon, he was also the best man at my wedding and I've known him since I was three. Plus there's elements of a family member which I best not say. I don't know if he'll be pleased. When I showed him some stuff he went: "Leigh, there's people like that!" I went, "Yeah, there is isn't there!" He doesn't get the joke and it's so based on him. I say to my wife, what do you think 'dot-dot-dot' would wear if he's going to Iceland? I'll try and emulate his wardrobe. I showed him it and he wasn't laughing at the clothes because he was wearing them!"
Leigh's carrying a list with him. On it are the names of the people who will be interviewing him today and next to each name is another name – it says either Leigh, Keith or Craig. This is, apparently, the persona Leigh needs to adopt for the next interview. Next up, he's Keith. In an instant Leigh Francis has disappeared. And there goes Keith Lemon, fattening his horizons as he goes.