An Interview with Julian Clary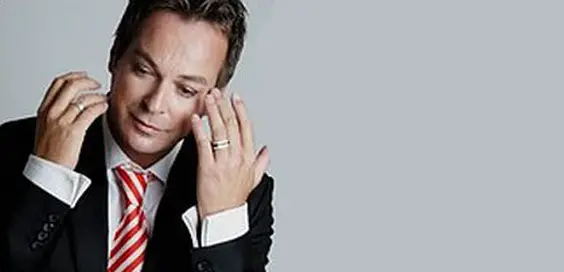 National Trinket
by Matt Callard
He begins, as is his way and, I suppose, his prerogative, with a slight admonishment.
"Matthew, you've ruined my timings!"
I am late. Except, I'm not. I'm early. And then I wait a bit. Until I am late. Oops. So he ticks me off. But I don't protest. Like most things with Julian Clary, it comes with a wink and nudge.
Anyway, we've got 25 years of glamour and glitz, camp and controversy, show-dogs and showbiz to talk about. Plus, Julian's going back on the road and back to his roots for a (very) long stand-up tour called Lord of The Mince. He's billing it as a 'celebration, no less, of my twenty-five years in the camp spotlight: how I got there and why I refuse to leave'. Julian is approaching the dates with, it seems, a new-found vigour.
"I'm very organised. I've a writer and a director and I've been in rehearsals for two weeks. It's quite rejuvenating and invigorating doing all new stuff. The second half of the show, I won't tell you what it is, but it is quite surprising, shall we say, for the audience. We have to have ushers standing by with flasks of brandy in case people are overcome. There are certain elements of audience participation which are improvisational. There's a framework to things and I improvise around a script."
"I'm perfectly alright on stage or off"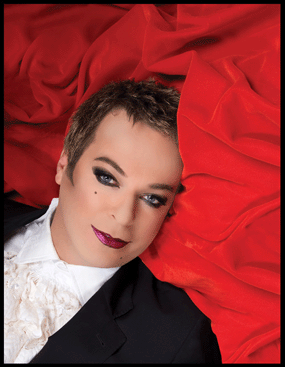 He's certainly looking forward to returning to his 'people'. But Julian doesn't have much time for that hackneyed stand-up cliché about a comedian's unquenchable need for laughter. He remains admirably aloof about the romantic pull of the stage. "Michael Barrymore said he was only ever alive when he was on stage. That after coming off stage, the rest of life was an anti-climax. I thought that was a load of nonsense. I'm perfectly alright on stage or off. I'm just more relaxed about it."
So relaxed, in fact, that he pays scant heed to other comics on the circuit. "I'm going to Edinburgh this year but I've never been too interested in other comics. I mean, I wish them all well and it's lovely to be part of a Comedy Festival because people are geared up for it. But I'm indifferent about my competitors."
Julian's delicate disposition does not seem well-suited to the rigors of three months in the back of a transit van ("Well, you go out of your way to make it comfortable. You get a nice car, a nice driver, a nice lesbian to look after your every need"). The entertainer did turn 50 a matter of weeks ago ("the shame of it"). But this first major tour in five years is certainly a return to his first love.
"I did a one-off gig in Bridlington and it was such good fun"
"I've spent the last few years doing TV and writing books (his acclaimed biography, A Young Man's Passage plus two novels). I did a one-off gig in Bridlington and it was such good fun. I thought, 'I want to do more of that.' I needed some new material – I had to build up to it. Sometimes I think you forget why you started doing something. But it was because I love it and I get the most job satisfaction from it."
I wonder how that satisfaction, the immediate thrill of a good night's stand-up, compares with the satisfaction of, say, writing the last word of a novel?
"They're different things really. When writing, you do a lot of work sitting on your own at a desk. The satisfaction is when you get a finished book and you hold it in your hand. A book is just between you and the reader. When you're on stage you're communicating with whoever turned up – a few hundred people. They're very different but they're both nice things to do. If you say something funny on stage, people laugh and it's gone. If you say it in a book, it might still be there in fifty years, if someone picks the book up."
Most of us know Julian most fondly as an edgy and unpredictable stand-up. But I remind him that there's a whole generation watching him now who'll never have heard of The Joan Collins Fan Club, Sticky Moments, even Fanny The Wonder Dog. They're a generation who might, gasp, have him down as a regular diner at the showbiz supper-clubs. After all, there's been Strictly Come Dancing, This Morning, Who Do You Think You Are, The All Star Talent Show – even a cameo in Neighbours on the CV!
"I have great affection for the early stuff I did"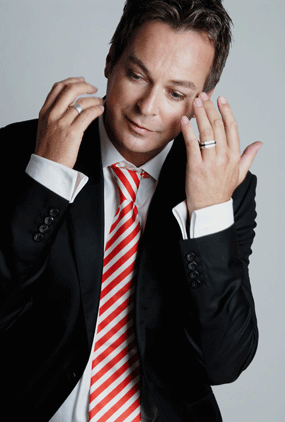 Doesn't it go wildly against his subversive and unpredictable grain to be sitting next to Fern on the This Morning sofa?
"Well, I like to see the fear in people's eyes," he says, with a certain wicked glee. "I think it's quite brave of them to have me. I do sometimes overstep the mark, as we know."
A reference, no doubt, to an unforgettable and, frankly, unmentionable gag about then-Chancellor Norman Lamont that he made on live TV at The British Comedy Awards in 1993. Suffice to say, the punchline was 'talk about a red box!' Such was its impact, the then-ubiquitous TV critic Gary Bushell launched a campaign to prevent him from ever appearing on TV again. Needless to say, it failed.
"It's quite funny really," he says, "because you start off being quite subversive and cult-ish and then, if you hang around long enough, you kind of break down various barriers and you become a bit more mainstream, whether you want to or not."
Even if his stint on This Morning was bereft of Julian's best razor's edge unpredictability, he still professes a preference for the thrill of live TV.
"I have great affection for the early stuff I did, like Sticky Moments. I always preferred everything live. Strictly Come Dancing I enjoyed for the same reason. There I was just a cog in the wheel and, with everybody taking it very seriously, there was room for a bit of comedy. On the live 'Strictly' tour we did earlier this year it was very good to have a laugh when everyone was getting very serious about it."
"I think we're just frustrated showgirls"
I must, of course, do the decent thing and ask about the lovely Valerie, reluctant star of The Underdog Show – Clary's four-legged companion with the slight body odour problem.
"She does whiff a bit. There's a smell of mongrol about her. But I bath her regularly and she doesn't look too bad at the moment. We've a new puppy called Albie, which has rejuvenated Valerie. I've had him about six weeks now. She'll be coming on the rest of the tour with me."
Indeed, Julian is close friends and neighbour to that other advocate of canine on-screen talent, Paul O'Grady ("I think we're just frustrated showgirls, the pair of us"). Does Valerie get on with the famous desktop duo Olga and Buster?
"No, she doesn't like them at all. They're far too rough and ready for her," he laughs.
"I just find different ways of doing the same thing"
There's an important rule being enforced on Julian's new tour and I feel it's my duty to impart it here. It's one that should strike fear into certain sectors of the Yorkshire population. He's employing a strict 'No Corduroy' policy on the doors. When I remind him he has no less than five dates in our region, he shrugs and states 'I fear the worst.' But there will be no compromise and Julian absolutely will not budge. So farmers, Geography teachers and residents of Barnoldswick, beware.
The fundamentals of Julian Clary's act have remained unashamedly the same throughout his career – innuendo, double entendre, self-revelation and a bit of audience humiliation. "I just find different ways of doing the same thing," he confesses with a smile. So, is it finally time then, I wonder aloud, for Julian Clary to be hailed as a bona fide National Showbiz Treasure?
"Oh, I don't know about that," he says. "National Trinket, maybe."