Top-Notch Bathroom Renovation Tips for Homemakers
The bathroom is one of the house's more overlooked but essential rooms. It is where people start and end their days. For some people, it is a place for solitude and reflection; for some, it is one of their favourite places. Homemakers must understand that the bathroom must be as functional and safe as possible.
Renovating a bathroom can be quite a laborious and costly endeavour. As a homeowner, you need to work with reputable and experienced contractors to ensure you receive the best results and deals possible. You must also plan and discuss things with your contractors so you can make the area as safe as possible.
Here are some renovation tips to consider.
Create a working budget
Before undergoing such a huge project, you must have a working budget to make the right decisions with your contractors. You must have a base working budget with at least 20 per cent additional for unforeseen contingencies. If you want a major renovation, consider the cost of a walk in bath, new tiles, lighting, and other similar factors to keep their bathrooms safe and functional. These things must be on top of the list if you wish for a better space.
Determine the bathroom layout
Once you have chosen to redo your bathrooms, you have to determine the layout for the area. Discuss with your contractor on where to situate the sink, water closet, and bathtub with shower enclosure, among other things. You must have an idea of how to fit the important fixtures and fittings to make your home not only safe but also as personalised as possible.
Enhancing Your Bathroom with Quality and Style
When embarking on a bathroom renovation, choosing the right fixtures and accessories can greatly enhance both the functionality and aesthetics of your space. House of Enki, an online bathroom specialist, provides a wide range of products to suit various styles. Their traditional shower sets are an ideal choice for those who favour a period design, and are available in a range of finishes from chrome to antique bronze. These sets are manufactured to the highest standards, ensuring they combine traditional style with modern functionality seamlessly.
Consider windows and lighting fixtures
One of the best things you can do to make the site safe is to install windows with privacy film to let natural light inside. It can make the area look larger and more ventilated. Additionally, you can install good lighting fixtures to ensure people will see properly inside the area.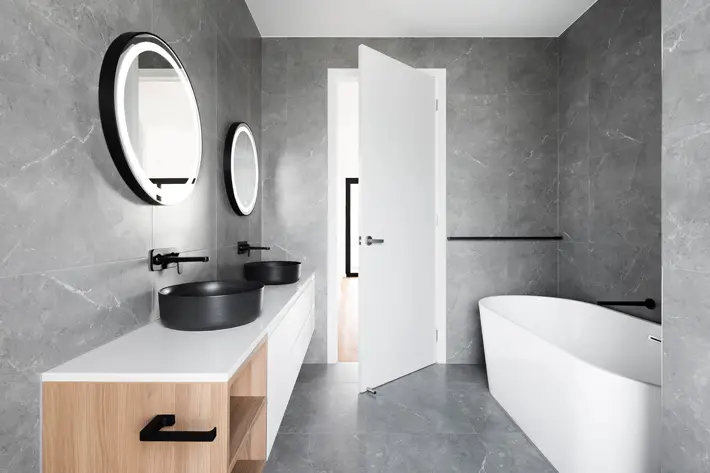 Add storage
It will also be great to install additional storage to keep toiletries, cosmetics, and linen. A cabinet under the sink will do wonders for such purposes. You can also add recessed ledges to accommodate candles and other beauty products. You can also add shelves as necessary.
Choose flooring wisely
One of the most important things to consider is changing the flooring, especially if they're slippery when wet. Select floor tiles with textured surfaces to help people avoid accidents. Avoid using wooden flooring materials inside the bathroom because they're more susceptible to water damage.
Consider colour
If you want to make the bathroom as personalised as possible, look into painting the walls with vibrant colours, or you can also use wallpaper to make the space even more unique. Consider using complementary colours so your floors, ceilings, walls, and fixtures will have design cohesion. You can also hang artwork or framed prints to make the space more aesthetic.
Conclusion
Renovating the bathroom can be a labour-intensive and pricey proposition. You must consider various factors to ensure the area is safe, aesthetically pleasing, and fully functional.