Staycation Inspiration: How To Turn Your Home Into a 5-Star Getaway
With the pause button firmly pressed on holidays abroad, Brits everywhere are preparing for a summer spent at home staycation style. From sipping on your favourite quaratinis to styling your garden to suit a Mediterranean feel, together with Wayfair, we're sharing our tips on how to transform your home into a 5-star luxury getaway.
Start By Dining Al Fresco
As the golden hour glows through your outdoor space, channel the sunkissed colours of the Mediterranean by using your brightest and boldest table and glassware. Mimic the service you'd expect from eating out on holiday by strategically placing a few pre-dinner snacks on your tabletop, as well as a centrepiece of hand-picked florals and settle into an al fresco Friday evening at home.
Amp Up The Greenery
Incorporate some lush and leafy greenery into your less-than-groomed garden by mixing beautiful lemon and olive trees, complete with twinkling fairy lights or lanterns. Faux plants offer an affordable and easy fix and all without the need for the exotic climate.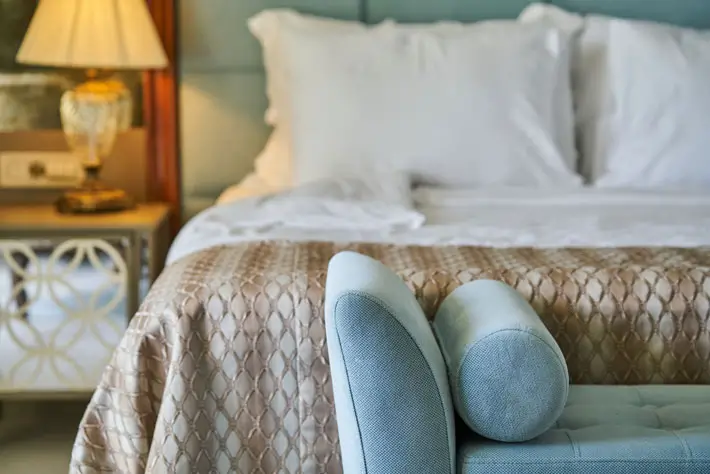 Give Your Bedroom a Hotel-Style Makeover
Mirror that first-night on holiday effect by switching your everyday bedsheets for something a little more luxury hotel. Bedding sets that come with a high thread count cotton will give your bed that instant 5-star feeling, whilst placing a little pillow mint adds to the vacation vibe.
Happy Hour Every Hour
Missing out on the all-inclusive aspect of your holiday? Sitting paddling poolside with a good book provides the perfect opportunity for sipping on your favourite quarantini, so remember to keep a well-stocked bar cart or wine rack for whenever the mood takes you.
Make Time for Me
With emails set to OOO, there's no excuse not to reserve some time to pamper and polish. Create a spa-style ambience by adding some extra bubbles to your bath, popping on a fridge-cooled face mask and allowing yourself to sit back, relax and release your inner goddess.