How a Greenhouse Can Extend the Growing Season Through Winter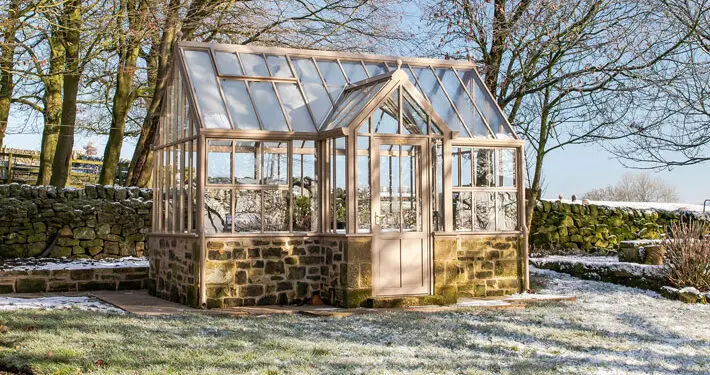 The winter months may seem like the end of the growing season, but for those with a Glasshouse or Greenhouse, the growing bounties of your garden can continue. This is one of the most exciting things about Greenhouse ownership – that you are not limited or dictated to by the changing seasons. You will be surprised and delighted by what you can grow, not to mention being able to potter in your garden when its miserable outside.
Luxury Glasshouse manufacturer Hartley Botanic, gives an insight into just some of the edibles and crops which can be grown in a Greenhouse, as well as how to prepare for this 'under glass' winter season. Insight has been taken from Hartley Botanic's online magazine, which provides a wealth of knowledge and inspiration.
Winter edibles
Greenhouses can produce many crops for eating fresh throughout winter. Even tender summer edibles: cucumbers, tomatoes, peppers and aubergines, can grow on for many weeks under cover. Most herbs can also be grown under cover through winter, so it's worth potting extra for this purpose, even hardy ones as their foliage remains softer and more aromatic. Thyme, parsley, mint and chives are always useful.
Watercress is so nutritious and easy to grow through winter, simply insert pieces of fresh stems from the supermarket into trays of moist rich compost and it will grow enthusiastically. During autumn and winter you can actually grow heads of lettuce (though you need the right varieties!) but it's so much simpler to grow trays of seedling leaves which you then harvest by scissoring off a handful.
Exciting, nutrient-rich salads throughout winter
When it comes to winter salad leaves, a whole variety can be grown in your Greenhouse and all the following varieties can be grown without extra heat required. Just some interesting types include the chunky-leaved mizunda 'Waido,' dark-leaved F1 'Red,' F1 Kuro (a hybrid between tatsoi and pak choi), yellow 'Santo Round Leaved' and dark 'Green Boy.' You can also try Chinese salad cabbage 'Bekana', with long, juicy midribs to its leaves; 'Yukina', a giant tatsoi making rosettes of crinkly leaves, and 'Mispoona', a hybrid between mizuna and tatsoi.
Sew your salad leaves in multi-cell trays of peat-free compost. Leave them to germinate on Greenhouse staging, and then aim to plant around early November, into bigger pots. If your Greenhouse is not heated, to move things along you could bring the sowings into a warm room at night to speed up germination. You will be able to regularly pick salad leaves several times a week and they will taste much better than any bagged salad you can buy. Water sparingly and ensure the Greenhouse stays well ventilated to ward off grey mould (botrytis) caused by stale, damp air.
Flowers in winter
One of the delights of having a Greenhouse is to produce out-of-season flowers. By providing extra warmth, plants which are normally dormant during winter can be 'woken early' and will look their best several months ahead of those grown naturally outdoors.
Popular spring bulbs or corms, including tulips, narcissus, hyacinths, crocus, florists' anemones and Dutch irises can be forced into flower from midwinter onwards. Some, such as hyacinths, are often available as 'prepared' bulbs, i.e. they have been treated to simulate an artificial winter and will therefore spring into growth as soon as planted.
Narcissus can be planted at two levels, in a bowl or pot, for mixed displays of blossom. Bulbs grown in borders or growing-bags for cut flowers can be planted densely to maximise the crop. Forcing provides an excellent out-of season display, but exhausts the bulbs. They should be discarded after use.
Non-hardy bulbs or corms such as Hymenocallis, Veltheimia and moisture-loving Watsonia can all be safely grown in a Greenhouse during winter. Gladiolus, Tigridia and the more tender species of Agapanthus, can be grown on in warmth until early summer, and then planted outdoors a few weeks before they are due to flower.
If you have a Greenhouse bed and like to grow summer food crops, a good winter use for the vacant space is to raise cut flowers. Specially bred strains of antirrhinums and ten-week stocks, for example, will produce superb spikes for cutting. Freesias can be grown for display or cutting and flower naturally in late winter and thrive in a cool Greenhouse. Also try polyanthus (Primula), Molucella or 'bells of Ireland' and for later in the year, Eustoma (prairie gentian). All these plants are easy to grow and will give impressive results.
Preparing for winter growing – Heat
Heating your Greenhouse will help you to grow more in winter than an unheated one. Fortunately, just adding enough heating to prevent the temperature ever dropping below zero enables many crops to survive. Greenhouse heating needn't be costly and systems range from providing background warmth against frost to constant heating.
Most people heat their Greenhouses with electricity, paraffin or bottled gas. You can install gas or oil-fired central heating, of course, or even a solid fuel boiler, but most gardeners will just want to plug in and switch on.
Electricity is not cheap – nor is any source of purchased energy – but with modern heaters, and with an insulated structure, you can keep running costs to a minimum. Electric fan heaters which circulate the air are efficient, but it is worth investing in a good-quality model which is equipped with an accurate thermostat. The better heaters move a greater volume of air, improving overall ventilation, reducing air stagnation and thereby reducing risks of fungal diseases such as botrytis (grey mould), particularly in winter.
Heaters powered by paraffin or bottled gas may be less expensive to run but are not quite as reliable, or as convenient, as electric ones. Paraffin can produce unpleasant or toxic fumes if the wicks are not correctly trimmed, and the heaters need to be filled and checked regularly. They are useful for background warmth, rather than for significantly lifting the temperature. The better gas heaters are fitted with thermostats and may provide up to 3kw of heat. With gas, in addition to the heater itself, you will need two gas bottles, preferably installed outside the Greenhouse, with the gas delivery hose running under the frame. A regulator will be necessary for each bottle. You will also benefit from using an automatic switch-over device. This will begin drawing from the full cylinder when the one in current use is empty and will indicate which needs replacing.
One of the most economical heating systems is simply to warm soil, either in a bed, or propagation bench. Soil-warming cable provides heat where it is most needed, at the roots, so even if top-growth is cold-damaged, the roots will survive. Cable is safe and easy to install and, with a thermostat, lets you control soil temperature more accurately. It is particularly useful for protecting young plants in cold times of the year. Its performance depends on the cable type, prevailing temperatures and how the system is installed, e.g. a 6m cable consumes 75 watts and correctly installed will sustain temperatures between 15°C and 25°C per square metre of covered bench. Cover plants with fleece or a canopy of translucent sheeting to retain heat.
Preparing for winter growing – Light
Don't forget that it's often low light, rather than the cold, which is the biggest hindrance to plant growth. Recently developed LED daylight lighting units are a tremendous benefit, the extra light is exactly what plants need during the darkest days. And the cost of buying and running these is much less than older units, making them even more valuable. (Plus, they will be more help in spring when their extra light produces much better seedlings.)
For more Greenhouse gardening help and advice, Hartley Botanic's online magazine offers a wealth of information.