Beth Chatto – A Gardening Pioneer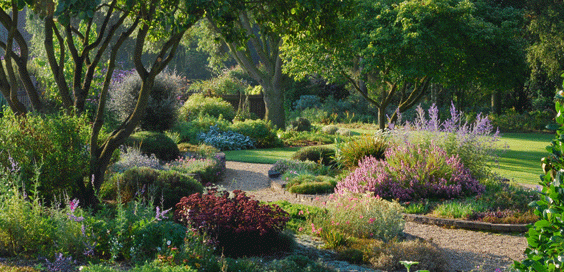 Queen of Colour
by Barney Bardsley
My mother was a formidable woman and a fine instinctive gardener. I learned it all from her – a no-nonsense love of plants, in which there was no place at all for delicate hot housing, but plenty of enthusiasm for all things green. She favoured a strong, natural, slightly rambunctious style. Gardening with gusto, if you like.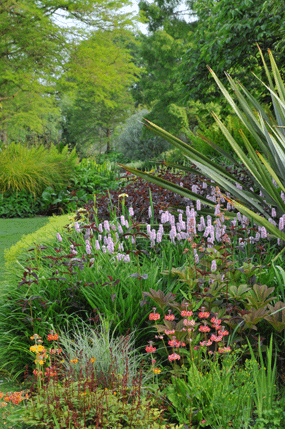 As a plain speaking northerner, mother did not harbour a place for heroes in her heart, preferring the company of "commoners" to fancy folk, any old day. But there was one woman – also a gardener – whose name she always mentioned with something approaching reverence and definite high regard. This woman, now in her late eighties, is the veritable high priestess of sophisticated contemporary gardening: Beth Chatto. Practically a living legend in the gardening world; yes, mother chose her icons with care.
Beth Chatto's Gardens, in Elmstead Market, near Colchester, are situated just a few miles from where I grew up, and constitute one of the few good reasons for taking a trip south to the otherwise somewhat boring (landscape-wise) county of Essex. Back in 1960, when Chatto bought the plot with her husband Andrew, there was no garden there at all: just an unpromising, derelict piece of land between two farms – never cultivated, because the terrain was so difficult. But Chatto was determined.
"The right plant in the right place"
She decided to garden ecologically, and in sympathy with the prevailing conditions, long before such an approach became fashionable. This was the era of highly-coloured cultivars – chrysanthemums, dahlias, roses – all grown in tightly controlled borders, with a neatly clipped lawn in the centre. Everything very regimented, and sprayed with pesticides to within an inch of its natural life. But Chatto broke the mould, steering herself in a wilder and more original direction from the start.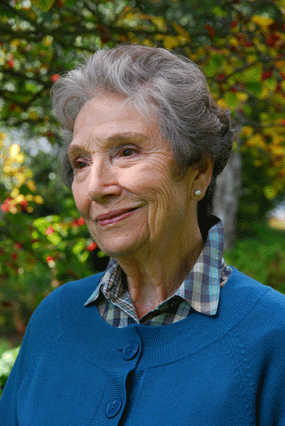 Influenced by her husband Andrew, who made an intensive study of plants in their native habitat, she came up with the eminently sensible notion of "the right plant in the right place". She looked at her difficult piece of land – boggy at the bottom, arid and poor at the top – and investigated which species of plants might be able to grow in each situation with grace and ease, instead of forcing things to survive artificially, which was the prevailing fashion.
The result, developed organically over half a century, and still evolving, is an exquisite and varied landscape. And to go with it, two seminal gardening works: The Dry Garden and The Damp Garden, steering us presciently onwards, in our drastically changed climate of unpredictable heatwaves and semi-monsoon downpours. Although she may not have realised it at the time, Beth Chatto saw the future, in her innovative approach to gardening – always working with, rather than against the situation. And in her hands: the future is beautiful.
"Lush but discreet greenery"
There are three main chambers to the Elmstead gardens: gravel, water and woodland themed. Loveliest by far are the linking pools in the shallow valley, densely planted with Gunnera, Phormium and Miscanthus. The tranquillity of this place, with its lush but discreet greenery, seems to reflect the natural reticence of its creator. For despite her great fame, Chatto is a reluctant interviewee. It is the work itself which must speak. And here it is: a language of harmony, depth and flow.
At the far end of the garden is the woodland – developed after the 1987 hurricane which devastated so many of South East England's mighty old woodlands. Here, native Oaks predominate, forming a natural canopy for spring crops of snowdrop, aconite and hellebore, and vibrant Cyclamen and Japanese Anemone come autumn.
"Always clear in her intention"
It is, however, the newest section of the garden – the Gravel Garden, from 1991 – which attracts most accolade and attention. In this area the soil is poor, water retention negligible. Only the most specific of plants, adapted to drought and thin, scratchy ground, will thrive. So Chatto has turned to evergreens and evergreys, where the leaves are needle thin, or furry and fat, to retain moisture: Lavender, Cistus (rock rose) and Ballota; bulbs of Allium, Tulip and Agapanthus; drought-resistant grasses. The craze in this country for grasses and for Mediterranean natives is now common-place – but Chatto got there first. And now she has added a Scree garden too: raised beds made of ex-council paving (!), for the tinier water retentive plants such as alpines and delicately patterned sedum.
Nothing in this serene and graceful garden ever shouts its name. But everything looks perfectly in place. In a rare interview with The Telegraph, when they ask what are her "Desert Island plants", Chatto seems rather appalled by the question. Why must there be a competition? But when pushed, she chose subtle, foliage-rich specimens, such as the winter-lovely Helleborus orientalis (Christmas and Lenten Rose), the wine-coloured Bergenias and the ballerina-pretty tree, Amelanchier lamarckii. Always she is clear in her intention.
"Plants", she says, "like people, have their preferences and don't like being thrust into the nearest available hole. What are the conditions?"
"Knowledge of the ground beneath her feet"
Once, walking round the gardens with my mother, we caught sight of Chatto, pottering discreetly in the separate garden to her house, which borders the public space. With a large floppy hat and a reticent demeanour, she seemed more like a quiet shadow, falling across her beloved land, than the patron of a world-famous garden. While he still lived, Chatto was great friends with the redoubtable Christopher Lloyd, 'Christo', another gardening éminence grise and proprietor of Great Dixter in East Sussex.
Lloyd was as flamboyant as Chatto is reticent. He famously dug up the rose gardens at Dixter and whacked in a rainbow of sub-tropical colours in its place. This started a life long love affair with wild colour. "We do not all want to float endlessly among silvers, greys and tender pinks…" he declared. "Some prefer a bright, brash midday glare with plenty of stuffing."
Christopher Lloyd was, I think, Yang to Beth Chatto's Yin. Not for her the glare of primary colours and a thousand different blooms. But not for her either, the wishy-washy cottage garden blur so cheekily dismissed by Christo. Chatto's particular genius lies in her deep, subtle awareness of foliage, texture, structure and design. Her love of the wild is tempered both by an artist's awareness of style and symmetry, and a pragmatist's knowledge of the ground beneath her feet. Yet her passion is cool, but ardent. Her vision long-lasting and transformative. So my mother knew best all along…
bethchatto.co.uk
01206 822007
Open Mon-Sat 9-5, Sun 10-5, £6
Pictures courtesy of The Beth Chatto Gardens Ltd