The Wensleydale Heifer – Restaurant Review
The Wensleydale Heifer
Restaurant Review
by Paul Howard
The Wensleydale Heifer is a restaurant with rooms in the Yorkshire Dales. It's a transformed seventeenth-century inn at West Witton, four miles from Leyburn. From the outside, it looks rather like any typical traditional Dales pub. However, the inside is quite a different matter. The only clue to this before you enter is the quirky pub sign, announcing 'Restaurant and Fish Bar'.
Owner and chef David Moss, who hails from nearby Darlington, has had a long career in fish cuisine since working at the Michelin-starred Longueville Manor in the Channel Islands. He still works five days per week in the kitchen alongside Head Chef Craig Keenan and a highly skilled team.
Eleven years ago, David and his father Lewis bought the severely run-down Wensleydale Heifer. They have continually developed and improved it ever since. A hit from day one, it has an enviable reputation, especially for seafood such as lobster, crab and oysters.
Looking back, he said that opening here was "a bit of a gamble". However, concentrating on quality and value in a uniquely personal way has paid off handsomely. With the food, he buys only impeccably fresh ingredients and cooks them superbly so that the flavours can speak for themselves. The same approach applies to the rooms.
"Nothing short of a Sistine Chapel for chocoholics"
The Wensleydale Heifer has thirteen rooms, including four in a converted annex next door. Each is superbly appointed, with no expense spared on décor, mod-cons or little extras. They all have individual character and style. You can choose from a variety of traditional Yorkshire Dales country themes in the main building, or you can decide to stay in something more unusual by selecting one of those four rooms.
How about the James Bond Room with authentic memorabilia, or the Movies Room for Hollywood-style glamour? For romance, look no further than the Champagne Room, decorated in fin de siècle style with a mini-bar containing, well, guess what?
We choose the room called Chocolate Heaven. Highly appropriate because we are staying on National Chocolate Day. With rich cream and brown decor, there are unlimited supplies of chocolate provided. We find delicious home-made truffles on the bedside table and drawers crammed with confectionary. Creature comforts such as air conditioning, wi-fi, bathrobes and toiletries ensure luxury. Painted cherub and chocolate motifs adorn the elegant en-suite bathroom, nothing short of a Sistine Chapel for chocoholics. Eat as much as you like, but remember that you're here to dine later!
Taking some chocolate rations with us, we go for a short afternoon walk to work up an appetite.
"Portions are, shall we say, generous"
A path opposite the main entrance quickly gives rise to views across Wensleydale, with Castle Bolton in the middle distance. This area is Racehorse country, with stables dotted throughout the valley. Dry-stone walls, barns, cows and sheep complete a serene autumnal setting, with vibrant colours and fallen leaves underfoot.
On returning, we hunker down in the Snug in front of a crackling wood fire. It is time for coffee or something stronger. A complimentary seafood chowder was the first delicious indicator of food pleasures to come.
Take your time studying the dinner menu, or rather the menus. There's the Lobster menu, served eight different ways. Those preferring meat have the Grill Room menu, with succulent steaks and Chateaubriand, or why not go surf 'n' turf?
Meanwhile, vegetarians and vegans aren't left out. There are gluten-free options too. You'll also find daily specials, Sunday Roasts and lunchtime snacks at the appropriate times. It's refreshing to see a warm welcome for children too. They have a carefully designed menu and get balloons and party bags. Lucky them!
We choose from the Resident's menu, but you can go à la cartetoo. If you just want traditional fish and chips, then the Wensleydale Heifer holds the Guinness world record for the largest serving of fish and chips, weighing in at over 101 lbs. Portions are, shall we say, generous.
"I'd love to see a Franciacorta fizz added to the list"
The Wensleydale Heifer can seat up to 110 covers when using the dining room and the adjacent bars, but there's plenty of space to relax.
Eager diners are already occupying the lovely contemporary dining room when we go to our table. With cream stone walls, it is stylishly fitted out, with smart and helpful uniformed service led by Julie Marlow. Even the crockery is delightful. It's not remotely stuffy, but it's worth getting dressed up for a high-rolling evening out or special occasion.
For a more informal setting, the Fish Bar, Snug and Bar areas have a different atmosphere but the same brilliant food and service. There's a big garden for summer dining too. Take your pick.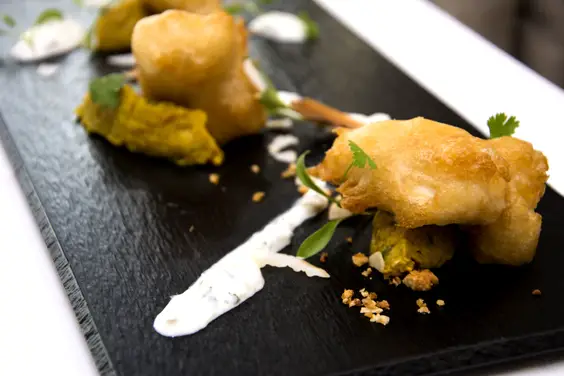 As for drinks, the beer is local, from Black Sheep in Masham, or try their own bitter, Heifer Gold, brewed in nearby Askrigg. There's an excellent Gin range and plenty of other spirits too.
Manager Vince Bako controls the wine list. He is on hand to advise. Wine is available by the glass, with bottles to suit every pocket. If you want to splash out then iconic wines such as Tignanello, Solaia, and Cristal have modest markups. I'd love to see a Franciacorta fizz added to the list in the future and also a fino sherry, given that Carlingford oysters are on the menu.
Time to dine. First, the bread and canapés arrive, a delicate smoked mackerel mousse that is a real palate pleaser. We enjoy glasses of Heifer House Champagne with this, a big sherbety mouthful made for them by Testulat.
"Desserts show great imagination"
For starters, I choose whitebait. Each fish is individual, the peppery batter light, the tartare sauce piquant. I frequently order whitebait, but this is the best I've eaten. My partner favours crispy chilli salt squid with fennel, red onion and coriander salad. Both these dishes sound straightforward, but the execution is exquisite.
The main courses then demonstrate a masterclass in sophisticated fusion cookery. Herb-crusted Hake on a bed of parmesan risotto is a delight, a truly melt-in-the-mouth experience. No wonder this is a perennial favourite here.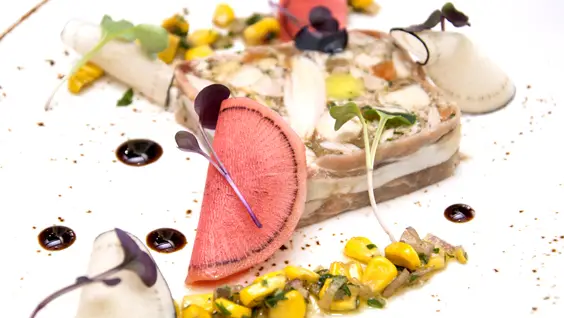 My partner chooses Maple Roast Lobster salad, the house signature dish. It is a combo of the finest Canadian Lobster, king scallops, tiger prawns, pork belly and smoked bacon that comes all dressed up in Manitoba maple syrup. It's a must-try for any visitor.
Vince recommends a Grüner Veltliner to match these courses, which is a new addition to the list. This Austrian dry white wine has a typical white pepper, green fruit and dill character and proves to be an ideal counterpoint.
The desserts show great imagination. Vanilla Crème Brûlée with shortbread is creamily excellent, though the star is a scrumptious Lemon Trio consisting of individual Posset, Crème Brûlée and Baked Alaska.
"We leave grinning from ear to ear"
Retiring to the Snug with coffee and digestives, we then discover the decoration in the Ladies and the Gents. Adorned in the style of those saucy seaside postcards from yesteryear they are an amusing talking point. Oo-er missus! It sums up the refined yet playful ambience that pervades the Heifer.
Their award-winning breakfasts will set you up for the day ahead. Full Yorkshire is one option, so are Whitby kippers. A special mention goes to the homemade granola.
Afterwards, we speak to David Moss. He likes to talk to guests as he's constantly trying to improve. His motto is "we want everyone to leave smiling". He has a natural marketing instinct, always looking for new unique experiences.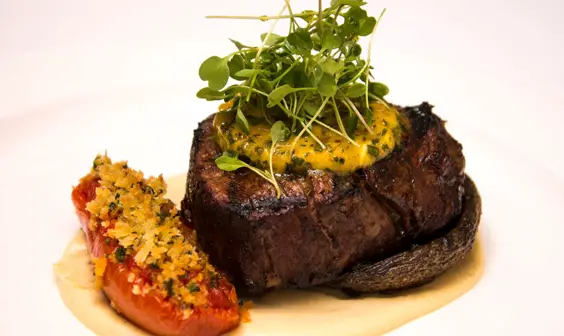 Examples of this are legion; whether it be regular competitions on Facebook and Twitter, coming up with new packages, producing their charity calendar or investing in a filter system to provide their own still and sparkling water. The Heifer is dog-friendly in most areas, so you can even bring your canine companion with you.
Ours was a special visit in every way. The Wensleydale Heifer is AA 5* accredited, received the AA Fish Restaurant of the Year award and is in the Michelin Guide. They've just been judged as the Best Seafood Establishment in the North of England too. So don't just take my word for it.
Arming ourselves with a bag of granola, more chocolates and the charity calendar to take home, we bid a reluctant farewell. We leave grinning from ear to ear, having never stopped doing so throughout our stay. It lasted for a long time afterwards.
The Wensleydale Heifer, Main Street, West Witton, Leyburn, North Yorkshire, DL8 4LS
01969 622 322
wensleydaleheifer.co.uk