Turkey Burgers with Cranberry and Pecan Sauce – Recipe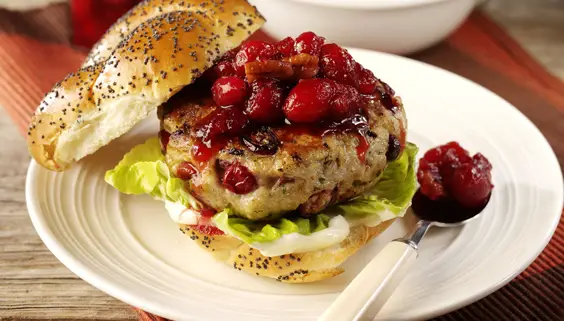 Turkey Burgers with Cranberry and Pecan Sauce
Recipe
Celebrate Christmas or any other special occasion by serving these tasty turkey burgers either as canapés, or as quarter pounders, with plenty of cranberry crunch and lashings of cranberry sauce to sink your teeth into.
Makes 4 large burgers or 10 canapé size burgers
Prep time: 30 minutes
Cooking time: 20 minutes
Ingredients
For the burgers:
500g turkey mince
2 shallots, peeled and finely chopped
1 clove garlic, crushed
100g rolled oats
1 egg, lightly beaten
1 tbsps parsley, finely chopped
Oil
For the cranberry and pecan sauce:
250g fresh cranberries
100ml maple syrup
Juice and grated zest 1 orange
25g pecans
To serve:
4 large baps or 10 mini rolls
Mayonnaise
Lettuce
Method
Place all the ingredients for the burgers into a large bowl, mix together and press into either four large patties or 10 small ones. Place on a tray and refrigerate for at least half an hour.
Put the cranberries, maple syrup and orange juice and zest into a saucepan, bring to a simmer and cook until softened and syrupy, then add the pecans.
Cook the burgers either in a griddle or frying pan in a little oil, over a medium heat for approximately 10-12 minutes each side for the large ones and 5-7 minutes for the small. Make sure to check they are cooked through and piping hot.
Serve in warm baps or mini rolls spread with mayonnaise, topped with a little lettuce and a good spoonful of the cranberry and pecan sauce.
Cooks Tip: To make a version from left-over turkey simply chop or mince left over dark and white cooked Turkey meat, add some breadcrumbs and a beaten egg or a little mayonnaise to bind, form into patties and fry until golden and piping hot. Serve as above with the cranberry and pecan sauce.
recipe and images courtesy of berryworld.com