Union Square Bar & Kitchen, Leeds – Restaurant Review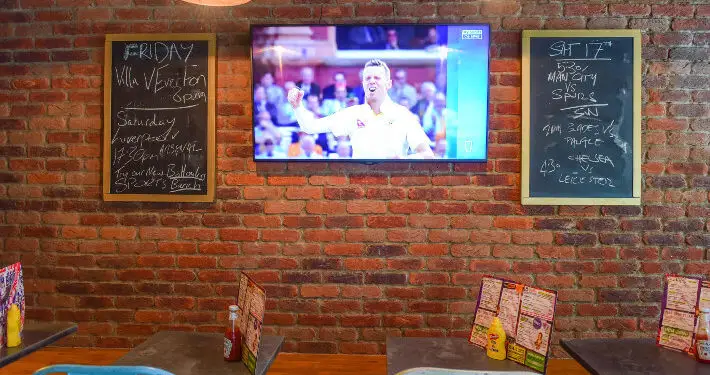 The bottomless brunch thing has become a part of Leeds' Saturday scene over the last couple of years. And the latest bar to pitch up and offer their own spin on it is Union Square Bar and Kitchen.
I was invited along to give their bottomless sports brunch a try, so we rocked up in time for kick-off for the Sheffield Wednesday v Leeds United game in October.
"Bright and funky"
Union Square is a bright and funky kind of bar, based loosely on an American sports diner. It's on the top side of the Merrion Centre, handy for the FD Arena and in good company with the newly established bars and restaurants on Merrion Way.
And the way they work their sports brunch is different from anywhere else.  It starts when the Saturday lunchtime televised match kicks off, and ends at the final whistle.  So, with half-time, injury time and any dreaded VAR delays, you might be getting a good couple of hours of brunch time in Union Square.
For those who do bottomless brunch a lot, you'll know the usual format means you have a food selection brought to your table, and staff are constantly mingling between tables. They'll top up your glass of prosecco, or ask if you'd like another bottle of lager. It's different at Union Square though. For £25pp the bottomless sports brunch is more geared towards your all-inclusive holiday kind of thing. In fact, when we arrived that was how it was put to us, and we received a stamp on our hands. It was explained to us that people would be wandering around the tables to supply us with our drinks, but to feel free to go to the bar as and when we pleased. So, we grabbed a bottle of Corona and a glass of prosecco, and were given a booth in the corner of the room.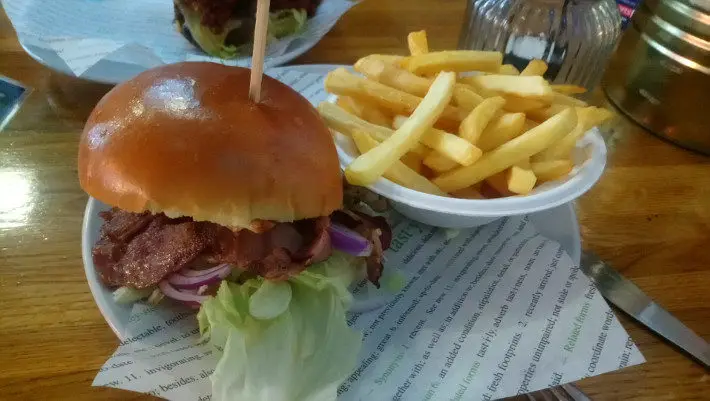 "Pleasant nibbles to munch on"
And before long our sharing starter arrived.  You get this as standard, and on the plate we had Buffalo Chicken Wings, Nachos with dip and Jalapeno Poppers. It wasn't a huge sharer, but they were pleasant nibbles to munch on alongside our first drinks. The poppers were especially moreish.
You also get to choose a main meal – one of four burgers with fries on the side.  We went for the Chicken Burger and the Chilli and Cheese burger and decided we'd share both plates.
And then, we sat back and caught up. We tried to take in the Sheffield Wednesday v Leeds United game on the big screen at the same time.  We'd been placed in a booth directly under the screen though, so it wasn't easy to watch – especially as I had the screen slightly behind my right shoulder.  There isn't another screen to view from there, and all the other tables were taken so we couldn't ask if we could move.  For us, not too much of a problem – we had a lot of chatting to do. But if you are booking on to the bottomless sports brunch, and you want to watch the game as much as have the food and drink, ask for one of the tables away from the screen wall when you book (and I do recommend you book ahead).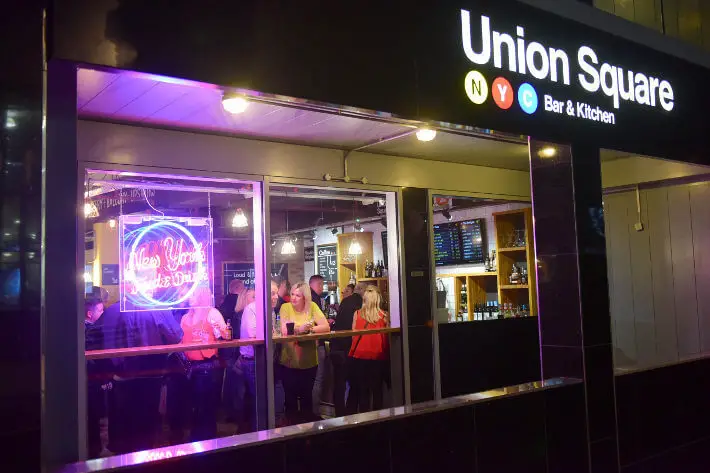 "Laid back with a good atmosphere"
When our mains arrived, we were pleased. We got two large eats, with a bowl of fries to share and it was the size you'd expect if you were ordering a meal off the menu.  They were both cooked nicely too. The chicken burger was succulent, chargrilled chicken breast and bacon.
The chilli cheese burger was the winner though. Now this was a slightly messy burger (which I kinda like!) as a result of chilli con carne taking its place within the bun, and the patty was very decent. A soft, fall-apart burger cooked to medium and we both enjoyed tucking in to this.  The food was a very nice addition to the drinks.
And the drinks selection is quite nice. Bottles of Corona, Coors Light on draught, Prosecco by the glass, and vodka or gin as the spirits.  Throughout our couple of hours in Union Square, we had everything bar the Coors. We only had the table service once, and paid five visits to the bar.  There was a short wait on a couple of those occasions, but nothing that kept us away from the table too long. One of the things that would have been nice would to have had a little more table service though.
If you're with a group of friends going out for daytime drinks on a Saturday and want to catch the game, Union Square is a great place to start. It's laid back with a good atmosphere, and not too raucous. And you get some decent grub to line that stomach, while you have your first couple of hours of drinking time.
Union Square Bar & Kitchen – 19 Merrion Way, Leeds, LS2 8NG
Monday – Wednesday – 8am–9pm
Thursday – 8am–10pm
Friday – 8am–1am
Saturday – 8am–12am
Sunday – Closed
Tel: 0113 244 3000
unionsquareleeds.co.uk