Trinity Kitchen Street Food Vendors – Review
There are lots of great options for food in Leeds. But sometimes you have to whip Google out to help you think of somewhere chilled and laid back to eat when you're just in that really leisurely mood.
But there's no need. Trinity Kitchen has all you want for easy food – and it's good food too.
The pop-up street food outlets around the perimeter of Trinity Kitchen makes sure you've always got something new to munch on too. My friend and I checked out a few of the current vendors on a Tuesday tea-time.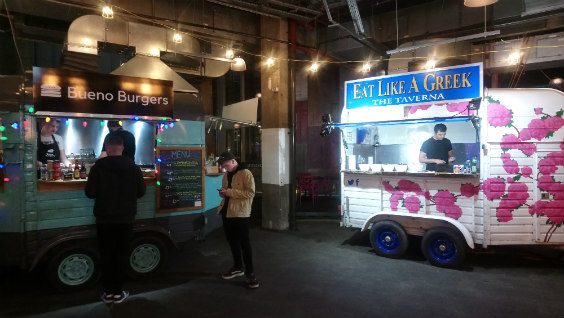 "A dilemma of the pallet"
Having a nosy at what was going on at each vendor, they looked good. Really good. And it made us have one of those moments where you think you see something you'll have, but then you see something else and you've got a dilemma of the pallet. A quick look at the menu boards did little to help us make a decision on what we fancied trying out. There was such great choice. So we said enough is enough, and we decided to get three dishes, and share everything.
So we started off by ordering the Chilean burger meal deal from Bueno Burgers. That saw us spend £11 and get fries and a soft drink alongside it, plus another soft drink for £1.50. The burger menu was awash with Latin American flavours on Yorkshire beef patties. Our choice gave us a beef patty, topped with Spanish chorizo, guacamole, beef tomato and traditional Pebre sauce.
We also went to Eat Like A Greek next door for a Lamb Kofta pitta, which costs £9 if you take it with halloumi.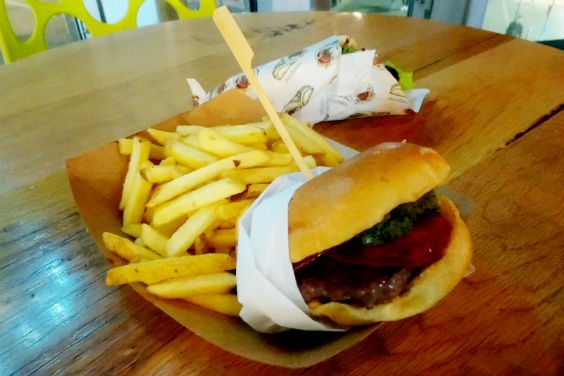 "Subtle kick of spices"
Street food is fashionable at the moment. So much so that some of its ranges are almost gourmet – to stay popular it has to be good. And, well, our burger and pitta were certainly good.
The chatty guys on Bueno Burgers gave us a lovely dish, with the patty cooked to slightly under medium. It was juicy, and just how you'd like your burger to be. There was a subtle kick of spices, which connected the chorizo and guacamole together really well.
And the lamb kofta was just as enjoyable.  I'm no connoisseur of Greek food, but I can tell when you're tasting something authentic. Bringing locally sourced meat to the offering, the tender lamb was nicely dressed with glaze, salad and perfectly cooked halloumi.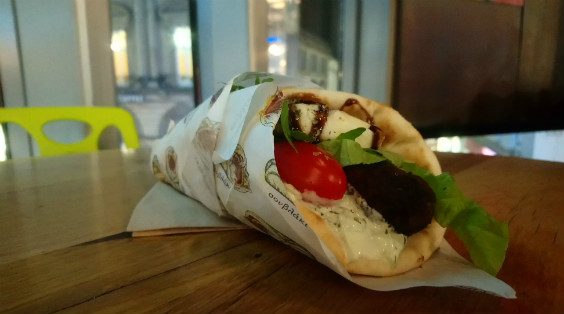 "Melted away in the mouth"
We were finishing up the first dishes, and had room for one more. My friend went on a hunt to get us something else. I'd still got half a burger to polish off (I'd spent too long savouring it!) and he came back with the Chicken Rendang from Malaysian outlet Dapur Malaysia.
I'm glad I put my faith in him to pick our final eat. He knows his South East Asian cuisine. It came with coconut rice, sambal and salad, at a cost of £7.95 and looked fantastic. After divvying it up, we both agreed that it had a comfortable level of spice, with 18 secret spices infused in to the dish. We didn't even need to use our teeth to consume the chicken either – it just melted away in the mouth it was that soft.
In all, we'd been in Trinity Kitchen for about 45 minutes, sat in the window overlooking Albion Street and Commercial Street, and spent under £30. We'd had three nice dishes and a couple of soft drinks to wash them down with. If we'd gone elsewhere we could have probably paid out £40 on two not-so-tasty out-of-the-freezer meals and a couple of drinks. The pop-ups in Trinity seem to have something for everyone, and not only is it easy, laid back food, it's good quality, tasty stuff too.
Buenos Burgers, Eat Like A Greek and Dapur Malaysia are in residency at Trinity Kitchen until 24th March.
Trinity Kitchen, 27 Albion St, Leeds LS1 5ER
Opening hours:
Monday to Saturday – 11am – 8pm
Sunday – 11am – 5pm
Tel: 0113 394 2415