The Potting Shed, Halifax – Restaurant Review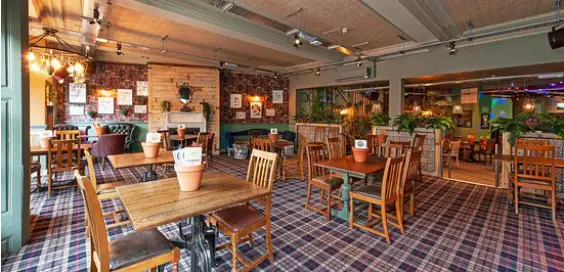 If you were around Halifax in the 90s, you'll have a special place in your heart for Ma Baker's. And you'll harbour a wish that something like that would make a return to the 'Fax  social scene.
And despite many attempts at re-igniting that once go-to spot of Halifax town centre, nothing has really ever done the space the justice. But all that could be about to change.
"Serious Makeover"
There's been a serious makeover of the building over the last few months. And The Potting Shed is giving that section of of the town something nice and fresh.
My friend and I had a reservation at 7:30pm on a Thursday night. I remember when Halifax thrived as a town on a Thursday, and as we walked in it was busy. Lots of people standing at the bar, and lots seated. It was like we'd gone back a few years!
We were taken over to the far corner of the raised deck area, and ordered a couple of pints of lager. We were warned that there'd be a bit of a delay with food tonight due to the number of people in. So we scanned the menu which isn't only pretty big, it's also got a host of options to choose from. A big selection, and it's worth taking your time to decide on what you're going to have.
The Gambas Pil Pil (£6.95) and Peri Peri Chicken Goujons (£5.95) caught our eye. So that was a small plate each that we'd decided on. My friend liked the look of the Salt and Pepper Chicken Burger (£9.95) and I couldn't help but go for the dish that stood out by a country mile for me. The Yorkshire Burger… a patty with Yorkshire blue cheese and bacon between a couple of Yorkshire puddings as the bun.
Yep. That's right. Yorkshire Puddings! How can you not order that dish when it's there? It had to happen.
"The Potting Shed way"
It was nice to catch up with my friend. We'd not seen each other for a while and we had a lot to talk about. But tonight we'd landed in a busy place which had a fantastic acoustic guitarist providing the entertainment.  He was really good, and covered a lot of 90s Britpop to a tee.  We really liked him, even if he was a little loud for the dining area.
After the pre-warned wait, our food arrived with all dishes coming out together. It's the Potting Shed way! And we'd worked up a hunger, so we were pleased that it tasted as good as it looked.
My Gambas Pil Pil was cooked very well, and the prawns in a subtly spiced garlic oil were lovely. My friends goujons were also very tasty. I tried one and it was very succulent – well worth ordering.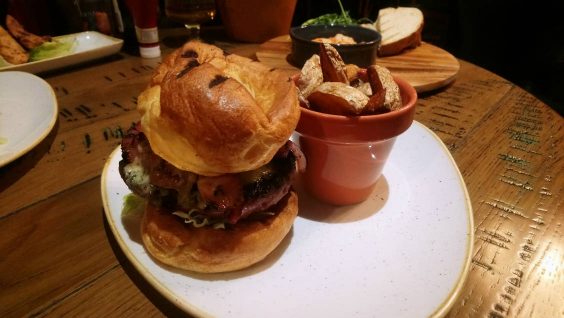 "Eyes light up"
It was the main courses that made our eyes light up, though. The Salt and Pepper Chicken Burger looked delightful, but the pièce de résistance was this Yorkshire Burger that came out and had us and other diners giving it a huge once over.
Yep – Yorkshire puddings as a burger bun. What an idea! Who's idea was that? Who cares? It's one to behold. But – as amazing as it looked, was it worth the one hour wait to devour it?
Simple answer… yes. It worked, and it worked well. It came with twice cooked chips and the fact there was melted blue cheese and a bit of juice from the patty meant the Yorkies weren't dry. The combo was delicious, and one I can't sum up accurately enough. You just honestly have to try it!
And I'm not just eulogising about the Yorkshire Pudding concept. The whole thing was a brilliant dish which I really enjoyed.
We were so pleased about our main dishes, we had to try desserts and went for the Vanilla Ice Cream with chocolate sauce, and the Hot Peanut Butter Fudge Cake with Ice Cream.
Now, The Potting Shed is fairly new, and we were in there a few days after opening. Unfortunately the final courses weren't quite right when they were brought to the table.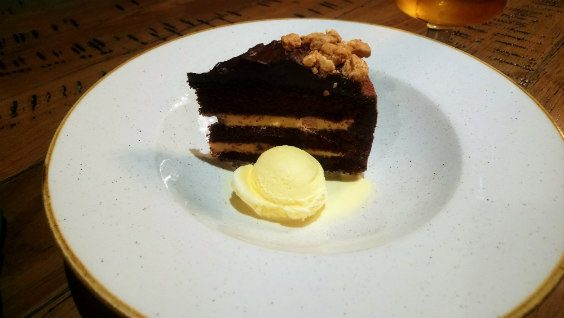 "Something to work on"
The Vanilla Ice Cream was served up as two scoops of chocolate ice-cream and one vanilla (no chocolate sauce). And the Hot Peanut Butter Fudge Cake wasn't hot. It was cool – just above fridge temperature.  And that was a shame, they weren't quite as we'd expected.  We mentioned it to our waitress who'd been fantastic all evening, and she apologised. She did say the kitchen thought the ice cream dish hadn't come out incorrectly served, although there was a debate about whether the hot fudge cake should have been sent out. Something to work on there, but we still enjoyed the desserts and thanked Kayleigh for her attentive and warm service that evening.
So, on the whole, The Potting Shed is a brilliant addition to the Halifax social scene. They'll be on to a real winner with this place and the way they've laid this place out is fantastic. It's a far cry from the recycled alcopop-pub that many have tried and failed to bring in to the Ma Baker's building over the years.
And with a menu that you wont find anywhere else in Halifax, The Potting Shed is a place to try and enjoy if you haven't already.
Editor's update: On 10th August 2021, The Potting Shed Halifax announced it would not reopen following Covid