The Dusty Miller – Restaurant Review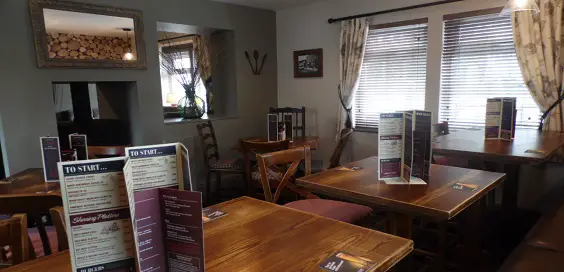 The Dusty Miller, Hove Edge, Brighouse
Restaurant Review
by Steve Crabtree – @stevecrab
There's a certain feel to a local village pub. It's like walking in to a friend's cosy house, and you feel welcome immediately – whether you're a regular or not.
Cue that feeling when we walk in to The Dusty Miller pub in Hove Edge, near Brighouse. We're here for an evening meal and we arrive around 7pm to be greeted by owner Rob. It's like we've known each other for years and immediately he's set the tone for the evening.
"The Dusty", as it's affectionately known, has been extensively refurbished, and the contemporary look retains a feel of the traditional about it. From the road, it looks clean and inviting; and when you get inside there's a modern, comforting feeling, plus plenty of character. We've got a mixture of people in tonight too – those who are in for a pint after work, families in for food, and a table of friends in smart casual wear who are here for an enjoyable evening.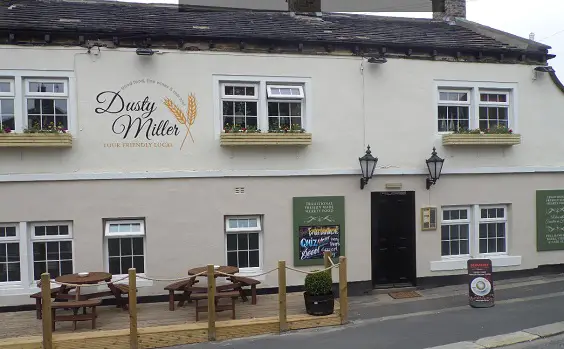 "Friendly"
We're taken to a nicely-laid table in the corner of the pub by Nicole, our waitress for the evening. Like Rob, she's cheerful, pleasant and treats us like we're friends. We order a soft drink and a pint of San Miguel whilst we take a glance at the menu. Nicole explains what the specials are tonight. The sound of the cod in parsley sauce has lit my guest's face up, and I can tell instantly that she's sold. I have to say, it does sound tempting and I may well have gone for that myself – but I like to be different.
I did have a burger in mind and the menu caters for my every burger need! But the cod dish has me thinking about fish. And in and amongst a strong main menu of hearty dishes I see Fish and Chips, and a Fish Finger Butty… which I nearly go for. But then there's the call of the Scampi. With homemade chips, peas and tartare sauce. I've not had scampi for a long time, so I plump for that. We also order a bruschetta to share as our starter.
Our table is in close proximity of the others, but it's far from intrusive. As my friend and I are catching up, we comment on how nice the dishes that are being brought out to another table look, and the gentleman from the table next to me agrees. He tells us that he and his wife eat at the Dusty once a week and sometimes more. He mentions how much he loves the Sunday lunch menu. He doesn't need to tell us that we're in one of the friendliest establishments in the area. His conversation with us alone is proof of that.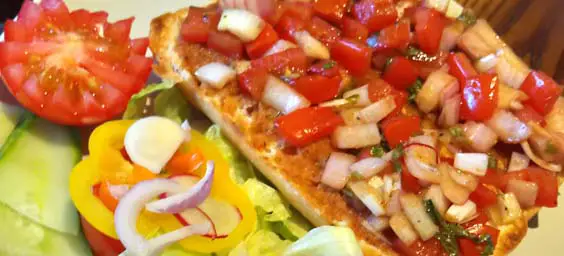 "Generous"
Our starter arrives and it's a large, beautifully presented bruschetta. It's a perfect sharing plate and, as we take our first bite, it tastes every bit as good as it looks. It's lightly toasted, seasoned nicely, and the mixture of cool tomato and garlic is balanced just right. It's a nice, fresh dish and they've added just the right amount of oil to it. It's a delightful start, and we leave nothing.
Not long after finishing our starter, the main courses arrive – and they are impressive. We receive large plates, and they're full. My love for homemade chips is in no doubt – but even I'm starry-eyed at the size of the chips that you get at the Dusty. Huge, and perfectly cooked. A generous amount of scampi is sandwiched between the chips and the side salad, and it's perfect. It's hot, with the right amount of crisp on the breadcrumbs which doesn't come away from the langoustine (it's frustrating when that happens!). I don't know why I haven't had this dish for so long.
My guest's cod in parsley sauce is equally delicious. Someone had a successful day when they caught this one. The mashed potato is thick and creamy, and the parsley sauce adds a nice, non-overpowering flavour to the plate. Peas and carrots accompany and I have a sneaky taste. "Don't take too much!" my guest exclaims. And I know why – it's a beautiful. They've definitely got something right going on in the kitchen here, and when tied together with the front of house service, you know why people return here so much.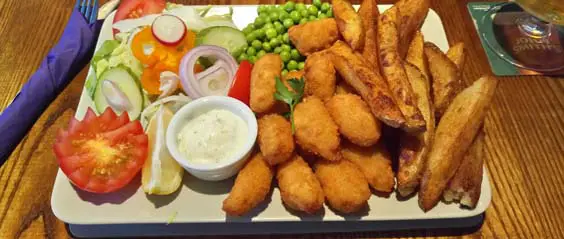 "Cheerful"
As is often the case, we polish off our dishes completely, and sadly haven't left room for dessert.
We've had a great evening in a lovely atmosphere. It's a strikingly clean pub, and the two hours we've spent here have flown by. As we leave, our fantastic hosts wish us a very warm farewell. They're a naturally cheerful and friendly bunch – and you can see why their customers say such nice things. We feel like we've been treated as old friends.
Just before we reach the door, we notice that the Dusty Miller does a "Wine and Cheese Wednesday" – and after such a fab experience tonight, I'll be booking myself in for that one very soon.
The Dusty Miller, 290 Halifax Road, Hove Edge, Brighouse, HD6 2PB
Food Service Times:
Monday – Friday, Lunch: 12pm to 2pm
Monday – Friday, Evenings: 5pm to 8pm
Saturday: 12pm – 6pm
Sunday: 12pm – 6pm
01484 716171
thedusty.pub