Pitcher and Piano, Sheffield – Restaurant Review
By Helen Johnston
There's something wonderfully decadent about ordering cocktails before noon on a late summer's day when the sun is shining and the day is full of pleasant possibilities.
As Covid clouds gather on the horizon there's no better time to indulge in a boozy brunch and forget about what might lie ahead. It felt a bit like the last hurrah.
If there's one thing that living through a pandemic should have taught us, it's to seize the day – and that's exactly what we did. Let tomorrow take care of itself, today was about drinking, eating and laughing. And more drinking.
Bottomless brunch at Pitcher and Piano offers unlimited Prosecco, bellinis and mimosas alongside a mouth-watering selection of food.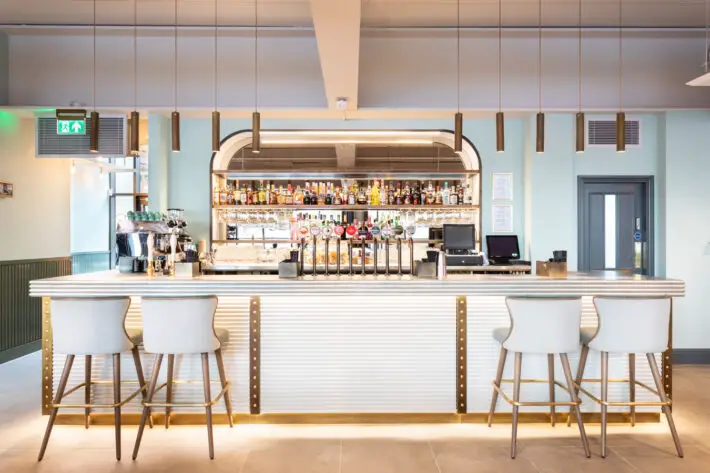 "Forget the guilt"
We started with the mimosas, moved on to the bellinis, then back to the mimosas. The waiting staff were friendly and attentive and kept asking us if we wanted more drinks, to which we kept answering yes. Well, it would have been rude not to.
I lost count of how many we had in our two-hour time slot, but that's a good sign. Who wants to keep track? If you're going to drink at brunch time then forget the guilt and go for it.
The menu had a good choice of options to accompany the fizz. Solid meaty breakfasts with sausage, bacon and burger were on offer alongside three veggie choices – mushroom madame, avocado sourdough and veggie breakfast – and a vegan version of avocado sourdough, minus the cheese and egg.
I went for the classic eggs Benedict, two perfectly runny poached eggs perched on maple glazed streaky bacon on top of toasted muffins. Hollandaise sauce drizzled on top completed the dish, which looked as good as it tasted.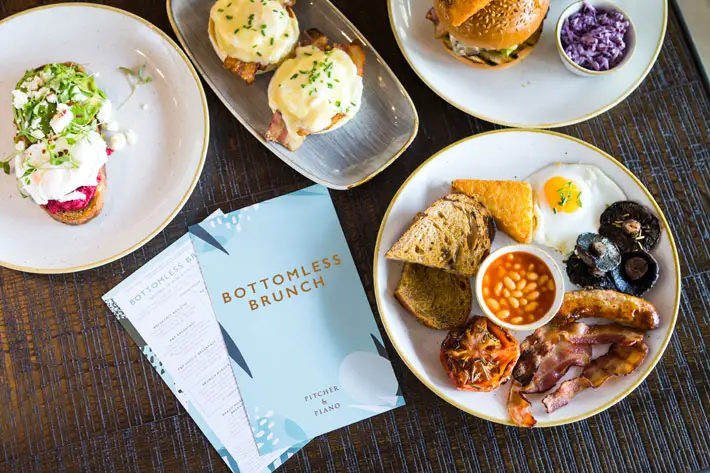 "Safe and welcoming"
My friend had the P&P breakfast, an enormous plate full of sausage, bacon, egg, toasted sourdough, mushroom, tomato, hash brown and baked beans. She prefers gluten free and, although nothing on the menu is advertised as GF, when she enquired she was told all of the bread was available in a GF alternative (although not the sausage).
For those still nervous of eating out, the Pitcher and Piano felt like a safe and welcoming venue. On arrival we waited at the door to be called forward and were then invited to scan a QR code for track and trace details to be taken.
We were escorted to our table upstairs which was separated from neighbouring diners by a clear screen. We took our drinks from a tray brought to our table, and cutlery and napkins were brought to us in the same way. There was also a one-way system up and down the stairs and throughout the bar area. There were restricted numbers allowed in the toilets at one time and every other basin was in use.
All of this was reassuring and showed that Covid security had been considered carefully. There were plenty of customers in and there were more queueing to come in as we left. More people seizing the day.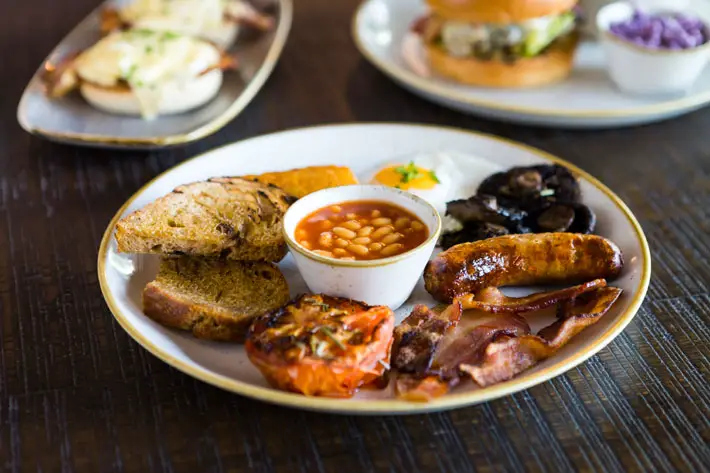 "Popular"
I sympathised with our friendly waitress that further social restrictions might be on the way but she was stoical about it, saying that if it meant people could meet up at Christmas then so be it. A very generous outlook from someone who must be as apprehensive as anyone working in hospitality at the moment.
The Pitcher and Piano is spacious and airy and the bottomless brunch, which is available on Saturdays and Sundays and has to be booked in advance, was obviously popular. All the tables were occupied with groups of varying sizes, although never more than six of course.
There is a piano (obviously) and the place has a modern and relaxed feel to it with wooden floors and green seating. A bright pink Pitcher & Piano neon sign adorns one wall, just in case anyone forgets where they are.
There is seating outdoors with a view across Barkers Pool to City Hall and John Lewis, with the women of steel statue standing close to the front entrance. I wonder what those women would have thought of getting tipsy over brunch? I reckon they would have been all for it.
Pitcher & Piano, 18 Holly Street, Sheffield, S1 4AW
Bottomless brunch is £25pp and available at the weekend from 10am to 2pm. Reservations only.
0114 3034840
pitcherandpiano.com