Patisserie Valerie, Coppergate, York – Review
By Sophie Goodall
As I walked up Coppergate in York and then pushed open the doors of Patisserie Valerie, the first thing my partner and I noticed was that the café itself was sparklingly clean and tidy, and very inviting. We were greeted by the friendly manager, who allowed us to choose a table from a selection of good seating options. A summer Friday night hadn't yielded many customers, so the atmosphere was peaceful, with a low hum in the background of employees making coffee under the glow of the soft lighting.
We watched a couple enjoy their first date, and realised that Patisserie Valerie is the perfect place for this – or to curl up in a cosy alcove with a book, or even to sit in a comfy armchair in the window and watch the world go by, if you want peace and quiet but don't want to be alone. I realised how easy it would be to make an event out of going for coffee, rather than it being the usual side-line to catch-ups and meeting with friends.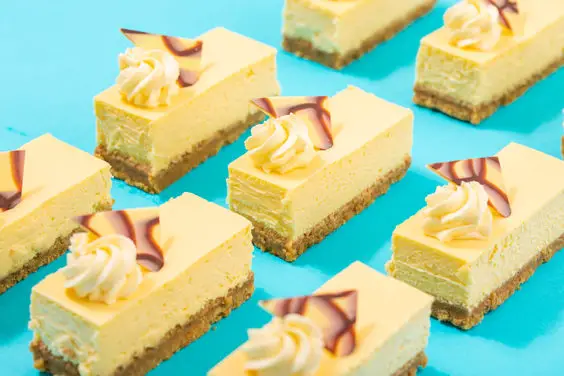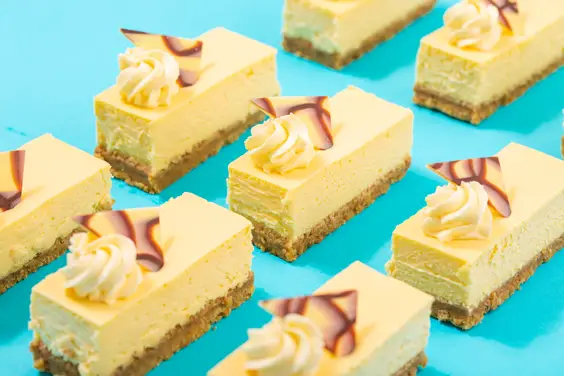 As we settled in, we perused Patisserie Valerie's new summer menu, launched as part of a company rebrand following the firm's collapse in January this year. After its rescue from administration, plans to restructure the company and re-establish the brand took place, including a redesign of the menu. They've cut it down and created a streamlined version, featuring products that are said to be of better quality, created with new ingredients and seasonal produce, from ethical sourcing. Most intriguingly though, amongst the new brunch, desserts, drinks and savoury sections of the menu, Patisserie Valerie has brought out a redesigned, minimal range of classic patisserie and gateaux, known as 'The Classics'. Our waiter brought over our drinks, a Caffe latte (£2.95) and an Americano (£2.75), and we prepared to begin our taste test of this new patisserie range.
Patisserie Valerie's 'The Classics' range of gateaux contains five, famous, classic items to choose from, beginning with a Mille-feuille (£4.20), which has been updated to feature a new, shortcrust pastry, as opposed to the usual puff pastry layers in a standard Mille-feuille. We did find the shortcrust to be quite tough, but it added a great bite. There were masses of sugary, vanilla custard packed between the layers, to the point where it was oozing and messy, but tasted good against the hints of lemon in the icing topping, which contrasted with the chocolate decoration. While this product is said to have been changed to reflect quality over quantity, it would be an easy slice to share between two.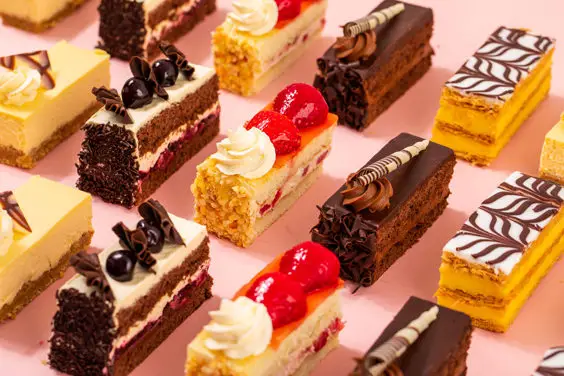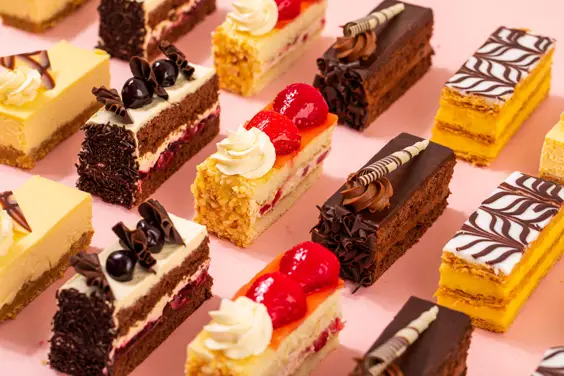 "Decadent"
Next up was a delicious, light as a feather, Strawberry Gateaux (£4.20). The gateaux sponge was cloud-like, with just the right amount of delicious, wispy cream sandwiched between the two layers. The strawberry glaze topping was sweet without being overpowering, and the decorative strawberries were fresh and tangy, which added a nice kick. The nuts scattered on the side added a nice crunch to the texture, and overall, made the cake look great in terms of decoration. Out of all the gateaux, this is arguably the best.
Following on from such a light and sweet cake, the Blackforest (£4.10) was a complete contrast. The first thing that came to mind, was that this black forest gateaux was light and not really very dense for what is a traditionally decadent cake. In fact, it was actually quite crumbly, and not particularly moist – strange, as added moistness was supposed to be one of the main improvements of this patisserie. It also wasn't the most chocolatey tasting, but was still quite rich due to the maraschino cherries on top of the cake, overall giving the Blackforest a very cherryish and tart flavour.
So, after we sampled three of 'The Classics' range, we were invited to try other patisserie items, beginning with one of the fresh fruit tarts. I quite liked the Raspberry Tart (£4.20) – a slab of pastry, topped with fresh raspberries and custard. The shortcrust case was buttery, hard, crumbly and very enjoyable, the custard topping complemented the pastry perfectly, and the raspberry decoration tasted sweet with the sugary icing – looks are deceiving with this tart, it's definitely for more than one person, and packs quite a punch.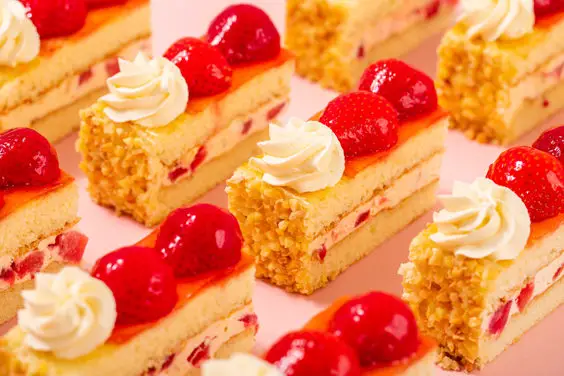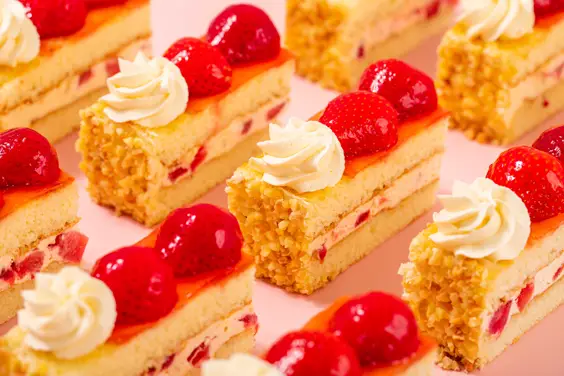 We were then offered to try one of the eclairs, opting for the Double Chocolate Éclair (£3.50). With usual eclairs, you expect a fresh cream filling, but this éclair was filled with a very smooth chocolate cream, similar to a mousse or buttercream, encased in a firm, chewy pastry, and topped with chocolate and a hand flicked decoration. Éclair purists may find it over-chocolatey, more along the lines of a pain au chocolate, and I think that due to chocolate overload it wasn't as light as we were expecting it to be. However, due to the bitterness, it wasn't too overpowering, and was generally a very decadent treat.
The final product we sampled came from the dessert section, a pear and chocolate tart served warm with icing sugar and custard (£4.95). This tart was exceptional, it had a lovely sweet almondy taste to it, alongside the delicious chocolate and bitter pear flavours. The fruit added a good texture to the tart and overall the sponge was light and buttery. The custard was more like a crème Anglaise than a traditional custard – and accompanied the tart so well. The whole dessert was so light and moist, and is the perfect warm pudding on a cold day – but be warned – this is seasonal, so sample it when you get the chance!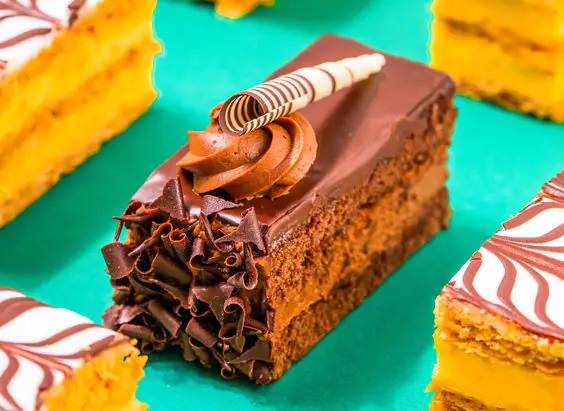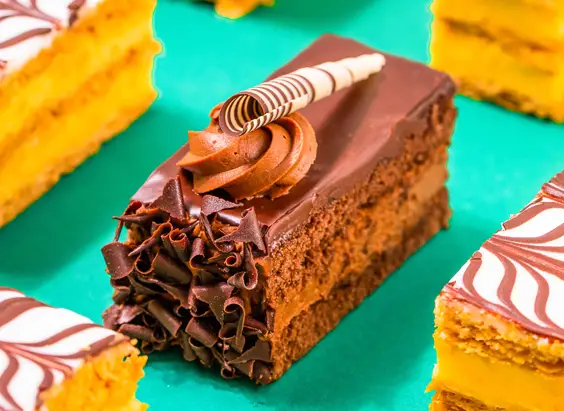 "Social experience"
While it would not be recommended to eat six desserts in one sitting, a trip to the revamped Patisserie Valerie should never go amiss. The patisserie is now executed well, with products still fresh by the end of the day, and the little touches such as the decoration and the cakes arriving in wrappers really add an extra something.
One thing in particular we were pleased to discover, was that while the coffees were not a strong blend, they accompanied the patisserie very well. The patisserie, tarts and gateaux are now good sizes, light, refined and delicately assembled like good patisserie should be, and you could easily order a few different gateaux and tarts between two people, creating a more social experience.
We definitely believe the rebrand has worked well, however there are one or two downsides. Some of the products they have got rid of, such as the chocolate mousse, are sorely missed – but the new menu makes for an easier ordering experience, and each patisserie item is completely individual, rather than an array of different types of cakes that might previously have blurred into each other.
If you can find one that suits you then, put simply, Patisserie Valerie might just become your favourite new place for a coffee and cake.
Patisserie Valerie, Unit 16, Coppergate, York, YO1 9NT
Opening Hours:
Mon-Sat 8am-7pm
Sun 9am-7pm
patisserie-valerie.co.uk
01904 630014