Loch Fyne, Leeds – Restaurant Review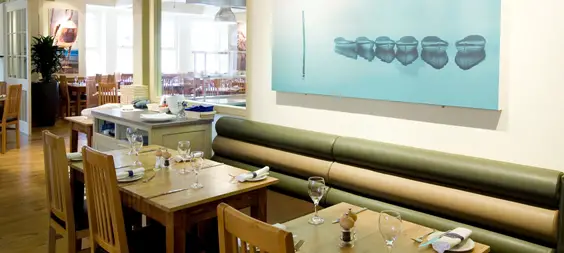 By Rebecca Tredget
The Leeds Loch Fyne is just across from the train station in City Square, with a lovely outside dining area. The inside is just as lovely too. A huge fresh fish counter dominates the room along with pictures of Loch Fyne in Scotland. There is a quiet hum of diners when we arrive, a mixture of couples and families. The room is decorated with lots of light oak and neutral colours. Casual enough that it is not intimidating, but stylish enough that it feels a little bit special.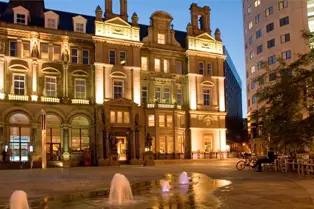 To drink, my dining partner and I share a bottle of Awatere Pass Sauvignon Blanc (£23.95 a bottle). Served ice cold it is the perfect accompaniment throughout the meal; light and fruity, hugely refreshing. Exactly the sort of wine that is perfect for an evening in a fish restaurant. It is certainly one of the nicest New Zealand Marlboroughs I've tried in a while and very reasonably priced for the quality.
As an appetiser we are treated to an oyster each (£2.25 for one). It comes with a variety of dressings, lemon wedges and Tabasco. I've only ever had oysters once before and wasn't hugely enamoured then, but I am excited to give them a second shot. I opt to douse mine in the coriander and chilli oil dressing and I take the waiters advice to chew instead of swallowing whole. I can't say I am keen. To me it tastes like I imagine eating a teaspoon of salt will taste. A huge salty slap in the face. However I have absolutely no doubt this isn't because of the quality of the oyster. It's more a personal taste issue. However our waiter impresses us with his knowledge, having even visited Loch Fyne where the oysters are picked.
"Generous helpings of fresh granary bread"
For starters I order the Smoked Salmon Ashet (£8.45). This is a trio of smoked salmon, presented beautifully. There is a mound of Loch Fyne smoked salmon which has chopped capers sprinkled on top; absolutely delicious. A small fillet of kiln roasted salmon which is lovely and smoky, along with being surprisingly moist. And my absolute favourite is the salmon sashimi which is light and buttery, with wasabi and soy. It is all served with generous helpings of fresh granary bread and a home-made mayonnaise. My dining partner decides to go for the Lobster Bisque (£6.45) which is delicate and light. It's also very rich with an undertone of sweet lobster running throughout it. Served with garlic bread it is the perfect size for a starter, whetting your appetite.
After much deliberation over the main courses I finally settle on the Lobster Frites (£23.95). Having never eaten a whole lobster before I am taken aback by all the 'instruments' that are placed before me. But as soon as it is placed down in front of me all worry and dignity went out the window.
The lobster is served in half, dripping in a garlic butter (not too garlicky though mind). The flesh is sweet and juicy, not at all fishy. It is definitely worth the effort it takes to crack open the shell along with the pieces I send flying across the table. Truly sensational. It is served with a steaming bowl of salty, hot french fries (frites). Deliciously moreish, I do protest that I cannot eat them all (trying to be a little bit healthy). But I fail epically and wolf them all down, along with the fabulous little pot of home-made mayonnaise.
"Everything works together perfectly"
My date orders from the specials board which is Lobster Tail, Octopus and Clams in a Curried Potato Sauce (£22.95). The lobster is on par with my own, deliciously meaty and succulent, with a hint of sweetness. The octopus again is meaty and not at all chewy. The clams complement the octopus and lobster perfectly, a beautiful seafood taste. All of this nestles in a delicately spiced tomato based curry sauce with a hint of chilli and new potatoes dotted around the dish. Everything works together perfectly.
Despite being onto our fourth course (if we count the oysters as a course), the idea of a dessert doesn't seem a chore and we are quite looking forward to it. I order the Vanilla and Passion Fruit Cheesecake (£5.25) which is a deliciously creamy cheesecake with a thin layer of tangy passion fruit jelly on top aside a scoop of passion fruit and mango sorbet. The cheesecake is absolutely fantastic, however the sorbet really stole the show. Tangy and refreshing, I could have eaten at least a few scoops more!
"Not all of the food is to my taste"
My date again orders from the specials board, the Sticky Toffee Pudding (£4.95). A square of luscious sponge with vanilla ice cream arrives alongside a small jug of amazingly rich and buttery toffee sauce. I don't get a look in. It is down in minutes. A testament though to how good it is.
Loch Fyne pleasantly surprises me. Especially with how fresh all the seafood and fish tastes despite Leeds being so inland. The service is impeccable throughout the meal. The staff are incredibly knowledgeable about everything from provenance to technique. Although not all of the food is to my taste (well, only the oysters really) it is easy to appreciate the quality of everything. I leave with a full, happy belly and a possible addiction to lobster.
The Old Post Office, City Square, Leeds, LS1 2ES
0113 3917550
Mon-Thurs 11.30am-10pm, Friday 11.30am-10.30pm, Saturday 9am-11.00pm, Sunday 9am-10pm
A three course meal for 2 including appetisers, bottle of water, wine and a coffee was roughly £105
Editor's Update: The Leeds branch of Loch Fyne closed in 2015. The York branch of the restaurant chain remains open.