Valentines High Tea at Grand Pacific, Queens Hotel, Leeds – Review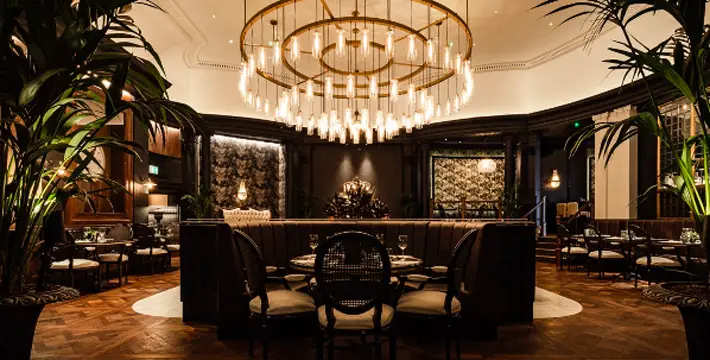 By Rob Siddle
Grand Pacific is a beautiful venue set in the heart of Leeds, on the periphery of the train station – in fact, it is the perfect spot for a decadent afternoon tea. Grand by name, and by nature, the restaurant is a warm, welcoming and luxury space. Décor to suit the highflyer lifestyle, but on a reasonably priced scale. You will not be disappointed.
We were greeted by a welcoming host team who were quick to locate our booking and take us to our seats. Pearl, our waitress could not have been more helpful in providing information on the dishes and answering a whole host of questions we threw her way. It was great to experience top quality customer service throughout.
All seats have a fine view across the restaurant, with unique touches on the different booths, tables and, for us, two basket style seats with overhanging hood, gave privacy but allowed for us to take in everything going on around, including the string quartet playing their take on classics. It made for a great atmosphere.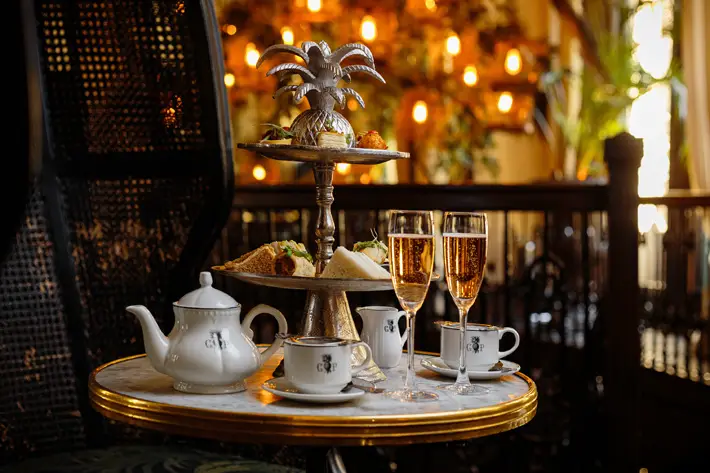 "Beautifully presented"
We were visiting to sample the Valentines High Tea, but it would be rude not to mention the Sunday Roasts served around us. Giant Yorkshire puddings and perfectly cooked pink in the middle beef, carved in front of you from a copper service trolley direct by the chef, we anticipated food envy! But will certainly be back to sample this one Sunday.
However, on with the task in hand, a beautifully presented afternoon tea for two. Set menus are provided for you to request any changes you may have, and a vegetarian option of both sweet and savoury are available.
We opted for the High Tea with a Special Cocktail – themed for Valentine's Day – a gin based cocktail, with strawberry syrup, lemon and egg white was the drink on offer. A lovely tasting tipple, pink in colour and working much like an aperitif, it was a great addition for the food to come.
First up was the savoury course, two of everything, and four quarters of each sandwich gave a more than adequate serving. Opting for the High Tea Savoury Selection we were provided with Forbidden Arancini Rice Ball, Duck & Hoi Sin Sausage Roll, Salmon & Tuna Tartare, Goat's Cheese & Hibiscus Tart, Coronation Chicken Sandwich, Egg & Cress Sandwich. All of which were absolutely mouth watering – clean plates all round!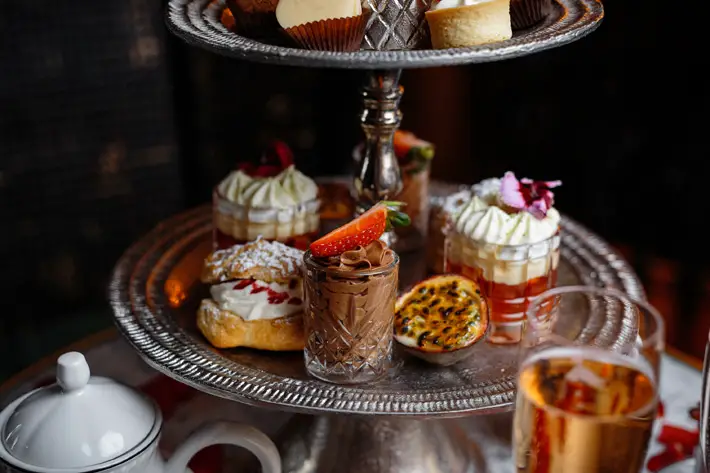 "Tease our taste buds"
Shortly after, leafed tea served in china – a full pot each, meaning there was ample to go around and accompany the deserts to come. We opted for English Breakfast Tea but there are a whole host of flavours to choose from.
Finally, after a short rest, our High Tea Sweet Selection, again served traditionally on a birdcage plate stand were six eloquent desert treat to tease our taste buds. Passion Fruit Brulee, Dark Chocolate & Cherry Mousse, Raspberry & Lemon Tart, Strawberry Scone, White Chocolate Fudge, Coconut Rum Trifle. Exotic, rich flavours throughout left us excited with every bite, we were surprised with the pure quality throughout the afternoon tea and would not hesitate to recommend it!
Well priced for a city centre afternoon tea including cocktail at £29 per person, this somewhat hidden gem on the doorstep of a bustling station is simply a must visit, whatever the occasion!
Valentines high tea:
7th – 20th February
12 – 5PM WEDNESDAY – SATURDAY
12 – 3.30PM SUNDAYS
grandpacific.uk.com