The Kooks – Live Review – Leeds O2 Academy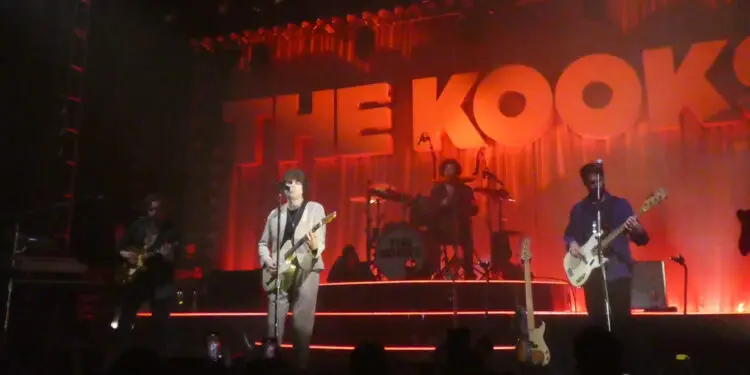 By Graham Clark, February 2022
If you were to believe the hype that surrounded The Snuts when they first arrived on the music scene then the band would be headlining major venues by now. For the moment the Scottish band are supporting The Kooks on their UK tour, which musically speaking is an ideal fit.
The Snuts most likely grew up listening to The Kooks, though the Arctic Monkeys' influence is ever present. Lead singer Jack Cochrane even goes for the rock star look by wearing a pair of sunglasses. The band deliver a tight set, though they really come into their own on closing number, 'Glasgow'.
Can it really be 15 years since The Kooks released their debut album, Inside In/Inside Out? The album always fizzled with the exuberance of youth with its uplifting vibe and energy was replicated at the Leeds show.
The band drew in one of the most wide ranging age groups I have witnessed at a gig in a long time. From those who were clearly too young to see the band live in 2006, right up to 60-somethings it's obvious the band have a wide fanbase.
"Light and shade"
As lead singer and guitarist Luke Pritchard arrives on stage he delights the fans with an acoustic version of 'Seaside'. As the rest of the group arrive on stage, they too were given a hero's welcome. Hearing the songs played live was like visiting an old friend you had not seen in years, even better when the band are on fine form playing the second of two sold out shows in Leeds.
"It is so good to be back," declares Pritchard as he introduces 'See The World'. The debut album continues to be played in tracklist order until a new track, 'Connection' is aired. "We are need to connect," offers Pritchard as he reflects on the challenges of the last two years.
Naturally, 'She Moves In Her Own Way' has the fans singing loudly, which at times even threatens to drown out the band.
Whoever is The Kooks lighting technician deserves a medal – they added sympathetic light and shade throughout the show, never disguising the band with drab colours but always adding enough light to match the vibrancy of the music.
"Thrilling"
After slipping in another newer track, 'Shine On', it is back to the older material.
Would the audience be so 'naive' to think it was all over after just under two hours on stage? Of course not, as 'Matchbox' sounds as thrilling as ever, whilst 'No Pressure' shines brightly, followed by the predictable closing number 'Naive'.
"You have been brilliant, thank you for looking after us for two days in your city," thanks Pritchard.
I am sure that the majority of the Leeds audience at the 02 Academy will be there in another 15years to celebrate the 30th anniversary of Inside In/Inside Out.