We Will Rock You – Review – York Grand Opera House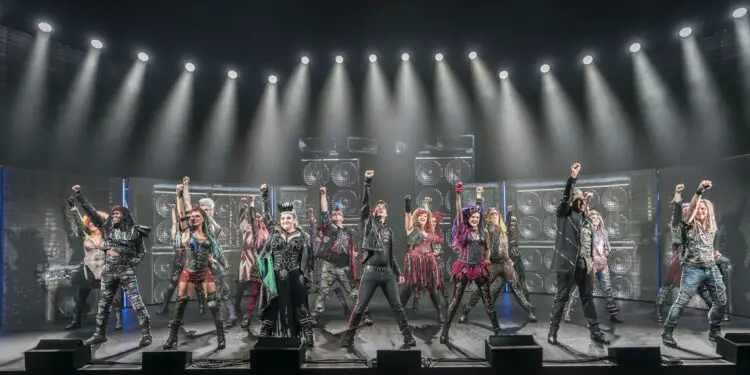 By Roger Crow
I still recall the winter of 1975 when my dad bought home the vinyl single of 'Bohemian Rhapsody' and we played it on a loop, while TV's Crackerjack sent the song up royally.
I don't know much about the future, but I know that like millions of others, I'll be a Queen fan until the day I die. No band has the same Pavlovian response: Brian's chords; Freddie's voice; Roger's drums, John's bass. Just perfection.
It's probably more than a decade since I first saw Ben Elton's sci-fi jukebox musical based on their tunes. I don't remember much about it, apart from Corrie's Kevin Kennedy in a role, and the script shoehorning one classic track into another.
In 2022, the plot and script seems to have improved a little, with a few upgrades here and there, but don't get me wrong, this is one of the best nights out you'll have all year. Though there are caveats.
The problem with the show is Elton's book. It's just so clunky. The first 20 minutes are obviously a world-building exercise as we adjust to a dystopian future where musical instruments are outlawed, everyone is addicted to the Internet, and Killer Queen rules almost everyone with an iron fist.
The arch enemy in this case is reminiscent of Diana Dors in Two Ronnnies' serial The Worm That Turned. And blimey what a voice Jenny O'Leary has. I can only imagine the casting process for We Will Rock You. "Can you belt out some of the greatest songs of all time and do you look good?"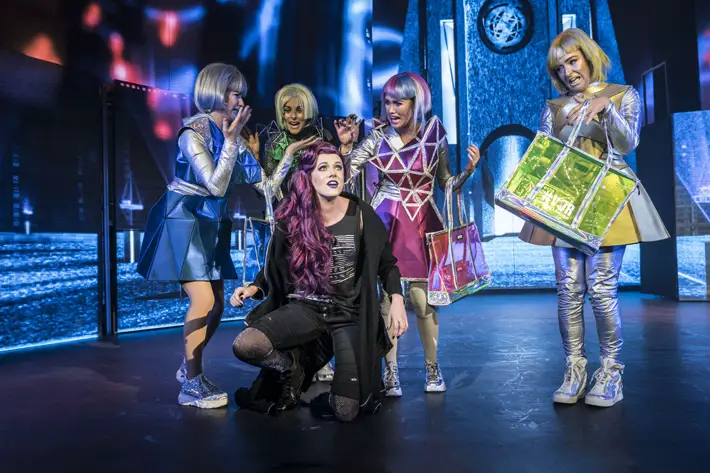 "Terrific songs"
And every member of the cast ticks those boxes, especially the star cross'd lovers at the heart of the action.
Galileo, aka Gaz, is an American (Brit Ian McIntosh) who looks like he stepped from a comic. Scaramouche (Elena Skye) is a stunning 'Cor blimey guv'nor' willowy rocker, who looks like she'd fall over in a light breeze, but has a voice that could bring down the walls of Jericho. I like them both in the first few minutes, and that's half the battle.
So yes, the first half is setting up the premise and the characters and having those terrific songs shunting into one another with the grace of train carriages powered by rockets.
'Under Pressure' arrives with little sense of the characters being that pressured, but who cares?
The musical Tetris blocks slot together at the last second, and though the narrative cartilage that divides the tracks may be thin at best, this is Queen for goodness' sakes. The greatest rock band Blighty ever produced were never going to have a musical that would match the scale and power of those tunes. And as this is obviously a touring version of the much loved musical, compromises have been employed.
However, once things settle down, and we get used to the world and the characters, things become a LOT of fun. It's like breaking in a new pair of shoes. The material softens, and suddenly we're all marching comfortably towards the finale, rather than hobbling. And I've "hobbled" at the finale of many a lesser musical over the years.
Visually it's terrific. The CG animation feels about 20 years old in places, but that may be the point. The costumes are Thunderdome-era Mad Max style, which may also be key as it was the same year Queen gave their career-defining turn at Live Aid.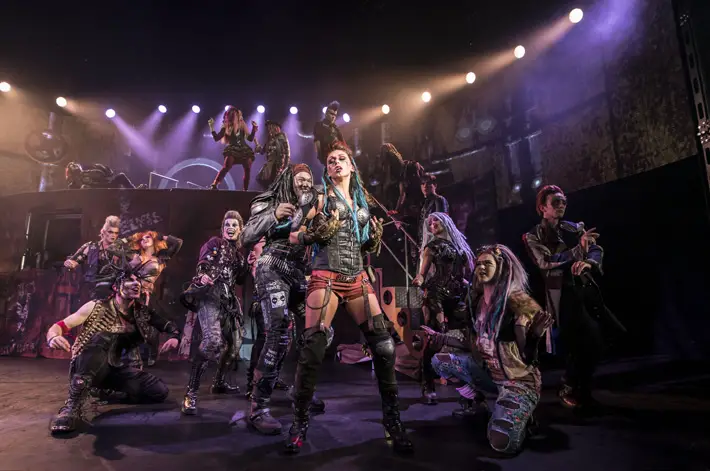 "Lovable cast"
Of course since then we've had the film Bohemian Rhapsody, which boasted a terrific script, and the sublime Bat Out of Hell musical, which does this sort of thing far better.
If you'll excuse another tortuous analogy, Ben's script is a milk float, and Queen's music is a 747 engine strapped to said vehicle.
Yes, the quest for a legendary "axe" at a stadium ticks the necessary quest box that all such shows need, and yes, there are times it feels like the script needed a lot more polish, but this 'milk float' will get you where you want to go, while the music, with altered lyrics in places, is of course pure adrenaline.
I've no doubt Freddie is looking down from his diamanté throne on some fabulous cloud with a huge grin and laughing his head off at some of the gags. I certainly did as one about 'protection' and another about a high street shop had me howling. That and the pronunciation of "video tape", which for some reason was funny every single time.
One day there will be a better Queen juke box musical, with a tighter script and less convoluted characters, but until somebody writes it, We Will Rock You will do nicely.
By the finale, I can't imagine a better way to spend a better couple of hours. Stupid gags, a lovable cast, and some of the greatest songs ever crafted. Any live theatre in these uncertain days is a joy, and a million times better than another night in front of the box. And take a bow that band, who do a fabulous job of channelling the original group themselves.
Could I sit through the whole thing again a day later? Without a doubt, and I'd probably enjoy it more as it takes a while for your brain to adjust to Ben Elton's bonkers world, but once you do, it's well worth it.