Hudsons at The Grand Hotel, York – Afternoon Tea Review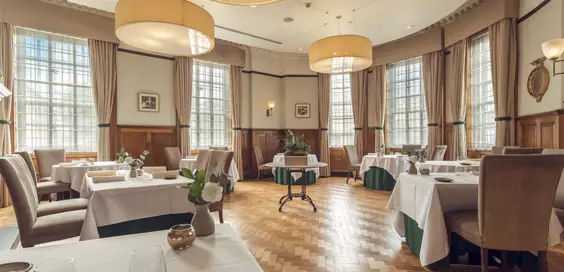 By Lisa Byrne
On a recent stay at The Grand in York, Dame Joan Collins deemed the hotel to be like the quintessentially English TV sensation Downton Abbey – so it seems apt that this stunning establishment should be serving the most exquisite Afternoon Tea.
Launched this month, the city's only five-star hotel has created a high-end tea experience, with each course served personally by the restaurant manager, a jovial chap called Walter, rather than having a three-tier silver stand placed in front of you. Plus, if so wished, teas can be paired with each course and guests can have as much or as little as they like. Being a huge devotee of the ritual of afternoon tea, I had to investigate further.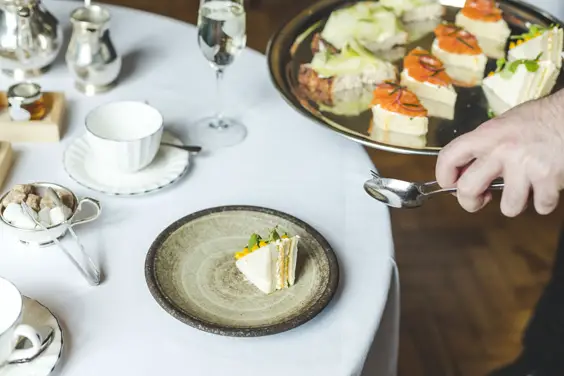 "Incredible menu"
On arrival at The Grand, we were greeted by two charming doormen in bowler hats. Formerly the HQ for the North Eastern Railway Company, the hotel is one of the county's most well-loved Edwardian buildings. The interior – which is full of original sumptuous stonework and sweeping marble staircases – is famed for two restaurants (Hudsons and The Rise), a spa and world-class £15m cookery school. However, today myself and my guest didn't have to indulge in brushing up our own culinary skills, as we were lucky enough to be invited to the launch of Afternoon Tea by Hudsons.
The intimate, oak panelled room harks back to the era of post Victorian splendour, much-loved by our railway industrialists. After being taken to a table by a huge window which overlooked the glorious York walls, Walter presented our table with an array of thirst quenching teas by Newby of London to smell, including Jasmine Blossom and Milk Oolong. Opting for our favourite, Earl Grey, we spent the next few hours relaxing over an incredible menu, which started with a palate refreshing chilled tomato tea.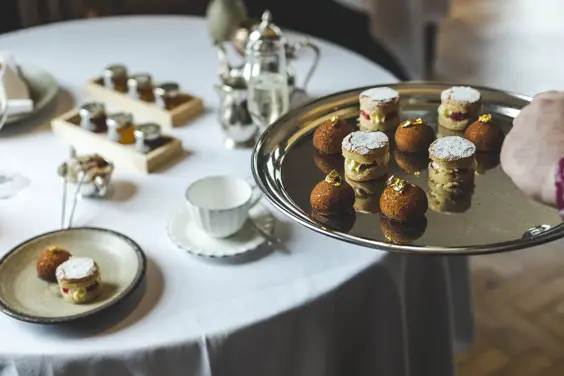 "Secret ingredient"
This was followed by a selection of sandwiches; smoked sea trout, red onion and chives on brioche, pickled cucumber and dill on sesame sourdough and Victorian egg mayonnaise toast sandwich, egg yolk fudge and cress. All were delicious, though the egg sandwich had an unexpected but pleasant surprise as it had a toasted element in the centre (apparently Queen Victoria was a huge fan). A firm favourite was the smoked sea trout and we would have ordered more if we didn't have a feast to get through!
Words cannot express the flavour of the homemade plain and fruit scones – suffice to say, I will never buy a shop-made scone again in my life. There must be a secret ingredient that made them so utterly melt-in-the-mouth, though Walter was keeping his lips tightly sealed on what it could be.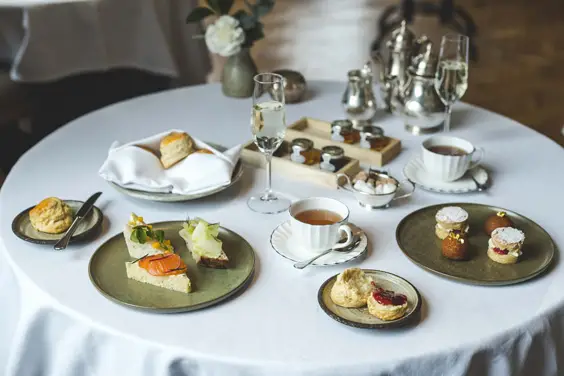 "Divine"
Post scone heaven and following more tea, a trio of patisseries were brought to the table. These consisted of pistachio cake with chocolate cream and strawberry, a caramel gold choux bun and banana bread with hazelnut and truffle – all absolutely divine, especially the choux bun.
The Afternoon Tea by Hudsons will make any occasion very special, especially a birthday or anniversary celebration. Expect to stumble upon a variety of celebrities within its hallowed halls – Hugh Grant and Russell Crowe have recently been spotted there – though you won't hear any gossip from the utterly discreet staff. Post tea, it's a very quick stroll into the centre of York to visit the Minster and indulge in a spot of retail therapy.
Afternoon Tea is initially priced at £35, with a Champagne and a cheese course optional. Available Friday, Saturday and Sunday from 12:30 to 2:30pm
To book contact The Grand, York, Station Rise, York
01904 894577