Horto, Rudding Park, Harrogate – Restaurant Review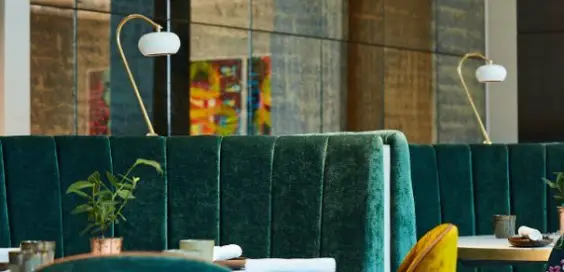 By Ceri Saunders
I've only been to Harrogate twice since I moved to Yorkshire. The first time was for a poorly planned wander around in the rain, and the second was to watch York City get beaten by Harrogate Town 2-0 last season (yes, in the rain). So my third visit, it would seem, was to be third time lucky.
We were heading to Horto, the restaurant headed up by face of Masterchef: The Professionals and all-round culinary extraordinaire, Murray Wilson, which is part of Rudding Park. A privately owned hotel set in 300 acres of landscaped gardens and woodland on the town's outskirts, the spa and golfing destination boasts an impressive 90 bedrooms, a kitchen garden, conference and events space – and even a private cinema. But tonight, we were here for one reason, and one reason only – to see just what Horto has to offer.
Driving on the sweeping roads and tree-lined lanes on approach to Rudding Park really makes you feel like you're in for something special. This is literally off the beaten track, far from the cluster of both chains and independent restaurants you will find in the town centre. And despite the park's size (we drove for around five minutes off the A59), the restaurant is well sign-posted and entirely accessible.
"Relaxed and enjoyable"
Set through the reception area of Rudding Park's spa, the entrance to the restaurant certainly isn't typical – it is light, bright and tiled, much like the entrance to a leisure centre. Still, this was the first nod that our evening was to be far from what we were expecting.
The theme of light and bright continued in to the restaurant itself, as we were greeted by the restaurant manager and soaked in the modern décor – canvases, abstract paintings, original artwork, an open plan setting and pops of colour provided trough the seating.
If you're anything like me, heading to a restaurant with a reputation – Horto has been awarded three AA Rosettes and was earlier this year voted Best Fine Dining Restaurant in the Yorkshire Evening Post Oliver Awards – can be a little daunting. I often frantically scour the internet for the latest foodie trends, attempt to scrub up on my knowledge of more obscure dishes and decide what on earth I should wear. But upon entering Horto I breathe a sigh of relief – this was going to be a relaxed and enjoyable evening.
"More extensive than expensive"
We arrived early enough to catch the last of the summer evening sun at a table nestled alongside the restaurant's expansive window 'wall', if you like, adding to the area's brightness and casual ambience. We soaked up the views of the restaurant's courtyard and charming hotel rooms.
The drinks menu was varied, and more extensive than expensive, offering a range of cocktails, mocktails and soft drinks along with beers, cider and an impressive range of wines (available by the glass, I hasten to add).
My sub-fiver mocktail (I was designated driver, sadly) was crammed with flavour and made all the more refreshing with the addition of mint from the aforementioned kitchen garden. My other half opted for a cooled bottle of cider. It was a convincing thumbs up.
We were presented with two menus by our friendly waiter – one a tasting menu (served with accompanying tasting wines), and one a la carte.
"High praise"
After much deliberation, we eventually decided to opt for the a la carte menu – the choices seemed too good to miss. And I would only be disappointed that I couldn't have enjoyed the wine.
After ordering our meals it wasn't too long before we were greeted by the glorious smell of freshly baked mini brioche and sourdough appetisers, accompanied by a honey and mustard mayonnaise and a roast chicken butter with a pool of allium oil (that's more or less garlic oil, to you and I).
It was high praise indeed from my companion, who boldly claimed the bread was the nicest he'd ever eaten. The brioche was bursting with fresh flavours and had a moreish crunch, while the sourdough's close yet fluffy texture was simply delightful. We knew we were in for quite the meal.
"Delicate flavours"
Shortly after we'd mopped up every last morsel, our starters made their way over to our table. Mine of garden tomato, dorstone and black garlic was simply a work of art, finished delicately with dried and fragranced tomato and herbs. Each element of the dish had been so carefully considered – which is very much part of Horto's impressive mantra. 'Horto' translates as 'kitchen garden' from Latin – the menu is driven by what its garden has to offer. And I like that. A lot.
Jake's dish of Whitby crab, peas and wasabi was a precisely stacked mini tower of joy, sandwiched between two cracker-style layers for that 'crunch' factor. The fresh peas offered a glorious texture, I was informed, while the healthy dollop of wasabi gave the beautifully flavoured crab a pinch (geddit?) of spice.
I too opted for fish for my main course, in the way of turbot, served with onions and a dashi. The turbot was cooked beautifully, falling apart at the slightest nudge from my fork. Teamed with the steaming dashi, soft onions and radish, it was a wonderful combination of delicate flavours – though they didn't blow my mind quite as much as my straight-from-the-garden starter. Still, it was a triumphant dish.
"Packed full of flavour"
Incredibly, my partner ordered a vegetarian dish from a menu, perhaps for the first time ever. And, to be fair, the tortellini with trompette and parmesan very nearly had my vote, too. Arriving in a formation perhaps comparable to Stonehenge, they were neatly rounded and packed full of flavour, surrounding a small mound of gently cooked mushrooms. As epic as Stonehenge? Perhaps so.
(It's worth noting that when ordering, we were asked to pick a side for each of our dishes – the three options were buttered heritage potatoes, brassicas with a soy dressing, or mixed leaves with a seaweed vinaigrette. I think I ordered mixed leaves in a panic – in hindsight, the brassicas or potatoes would have been a far better suit. But the nature of our sides meant we could dip in and out of each other's as we pleased. Again, very casual.)
"Delightful contrast"
As the dessert menu came around, I steered away from my usual go-to of cheese and opted for a dish described as 'Mini Milk', with cherry and meadowsweet. Very mysterious, I thought. And I perhaps naively didn't quite expect the hit of the meadowsweet's aniseed flavour, but teamed with caramelised sugar and a creamy…well, I'm not sure what it was, actually, but it offered a brilliant balance to finish off the evening.
Jake went for the yuzu tart – a brilliantly baked mini case crammed with lemon thyme and summer berries. The case had a perfect snap and offered a delightful contrast to the soft berries held within it – and a delightful end to our evening.
The only downfall of our visit was that we didn't have chance to sample the tasting menu, spa or rooms – but that may well be how I justify our return trip.
Horto, Rudding Park Hotel, Follifoot, Harrogate, North Yorkshire HG3 1JH
01423 844822
ruddingpark.co.uk/dine