The Lost & Found, Greek Street, Leeds – Restaurant Review
By Kirsty Reid, May 2023
Whether you're after a light bite, slap-up meal or a boozy night out, Greek Street is the place to be.
Come sundown on Saturday, the vibrant Leeds hub is buzzing with revellers in search of a good time – my partner and I included.
About halfway down the strip we stumble upon The Lost & Found, a bar and restaurant that promises a 'whole new world to discover' – and it does not disappoint.
The Victorian-style drinking den oozes grandeur, with quirky décor, brass furnishings and striking greenery dotted throughout. Like the Tardis, this place is seemingly bigger on the inside – home to a beautiful bar and restaurant, as well as a stylish secret hideaway that caters for private functions.
Despite the bar being awash with partygoers, it isn't long before we were shown to our table – a cosy nook away from the hustle and bustle.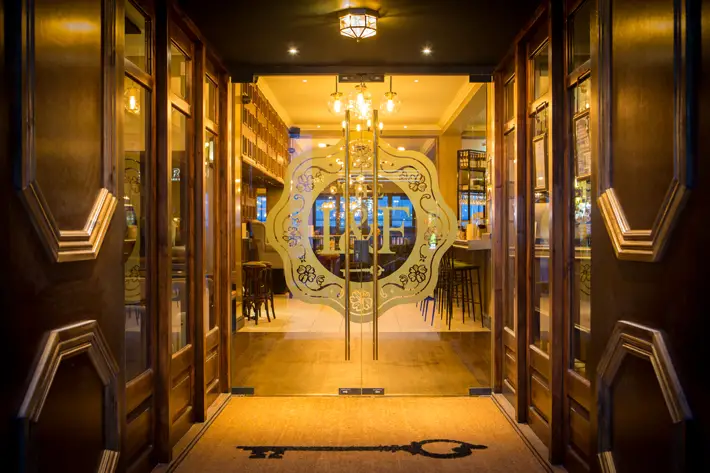 "Perfectly portioned"
Themed around fictional botanist Virginia K. Stevenson, The Lost & Found is the perfect place to sample unusual and creative cocktails.
As the evening's designated driver, I am pleasantly surprised by the variety of alcoholic-free tipples on offer, and settle on the Italian AF Spritz (£6.50), while my other half opts for an Espresso Martini (£9.59).
With a tantalising menu to pore over, I change my mind several times before finally settling on the bruschetta (£9.50) and pan-fried chicken breast (£16.75), while my partner, Kyle, chooses the crispy halloumi (£8.25), along with the lamb mixed grill (£22).
The bruschetta comes in the form of a light, crisp sourdough served with deliciously creamy Superstraccia cheese, semi-dried tomatoes and basil pesto. A tomato sherry dressing completes the perfectly portioned starter.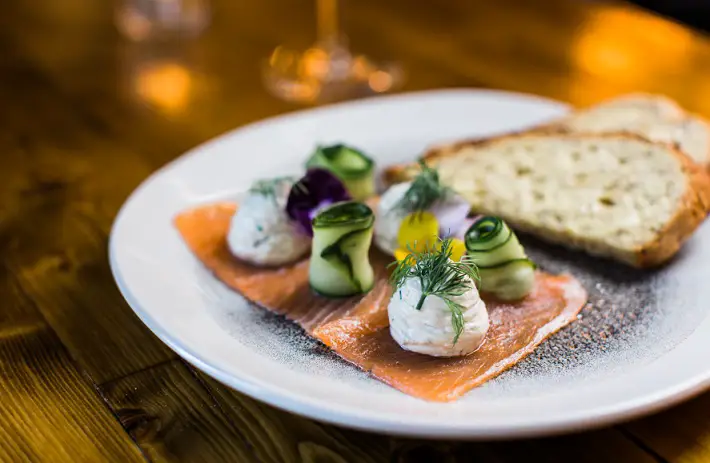 "Impressed"
Kyle enjoys his crispy halloumi equally as much. I have food envy and feel the need to sample the goods – with no regrets. Beneath the crispy, golden coating lies a soft, slightly salty, gooey centre. Served with fresh cucumber, chilli jam, spring onion and chilli salad, the light bite is a good fit for the venue's new spring/summer menu.
The amazing appetisers leave us hungry for more. Fortunately, service here is second to none and it's not long before the main contenders are brought out.
Atop a bed of charred Tenderstem broccoli, spinach and chorizo sits my scrumptiously succulent chicken breast. Cooked to perfection, the meat is accompanied by sautéed potatoes and garnished with semi-dried tomato tapenade and saffron aioli.
My partner is impressed with his lamb mixed grill. Comprising chargrilled kofte, marinated lamb chop and Merguez sausage, the platter is plentiful and the meat tender and juicy. The fries are incredibly moreish, as is the charred flatbread – especially when smothered in the accompanying houmous. The creamy harissa yogurt is a welcome surprise. Bringing the dish together, the spicy dressing complements every item on the plate.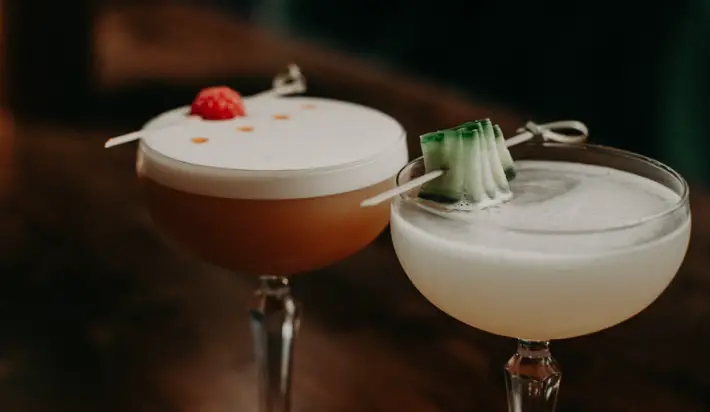 "Delectable"
My jeans might be feeling a little tighter by this point, yet I can't help but be tempted by desert – it is the weekend, after all. I don't hesitate to order the dark chocolate brownie (£8.50), minus the cherry compôte.
Though not usually a fan of chocolate gelato, a scoop of chocolate and blood orange ice cream perfectly complements the rich, melt-in-your mouth baked brownie. The accompanying salted popcorn makes for a nice visual, though it does little for the taste buds.
Not usually one for sweet treats, Kyle devours the surprisingly light sticky toffee pudding (£8.25), paired with caramel ice cream, the delectable dessert is topped with toffee honeycomb and caramel sauce, and washed down with a Beavertown Gamma Ray (£5.20).
Perfect for couples and groups alike, this grand venue has so much to offer. If you're looking for a plush place to dine and drink, look no further than The Lost & Found – it's a feast for the eyes and the palate.
The Lost & Found Leeds, 12 Greek Street, Leeds, LS1 5PT
OPENING HOURS:
Monday – Thursday: 12pm – 11pm
Friday: 12pm – 1am
Saturday: 11am – 1am
Sunday: 12pm – 11pm