Chaophraya, Leeds – Restaurant Review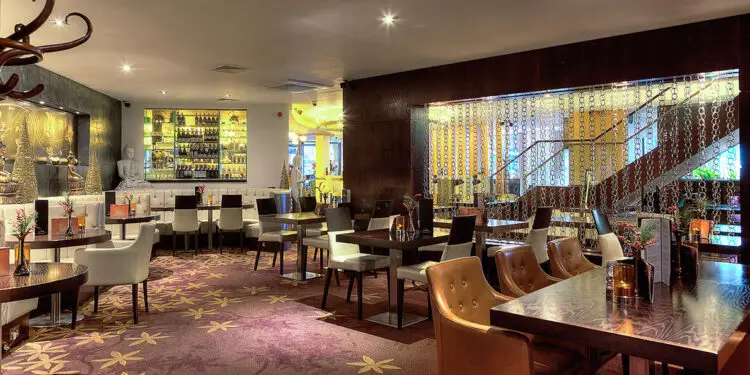 I was quite late to the Thai food scene.  I'm blaming that on a stinking awful Thai Green curry I had when it had just become a popular dish, and all the rage.  Thai food? Not for me, I thought.  But then I was told I was crazy, and that I needed to branch out in to more of what Thai food is all about.
And since that dressing down, I've never looked back. Especially so when I was told to check out Chaophraya in Leeds.
Chaophraya is a large, classy restaurant, in the city centre of Leeds but sat nicely just outside of where all the lively happenings are going on. It's close to the train station, and you're close to the action. But you're in a nice, relaxed area of town and that adds to the appeal.
We walked into this eye-catching reestablishment to be very warmly welcomed at the front desk.  We were escorted to a lovely booth towards the back of the place, and this allowed us to walk through the restaurant and immediately see how stunning it is inside. If, like me, you haven't been to Chaophraya before, it's a very elegant restaurant. It's large, with plenty of tables and plenty of space.  There's a modern feel inside, and nods of oriental detail around the interior that lets you know the kind of cuisine you're about to eat.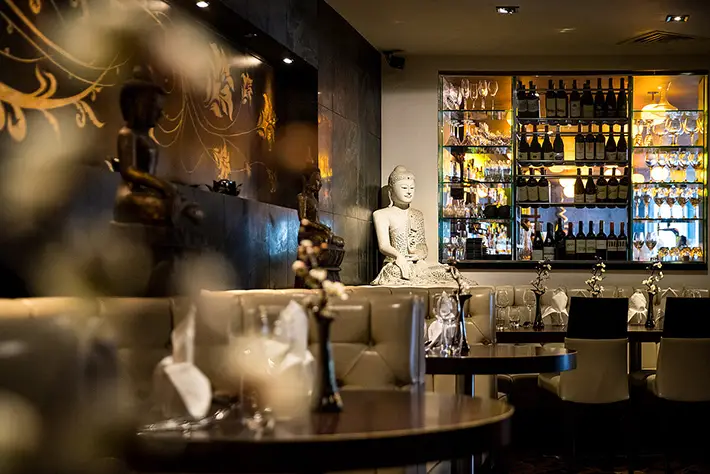 "A true taste of Thailand"
As with many Thai restaurants, there's a large menu that's packed with regular dishes and house specialities.  Nibbles, platters, stir-fry, curry, noodles…you name it. Chaophraya are proud of their menu, and state that it's designed by their founder Kim alongside their chefs.  It promises to deliver a true taste of Thailand, with colour and a diverse variety of recipes.
We were already enjoying a glass of Singha lager (£5) and a Raspberry Goose cocktail (£9.75), and as we looked over the menu, we liked a lot of what we saw. It's worth pointing out that a lot of the menu is vegan and vegetarian friendly – look out for items under the 'from the garden' section.
Very quickly it was apparent that our service at Chaophraya was going to be lovely throughout the evening. Very attentive, and very natural. Friendly, and good humoured too.  When we initially booked our table, we advised that one of us struggled with fish. Our server, much to our delight, reminded us that we'd asked for recommendations away from fish elements, explained that he'd done his research and listed out several options that were safe to go for.  We loved that this much attention to detail had been made, and the already fantastic service had just got even better.
"A livelier eat"
When it came to placing our orders, my partner decided on the Satay Gai (£8) to start. A chicken satay dish, created in a Chaophraya style.  I was tempted for the signature starter of Taco Gai, but right at the last minute plumped for the grilled pork skewer option, Moo Ping at £10.
For our main courses, I ordered the Red Duck Thai Curry (£16) with a side of Khao Neow sticky rice at £4.50. My partner, who was drooling over a number of the dishes, decided to try the house staple dish, Pad Thai (£14).
We'd had a great first impression of the Chaophraya and were more than ready to indulge in its food. And our starters arrived quickly, with both plates were presented nicely.  The Satay Gai came served on bed of lettuce, with a separate peanut sauce and sweet Thai relish. The plate also had garnish to the side, allowing you to choose how much you wanted with your starter.  As she tasted the first piece of chicken, my partner was happy. It was cooked perfectly and was a tender piece of meat.  She loved the peanut sauce and enthused about how light and fresh it was, and packed with flavour.
Being a similar type of dish, I can kind of echo everything she said when it came to my Moo Ping.  Again, it was served nicely on a bed of lettuce, with separate garnish and a tamarind chilli sauce.  The pork was perfect, juicy, and succulent; and tasted great on its own. Add a bit of the sauce and a smooth, smoky flavour made it a livelier eat.  Really enjoyable, and it's testament to a great entrée when there's nothing left at all on the plate when the waiter comes to collect it.
"Beautiful aromas"
We were enjoying the atmosphere and the ambience that this Wednesday evening was giving us. Around the room there were all manner of diners in Chaophraya. You have families celebrating birthdays, friends out having a good time, and smartly dressed lone diners who look like they might be in Leeds on business.  What that tells you is that this restaurant, that's been a part of the Leeds dining scene for a very long time, has a very wide appeal. Its reputation is strong and with such a nice environment, led by incredible staff, you can see exactly why.
It wasn't long before our main courses were brought over, and with it came with some beautiful aromas that started the tastebuds tingling before the plates had even been set down.
My Gaeng Ped Yang Duck Curry looked and smelled gorgeous.  Served in a classic Thai way, this dish contained pineapple, cherry tomatoes, grapes, strawberries, lychee and Thai basil.  I am a big fan of Thai Red Duck Curry, and this one was up there with the best of them.  There was a nice amount of meat, which followed the pattern of our starters in being cooked perfectly.  My first few mouthfuls came with a slight spicy kick that I wasn't quite expecting, but it was a more than comfortable mouthful. The flavours that came flooding through were incredible. And, together with a nice portion of sticky rice, I was a very happy man with what I'd ordered. Yes, I'd chosen something I knew I'd like, but there's nothing wrong in being safe sometimes, is there?
"Generous pieces"
Next to me, my partner had an equally tasty Chicken Pad Thai in front of her.  Now, this dish was large and Chaophraya obviously didn't want her to go home hungry!  Made up of Thai rice noodles, vegetables and sweet tamarind sauce stir-fried with an egg, it was a delightful dish.  It was served with crushed peanuts, chilli and lime on the side. There were generous pieces of chicken in the Pad Thai and once again, had been perfectly cooked.
We'd both done well with our starters and main. And being the greedy so-and-so's we are, we'd eaten perhaps a little bit more than we'd normally be able to fit in!
But then, out of nowhere* (*the waiter's hands) came a dessert menu. Our eyes got the better of us! However, as we calmed down, we thought it would be sensible to share something to finish off our evening.
"A lovely experience"
The dessert menu is a shorter affair with eight options.  We decided to share the Clementine Tart, at £7.45.  It was a well thought of choice by our server, so we looked forward to trying it.
And, as far as sharing dishes go, this one was just right.  A lovely slice of tart, accompanied by a scoop of vanilla ice-cream. And a bonus serving of raspberries and blackberries on the side.  Now, I must admit I really liked the flavours and the texture of this dish. But, I'd over indulged and I couldn't manage more than a couple of spoonfuls.  The same went for my partner too, and we had to admit defeat with a few more mouthfuls of this lovely sweet left.
But wow, what a lovely experience we'd had at Chaophraya. We'd enjoyed every aspect of our visit, and I'm only disappointed that I hadn't dined here before. If you want a high standard of Thai food, in a beautiful restaurant that's close enough to town if you want a few drinks afterwards, this is the place for you.
We said our thankyous to the wonderful staff, and we left very happy.  Chaophraya is a place we need to visit more regularly.
Chaophraya
20A, Blayds Court, Swinegate, Leeds LS1 4AG
Mon – Sun: 12pm – 10pm
0113 430 0122
chaophraya.co.uk/thai-restaurant/leeds