Café 21, Fenwicks, York – Restaurant Review
By @Roger Crow
In the movie of our lives, a hypothetical pause button robbed us of weeks of sitting in cafés and restaurants, watching others going about their business, wondering about their backstories while scoffing delicious food or sipping drinks.
It's that people-watching and ambience I've missed the most, but also that thing about trying different restaurants; pushing myself out of my comfort zone and sampling the vast array of glorious eateries that Yorkshire has to offer.
Which brings us to a rain-lashed Friday afternoon at Fenwicks in York. I've been invited to try their restaurant, Café 21, and don't need asking twice.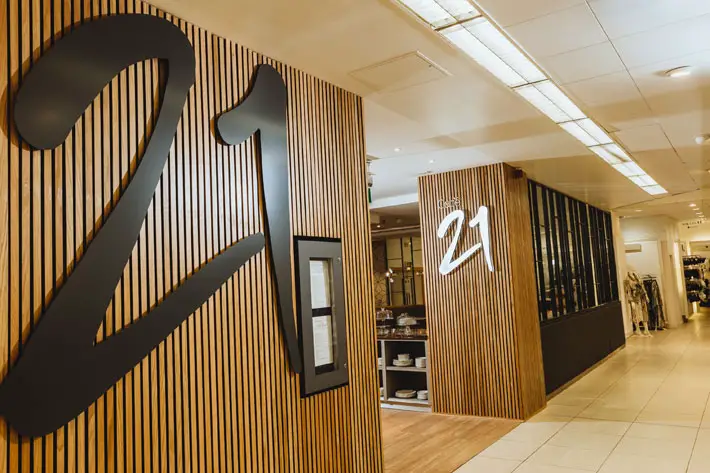 "Super welcoming"
A real restaurant with actual people. Not just me sampling some culinary concoction I've cooked up while talking to people on Teams or Zoom.
And after the longest time waiting for restaurants to open up again, the experience is terrific. From the minute a friend and I enter Café 21, with its glorious, tasteful decor, it feels super welcoming.
The staff could not be more attentive, but what of the food?
Well, I order a couple of dishes from the set menu, beginning with a prawn and avocado salad. It doesn't take long to arrive, and you get a generous portion of juicy prawns with a delicious sauce; finely sliced radishes, and excellent avocado.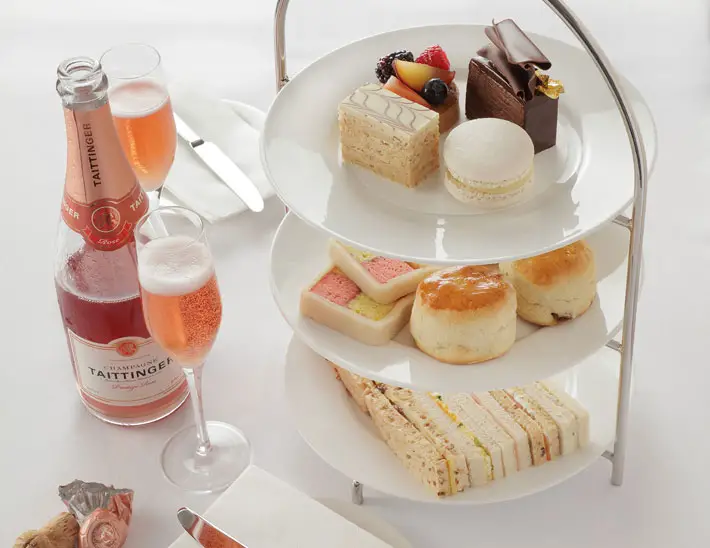 "Light and flavoursome"
It's a beautifully prepared dish, which is easy on the palate, and a great teaser for the main.
I opt for sea bass with braised courgettes, basil, and a side of potatoes. Again, it's beautifully prepared, the fish is outstanding and the potatoes beautifully complement the flavour.
I adore sea bass, and this is so light and flavoursome I'm in culinary heaven. The fact there's no bones is an added bonus.
There's always that dilemma with a set menu, whether there will be something from the starter, main and dessert worth going for. You can order just two for a very reasonable £22, but because the first two courses weren't too heavy and I'm a sucker for a chocolate brownie, I go for dessert. I'm so glad I do.
A delicious mix of moreish brownie, quality sauce, and vanilla ice cream makes this a hugely successful hat trick. And three courses for £25 a real bargain, especially given the calibre of the food.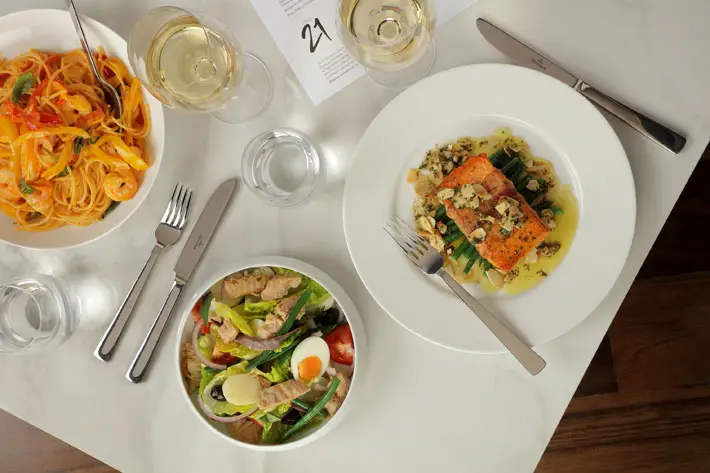 "Very affordable"
For years I've always sent 'complements to the chef' when a dish deserves it. But I had no idea until after finishing that the chef turned out to be an old friend I hadn't seen since his wedding day in 2004. So it's not only one of the best meals I've had this year, but also a welcome blast from the past.
Fenwick's Café 21 is a reminder of how great Yorkshire restaurants can be, and how a well-run eatery operates. There's not a weak link in the chain during my stay, from start to end. It looks great, the food is terrific, and the price for a great lunchtime dinner is very affordable.
I won't need much of an excuse to return and try the main menu, given the array of lip-smacking goodies on offer. And the sooner the better.
Highly recommended.
Café 21, Fenwick York, Coppergate Centre, York, YO1 9WY
Opening hours:
Mon-Sat 9am-5pm
Sunday 10am-4pm
01904 946099
cafe21york.co.uk