Brasserie Blanc, Leeds – Restaurant Review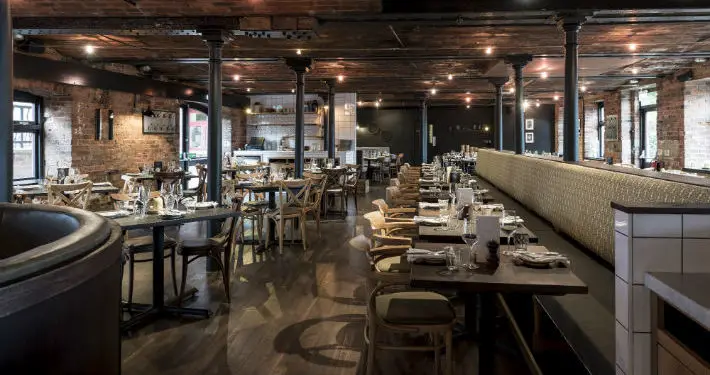 Friday evening. Heading out for a nice meal and a drink can help you nicely unwind and get your weekend off to a lovely start. Picking the right place for that can sometimes be a task. But if you go to Brasserie Blanc in Leeds, you'll have made a pretty good decision.
A 7:30pm reservation meant I could meet my friend for a drink in town; before heading down to Brasserie Blanc, a French-style restaurant I'd heard good things about. And for Leeds, we got as close to a French riviera feel as you possibly can. Brasserie Blanc sits in an old, refurbished mill overlooking the water on the canal. It looks lovely from the outside, as it does when you walk in.
We arrived a good 20 minutes early. And although our table was ready, we were offered the chance of a drink at the bar. It'd have been rude to decline. So we took it and kicked back on a very comfy sofa and our host brought the menus over. The mixed berry gins were a lovely and refreshing way to begin our sitting. Nice place, and the menu looked delightful.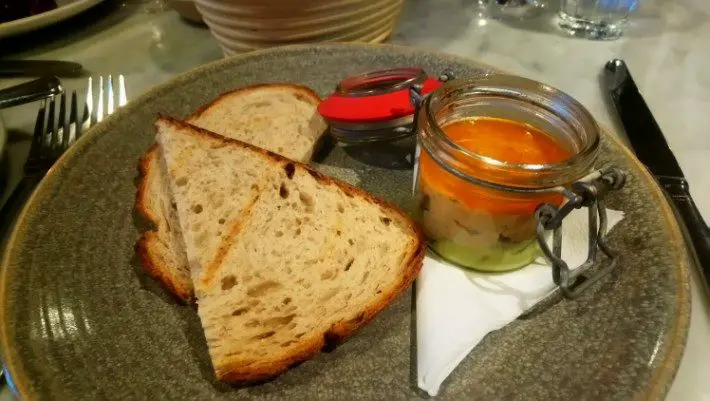 "The perfect starter"
Brasserie Blanc gives you a lot of choice. Fish, veggie, meat, and classic French cuisine. Sometimes a lot of choice can pose a problem, but because of the range of choice, that didn't happen here. I went for the Potted Cornish Crab and Avocado (£8.75) to start, with my friend choosing the Chicken Liver Parfait (£6.95). For our main dishes, I liked the sound of the Duck Leg Confit with Citrus Sauce (£16.95) and my friend chose the Smoked Pork Belly With Gooseberry Compote (£18.50).
We'd been sat in a nice spot. A window seat, sat at an angle so we could both glance outside and around the room. It seemed like every detail of the customer experience had been thought of here. Everyone in the place were clearly enjoying themselves.
As our first bit of food came, both plates looked superb. My crab starter came with prawn butter and sourdough toast and tasted as delightful as it looked. The crab was soft and light, and mixed nicely with the avocado. I also sensed a faint spicy kick in the mix too.  It was what I'd call the perfect starter. The correct size, an easy and fresh eat, and had a good flavour that warmed you up for your main course.
I was very impressed with my first course. My friend also enjoyed her chicken liver parfait, which was again nicely presented and came with truffle butter, red onion marmalade and toasted brioche.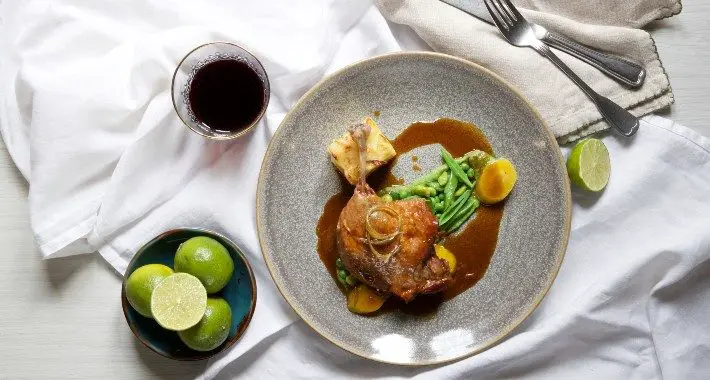 "Once again, a presentation victory"
We were happy with how our visit was going. Brasserie Blanc on a Friday evening is a lovely place to be, with a very nice atmosphere. And what I really liked is the whole welcome and hosting thing. They've got this bit beautifully right. Whenever we talked to a member of the team, we got genuine, natural, conversational interaction.
Location wise, it's in a great spot. It's just on the edge of the hustle and bustle of Leeds city centre, at the bottom of town. It's got a gorgeous interior which has modern taste with traditional features. Tables are set up for parties of all sizes, and there was a group of about 20 in, many groups of five or six, and lots of couples.
We were excited for our main meals as the starters were so good. And when they came, we weren't let down. My duck leg confit was, once again, a presentation victory. It was placed on the plate and surrounded with pea purée, broad beans, peas and sugar snaps. I asked the chef to hold back on the heritage carrots (we don't get on), and there was dauphinoise potato, lime zest confit and citrus sauce. And the taste? It was remarkable. The duck leg had been cooked perfectly, and the meat was soft. So tender it fell away from the bone and kind of melted in the mouth. You hardly had to chew. And the combination of the purée and the citrus sauce went well with the other accompaniments.
Special mention for the dauphinoise potato too. Absolutely delicious, and if I could have had more than one portion I would have done.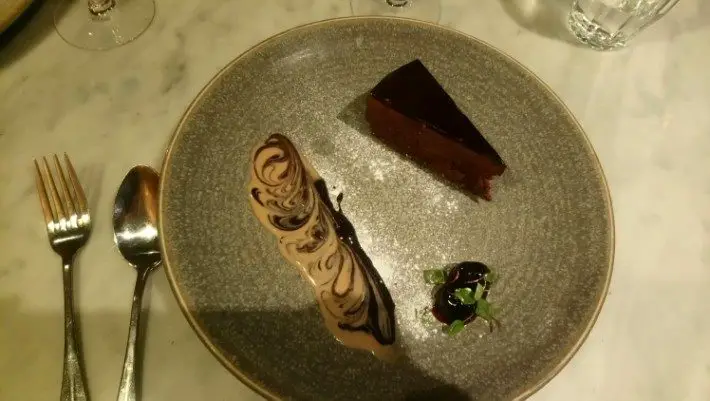 "Another good choice"
At the other side of the table lay a pork belly dish that came with crackling, gooseberry compote, sautéed potatoes and pork jus. Again, pleasing on the eye, and I had a little taste myself. I'm a fan of pork and crackling. And if the duck dish wasn't on the menu I'd have plumped for this. Another fine dish, with soft and tender meat.
The house wine was going down well alongside the food, and we poured another glass while I chose my dessert. There was a rich sounding dish by the name of Chocolate Feuillantine which I had to go for, and when it came I knew I'd made another good choice.  It looked rich and naughty, but in essence it was quite light and manageable. 
We'd had a really good evening at Brasserie Blanc, and we were in the restaurant for over two and a half hours.  Time flew, and that was down to the overall wonderful experience that the restaurant offers. The food, the service, the atmosphere and the ambience.  It's a place to check out next time you're looking to go for a nice meal in Leeds.  It definitely won't disappoint.
Brasserie Blanc, Victoria Mill, Sovereign Street, Leeds LS1 4BJ
Opening Hours
Mon-Fri 10am-10pm
Sat 9am To 10:30pm
Sun 9am To 9pm
0113 220 6060
https://brasserieblanc.com/restaurants/leeds/