Chicken, Leek and Ham Pie – Recipe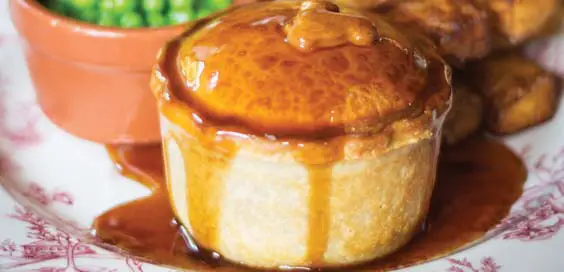 Chicken, Leek and Ham Pie
Recipe
A classic pie from the menu of The British Oak, one of the True North Brew Co. family.
Preparation time: 30 minutes, plus 1 hour resting | Cooking time: 1 hour | Serves 4-6
Ingredients:
For the pastry:
340g plain flour
Pinch of salt
120g lard
120g butter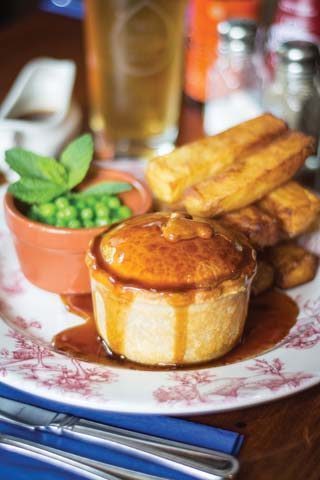 For the filling:
1.5kg cooked free-range chicken
200g cooked ham
2 onions, cut into rough ½cm cubes
1 garlic clove, chopped
3 leeks, washed and cut into rough ½ cm cubes
150g unsalted butter
150g plain flour
450ml chicken stock (or 1 chicken stock cube in hot water)
300g double cream
10g English mustard
Beaten egg, to glaze
Salt and white pepper, to taste
Method:
For the pastry:
Whisk the flour and salt together in a large bowl. Then cut in the butter and lard with a knife or pastry blender until the mixture resembles coarse crumbs.
Add enough cold water to bring the flour to a soft dough, 1 tablespoon at a time, blending gently until all the flour is moistened and the dough almost cleans the sides of the bowl.
Wrap the dough in cling film and rest in the fridge for at least 1 hour.
For the filling:
Flake the cooked chicken and the cooked ham into a large bowl and keep chilled until needed.
In a pan, fry off the onions (without colouring) then add the garlic and leek, and cook until soft.
Let this cool and then combine with the chicken and ham in the large bowl.
Melt the butter in a pan, add the flour and cook together to make a paste. To stop this catching, you must stir it constantly.
Slowly pour in the chicken stock and the cream while stirring and cook for about 10 minutes until glossy.
Chicken, Leek and Ham Pie: "Golden"
Once glossy whisk in the mustard and allow the sauce to cool before pouring over the chicken, ham and leek mixture.
Whilst the mixture cools, roll out the flaky pastry and grease and line a pie tin. You could use individual pie tins or one large tin.
Preheat the oven to 175°c.
Once the filling has cooled, fill the tin(s) and brush any exposed pastry with egg wash.
You can now cover your pie(s) with pastry lids and brush the lids with egg wash.
Bake in the preheated oven for 30-35 minutes until the pastry is golden.
Leave to rest for 10 minutes before serving.
Enjoy!
Recipe courtesy of The British Oak, Sheffield. Taken from 'The Sheffield Cookbook: Second Helpings' available for £14.95 from Meze Publishing