Best Ingredient Combinations – And the Ones to Avoid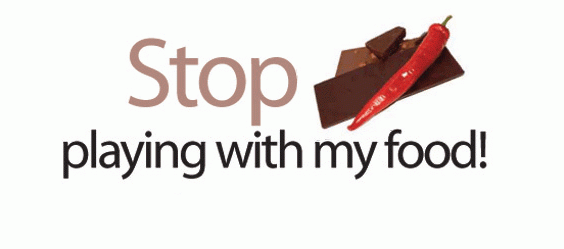 Stop Playing With My Food!
It was the Stilton smoothie that really tipped me over the edge – yes you heard right – Stilton smoothie. A Brighton-based company has taken the king of cheeses and made a drink out of it. You'd think this would be sacrilege enough, but no; not only have they made a drink, they've made four different flavours, so you can have your Stilton smoothie blended with gingercake, with peanut butter, with chocolate or with mango.
Now I know I should taste this abomination before slating it but I'm not going to. I'm not going to because it's just plain wrong – this constant messing about with food – taking a perfectly decent ingredient and forcing it to play with something it has no business playing with.
"Shoehorn in flavour"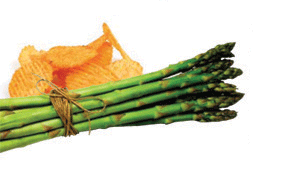 Other main offenders seem to be chocolate and crisps. Manufacturers, who sense that these are treats we can't live without can't resist coming up with more and more outlandish combos. Crisps used to be simple cheese 'n' onion/salt 'n' vinegar affairs with the occasional genius move into more out-there flavourings (Bovril, tomato ketchup, prawn cocktail – weird yes but they all work). Then the 'posh' crisps revolution happened and your 'hand cut' crisps suddenly cost two quid a packet and were infused with flavours such as red Thai curry, sun-dried tomato, or asparagus. Am I alone in thinking the word 'asparagus' has no business coming within three miles of a crisp packet?
Chocolate fares little better – in the past year I've eaten chocolate infused with balsamic vinegar, green tea, tobacco and chilli. To be fair, the chilli one wasn't bad but the rest were awful – and bloody expensive. These days 'artisan-produced' hand-made chocolates seem to be an excuse to shoehorn any flavour into confectionary in the name of art.
"No resemblance to real food"
I blame 'molecular gastronomy', the pioneering cooking practice made famous by the Spanish restaurant El Bulli and taken up in this country by chefs like Heston Blumenthal. This marriage of cooking and science means that chefs can create dishes such as 'hot' ice-cream or apple caviar.
In the right hands this can be revolutionary, unfortunately it has also started a rash of imitators – chefs who can't wait to get their hands on foam machines and spherification kits so they can then turn out long tasting menus of hundreds of little dishes – many of which bear no resemblance to real food.
Ultimately all of this meddling is making me long for simple well-cooked dishes that actually resemble the raw ingredients. I think we are in danger of forgetting that a well-brought up chicken simply roasted can be one of the best flavours in the world. This leaning towards food that has been altered or artificially flavoured means we are not far away from the sci-fi idea of a 'meal in a pill' where cooking isn't even involved at all. Give me a plate of fish and chips over that any day.
Best Ingredient Combinations: Five classics
1. Lamb and Mint
Don't just go for the obvious roast lamb and mint sauce here. A summery alternative is to rub lamb leg steaks with olive oil, seasoning and a little ground cumin. Chargrill or BBQ until pink then slice and serve in flatbreads with a dollop of natural yoghurt mixed with fresh chopped mint.
2. Chicken and Tarragon
The subtle aniseedy flavour of tarragon is a perfect match for chicken. To make the most of it, mash room temperature butter with crushed garlic and chopped tarragon and season well. Ease the skin gently away from the breast and push the butter under. Smooth back then roast until golden. Carve and serve the sliced chicken and the buttery juices tossed with tagliatelle.
3. Cheese and Tomato
We're not talking white bread sandwiches. Make the most of your tomatoes by slow roasting to concentrate their flavour and sweetness. Put halved tomatoes cut side up on a baking sheet, sprinkle with salt, pepper and a little chopped garlic. Drizzle with olive oil and cook in a low (gas mark 2/150C) oven for 1-1 1/2 hours. Serve warm with some buffalo mozzarella and a drizzle of extra virgin olive oil.
"Tinged with gold"
4. Smoked Fish and Horseradish
Tangy, fiery horseradish cuts through the oiliness of smoked salmon or mackerel. Make a simple summer salad by boiling some new potatoes until tender. Flake a couple of smoked mackerel fillets then toss with the halved warm potatoes. Serve on a bed of watercress and drizzle with a dressing made from mixing crème fraiche, lemon juice and a couple of teaspoons of horseradish cream.
5. Carrots and Cumin
Cumin has a natural affinity with root veg like carrots and beetroot. Quarter carrots lengthways then par boil-for five minutes. Toss with a couple of tablespoons of olive oil and 1 tbsp cumin seed. Roast in a hot oven until tender and tinged with gold.