Honda CR-V vs Mitsubishi Outlander – Compare Review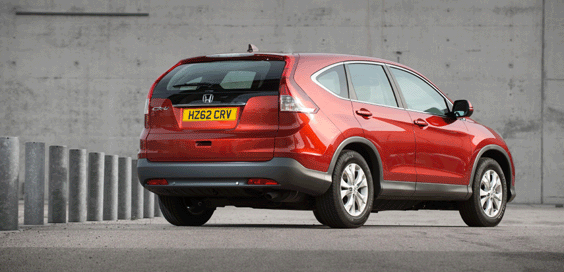 By Liam Bird
Perhaps this year's inclement weather has got you thinking. Maybe, just maybe, you need a 4×4. Think of all space it would have – it'd be great for the kids. The extra ground clearance and the higher seats would mean your parents wouldn't struggle to get in it. The large boot space would be ideal for the Ikea run; your mountain bike would no longer have to hang precariously on a frame on the boot lid, and besides, your family-sized canoe just won't fit on your Fiesta. Plus, even though you're not ready to admit it yet, you quite fancy a caravan too. The chances are what you're really thinking about isn't what those in the checked and rigger-boots shirts consider to be a proper 4×4: What you're looking for, is an SUV.
If that's the situation you find yourself in, both Honda's new CR-V and Mitsubishi's new Outlander might just be very well up your green-lane. Both offer the all-important "command driving position" and the chunky looks of a bonafide off-roader that's so important on the school run. And yet both provide an altogether more car-like driving experience than, say, a Discovery and the diesel option on both promises far better fuel economy figures too. The CR-V's 41.5 combined mpg losing out to the Outlander's class-leading and impressive 48.7.
"Slightly more affordable"
Performance and price-wise there are striking similarities also, especially when it comes to the range toppers. An Outlander GX5 will set you back £33,999 compared to the £32,650 that your Honda dealer will relieve you of in exchange for a 2.2 i-DTEC auto. But whereas the Honda falls in to VED (that's the tax disc) band I, the Mitsubishi with its lower CO2 emissions (153g/km plays 180) falls in to the slightly more affordable band G. Factor in the Outlander's fuel savings and the initial price difference doesn't seem so bad.
Neither car will leave you wanting when it comes to standard kit either. Leather seats, heated of course and with electric adjustment of the driver, are standard in both, as is a sat-nav, Bluetooth, air-con, cruise control, lane assist, hill-hold, MP3 and i-pod connectivity, powered opening and closing of the tail gate, keyless entry and start, collision mitigation braking, reversing camera, panoramic sunroof, ABS, EBD and a whole host of other acronyms and multi airbags there simply isn't space to list. Both also come with a 5 star NCAP safety rating for added safety conscious reassurance.
"More faith in the Outlander"
So similarities there may be, but of course there are differences. The CR-V offers huge amounts of space for front and rear passengers alike; the boot's huge and it feels wider and quieter too, despite Mitsubishi's increased efforts to suppress the Outlander's cabin noise which resulted in "smoothing" its A-pillar's and fitting an engine under-shield to further reduce drag. But the Outlander's party piece is its ability to seat seven. Don't go thinking that the extra seats are strictly for the little ones either; two average sized teenagers could easily be accommodated on the third row for more than just short journeys. Quite where you'd put everyone's luggage with the extra seating deployed remains a mystery however – the extra chairs dramatically eat up the boot space: either a roof box or a trailer would become a necessity.
And it's here that the Mitsubishi scores another win. Because it develops more torque, and spreads it and develops it over a wider rev range, it's probably the better suited of the pair when it comes to hauling the family caravan, horse box or boat. Plus, its three stage selectable four wheel drive system allows you to lock the transmission in a 50% front, 50% rear drive spilt mode, as opposed the Honda's fully automatic system which requires no driver input at all. Despite not driving either car on anything more "off-road" than a relatively flat grassy track I can't help feeling I'd have more faith in the Outlander when the going strays on the gooier side of soft.
"Mitsubishi call in the game changer"
Like so many of the drivers in this pair's target market though, most of my time behind the wheel of both was spent on tarmac, and ultimately it's the CR-V's more refined on-road manners, slightly more car-like driving position and marginally better ride that make it my choice of the two. It's more logically laid-out cabin, better ergonomics, and the higher quality feel to it materials and switches also helped win me over.
But lets not consider the Outlander the also-ran, and instead ponder this: Mitsubishi are about to announce a petrol-electric hybrid version of their all-new Outlander that will not only seat seven and offer four-wheel drive SUV practicality, but it also gives promise of up to 147.9 mpg, or up to 75 mph on its batteries alone. Mitsubishi are calling it "The Game Changer", and in this instance it very well might be.
Honda CR-V 2.2 i-DTec EX 4WD auto
Engine: 2,199cc, 4Cyl, i-DTEC Turbo-diesel
Power: 148 BHP @ 4000rpm
Torque: 258 lbft @ 2000rpm
Transmission: 6 speed auto. Electronic Four-Wheel Drive
Performance: 0-62mph 10.6 sec
Max Speed: 118 mph
MPG: 41.5 Combined
CO2: 180g/km
VED: Band I Price: £32,650
Mitsubishi Outalnder GX5 Auto
Engine: 2,268cc, 4Cyl, direct injection, Turbo-diesel
Power: 148 BHP @ 3500rpm
Torque: 280 1bft @ 1750-2500rpm
Transmission: 6 speed auto. Electronic Four-Wheel Drive with eco and lock modes
Performance: 0-62mph 11.7 sec
Max Speed: 123 mph
MPG: 48.7 Combined
CO2: 138g/km
VED: Band G
Price: £33,999