Ford Mustang 5.0 V8 – Review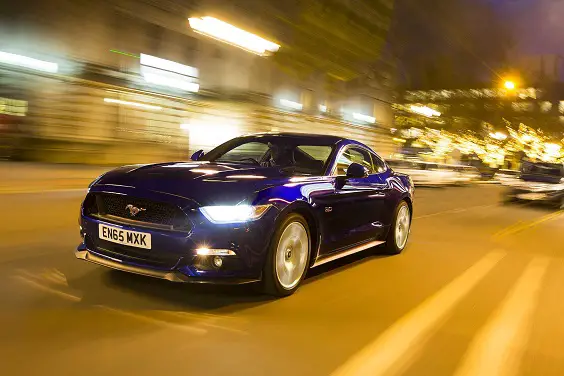 By Liam Bird
I'm pretty sure Frank Bullitt didn't have to do all this. Let's see now. Engine on, transmission into Drive. Select Track Mode. Press OK. Select Track Apps. Press OK. Select Line Lock. Press OK for 15 seconds as Line Lock initialises. Listen for the sound of applying the front brakes. Check. Press left foot hard on the brake pedal. Floor the accelerator. All I want to do is spin-up the rear tyres until they smoke. The bad guys will be long gone.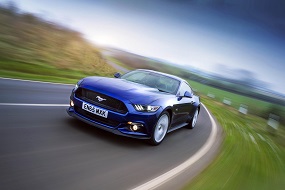 The location may be decidedly more Shropshire Hills than San Francisco. But the sight, sound, and tyre shredding antics of a V8 powered Ford Mustang, especially a dark green one, are unmistakable. It's all too easy to get caught up in the moment. Bullitt was made in 1968, five years before I was born. The Ford Mustang launched four years before that. Nevertheless the view down that long, wide and heavily ridged bonnet, is pure 1960's Hollywood. That said, self-indulgent burn-outs aside, clearly Ford Mustangs are today more sophisticated.
For the first time in its 52-year history the Ford Mustang is now officially available in the UK. And at last with its steering wheel on the right (hand) side of the car. Not only that, but the old beam-axle and leaf-springs that used to prop up that famous tail have been replaced by an all-new multi-link arrangement. For the first time in its life the Mustang has fully independent rear suspension.
"Muscle"
It's also got Bluetooth, Xenon headlamps, power-steering, dual zone air-conditioning, Brembo brakes, sat-nav (albeit a £795 option) ABS, and traction control – although if you switch that off (and Track mode on) you steer the Mustang as much with your right foot as you always could. Thankfully Ford hasn't changed everything.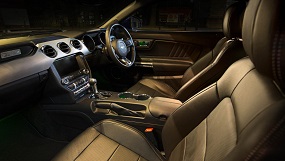 You will need an awful lot of space though if you like making your Mustang wag its tail. At over six-and-half feet wide and over 15 feet long it never feels anything but ginormous. Country roads just aren't its thing. It feels heavy too. 0-62 might only take 4.8 seconds – quick by anyone's standards – but because of the Mustang's size and its almost lazy-feeling nature it never feels as fast as it actually is. Motorway cruising speeds equate to little more than 1800rpm in the V8 (there's a 2.3 four-cylinder version available too) and even though there's more than enough muscle to bludgeon your way past row after row of slower moving traffic once out in the open, the Mustang makes a far better cruiser than it ever will an out-and-out sports-car.
It's also hard to establish quite where the extremities of the Mustang lie. Sat low in its super comfy driver's seat all four corners of this car seem a long way away. Throw in a vast turning circle and limited visibility and, come parking time, you need the skills of a super-tanker captain to avoid any embarrassing multi-storey mishaps.
"Mystique"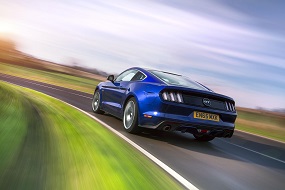 Still perhaps it's better to look out of a Mustang than to look too closely into one. The classic retro styling of the exterior may well be the cat's whiskers to some eyes but to mine the interior is a bit of a dog's dinner. Everything's still configured for left-hand drive, so the handbrake lever feels a long way away; the indicator stalks are straight out of a Transit van; the rear seats are hopeless if you're any taller than four foot tall; the retro toggle switches feel flimsy and the "leather" trim and hard, scratchy plastics seem to have come from the same synthetic source. Like many a Ford of old the interior feels like it's been built down to a price.
Ah yes, the price. It's here where the Mustang begins to make sense. What other 5 litre 410bhp V8 coupe can you think of that can be yours for £36,495? And what other 5 litre V8 410bhp coupe can you think of that's so iconic? It's easy to get caught up in the Mustang's mystique. It's a car you buy with your heart rather than your head. But then there's nothing else quite like it. When all said and done you get a hell of a lot of car for your money and, believe me, there's nothing else in right hand drive that causes quite such stir for this kind of cash.
Ford Mustang 5.0 V8 GT Fastback
Engine: 4,951cc 32V V8 quad-cam Petrol
Power: 410 BHP @ 6,500rpm
Torque: 390 lbft @ 4,250rpm
Transmission: 6 speed automatic with manual mode
Performance: 0-62mph 4.8 sec
Max Speed: 155 mph
MPG: 23.5 Combined
CO2: 281g/km
Price: From £36,495 (as driven) £38,885