Preparing Your Resume for Expat Work
If you consider working abroad or taking up a job in another country, you need to prepare your resume for expat work. The general assumption many make is that they have to tailor their resume for the country they're traveling to or aiming at. While this works, it is also possible that a nationality company hires you. So, it's better that you adapt your resume for the company you're applying to in another country so you can meet their expectations, rather than adapting it for the country. Since you're applying for jobs in foreign countries, your resume has to be adaptable and cover the bases for your needs as a foreigner. This article explains why you should customize your resume for an international job, what to consider when writing a resume for expat work and how to write an expat resume.
Why you should customize your resume for an international job
Most recruiters love it when applicants customize their resume for the organization and position they're applying for. This makes it even more important to customize your resume when you're applying for an expat work. This helps you demonstrate to the employer that you're the right person for the job, and it shows how serious you are. You must avoid the mistake of treating your resume as nothing more than a formality. Instead, you should see it as a career tool and an instrument to market yourself to prospective employers. This approach will ensure your professional advancement and also put you in line for great jobs.
Customizing your resume for an expat work ensures that the potential foreign employer sees the value in bringing you over. They get only the information relevant to their organization and can determine how suited you are for the position. So, it puts you in a stronger position to get the job rather than having them read a bland document that offers little to nothing to them and doesn't correlate with the job opening.
You should know that different companies in different countries and regions have their needs, values and objectives which you must highlight and emphasize in your resume. So, you increase your chances of getting picked when you customize your resume for the company and the country or region it's in. If you're not sure how to prepare or customize your resume for an expat job, then you should consider reaching out to professional resume writers such as resume planet review, to help you create the resume you need.
What to consider when writing a resume for expat work
Resumes are used for the same purposes everywhere in the world. However, if you're applying for international jobs, you need to write it slightly differently from local employment. You must consider several things when preparing your resume for expat work. Some of these are:
1. Format
Your resume should follow a standard international format if you're preparing it for an international job. You can also use the European format if you're aiming for a European country or the American resume format if your country choice is America.
The resume requirement may different from country to country. So, it's best to check the requirements, style and tips for the country you're targeting when preparing your resume. The international resume format is more about strategy than a laid-out format. When creating your resume for an expat work, there are expectations that your audience expects you to meet, such as their preferred resume format, or whether they require a portfolio, professional photograph, or reference. An important part of your international job application is that you must be clear about your nationality, language ability and visa status on your resume.
The European resume format, called Europass, is a standardized resume format for many European countries. It's a user-friendly format and employers across European countries are familiar with it. So, it's a necessary tool if you're looking for a job across Europe. This resume format includes brief information about your qualifications, work experience, and skills.
The US resume format is similar and equivalent to the European format, but is standardized for use in the US. However, the US format doesn't include your personal information such as age, religion, photo, gender, etc. Also, unless you're specifically asked to, you shouldn't include a reference. This resume mostly uses the reverse chronology order which lists the most recent experiences first.
2. Language
In preparing your resume for expat work, it is recommended that you create and send the resume in your target country's native language and English as well. This ensures that you're covering every base as you're not sure if the hiring manager is a native English speaker or not. Since it is a foreign company, both options are feasible and plausible. So sending your resume in both languages puts you in a stronger position as a candidate. It also sends the idea that language is not a barrier to working with them. If you're still looking to enhance your English language skills and speak the language fluently, English with Lucy is the right resource for you.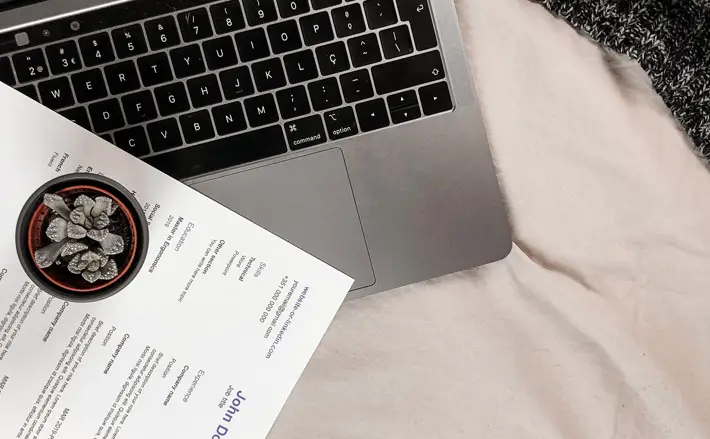 3. Cross-cultural skills and experiences
Your resume also needs to highlight your cross-cultural experiences and skills since you're applying to a foreign country. This helps them decide if you are a good fit for their company. You can make a better impression and increase your chances by creating a separate section on your resume to highlight your cross-cultural experiences and skills. For example, if you studied abroad, then you should include:
● Your overseas exchange participation.
● Friendship with foreigners both in your home country and in foreign countries.
● Previous work experience abroad.
● Family background (if relevant).
● Language skills.
How to write a resume
In creating an international standard resume, ensure a professional header includes your name, title, email, nationality, and contact address. There are five main sections that your resume should have:
1. Executive summary
This is your opening paragraph, often described as your resume's elevator pitch. Averagely, recruiters spend six seconds reviewing each resume and spend more time on the executive summary. Jobseekers should write an executive summary that makes the recruiter read other sections. So be sure to include the most impressive and relevant parts of your career.
2. Skills section
This should come at the upper part of your resume. It has to be in a position where it is easily visible. Many job seekers mistake burying their skills far beneath in their resume where it's less visible. Never forget that recruiters only take a few seconds to glance through resumes, so relevant information such as skills must be in clear visible spots, preferably at the top where they can see it in one glance.
When crafting the skill section, ensure to focus more on the hard skills than soft skills. This is because recruiters think they're of more value and impact, so they connect with these skills more quickly. There's also a high chance that these skills are picked as keywords. Finally, ensure to group closely related skills to ensure that hiring managers can digest them more easily.
Also, make sure to put the skills in order of the highest values to the lowest value skills. The skills at the top are the ones most visible to recruiters, so add the most relevant ones at the top. You must also ensure that the end of a line doesn't break the skill you're listing and spill into another line.
3. Work experiences and achievements
Each of your work stints should be introduced with a powerful opening line. Generally, recruiters only look through the first bullet point under each stint before skipping the rest. So, ensure that your first bullet point communicates everything the recruiters need to know about your role in that job. Ensure that your roles and responsibilities are mentioned in one line. This gives the recruiters more scope into your work. So, in a few words, you will be speaking volumes.
4. Academic and professional qualifications
Ensure the details in this section are precise and straightforward, but mention all relevant qualifications. Of course, if you are a fresh graduate, there's no need to delve into any details.
● Academic qualifications
Apart from your qualifications, be sure to include any award you received as a sub-bullet under each educational stint.
● Professional qualifications
Under this sub-section, ensure to include all external courses or industry-related training you're currently undertaking or have completed. For instance, if you have a Google Ads certification as a digital marketer, you should include it here.
5. Miscellaneous information
Ensure to add only relevant information to the miscellaneous section of your resume. This should include:
● Languages: Include the languages you speak and write well, but be sure to include only languages in which you're professionally proficient in or are a native speaker.
● Interest and hobbies: Include your hobbies too. You may even have similar hobbies to the recruiter, and you never can tell how much difference that will make. There have been people who got their jobs because they shared the same hobbies with the interviewer. So don't be shy to add yours.
● Notice period and availability.
Conclusion
Preparing your resume for expat work isn't the same as when you're writing it for a local job. As much as you're targeting a country, you also have to target specific companies and roles and ensure to put the relevant skills first.