How Businesses Can Create A Safer Transition Back To Work For Staff
With lockdown restrictions slowly being eased, and the prospect of returning back to work on the horizon, many businesses are starting to look at ways to ensure a safe return for their employees back into the office.
Over the past year, many of us have become used to working from home and have significantly reduced the amount of time spent in public places. However, as businesses slowly begin to operate as normal and firms starting to welcome employees back into the office, it is important that employers are prepared for a safe return. Here are a few tips for businesses to help them create a safer transition back into work for their staff.
Social Distancing
Throughout the past year, social distancing has played a significant role in ensuring the safety of not only ourselves, but everyone else around us. It has also been an important factor in the government's plans to help people get back to work as safely and as soon as possible.
When welcoming employees back into the office, implementing social distancing markers and signs will help with limiting the amount of people in one area of the workplace. For example, although the kitchen, a very communal location, limiting the number of people allowed their at one time will help in ensuring that the social distancing is maintained, and gatherings are avoided. The markers mapping out a one-way system will also be beneficial in ensuring that everyone can easily move around the office.
Implementing Additional Hygiene Measures In And Around The Workplace
Maintaining a high-level of hygiene within a workplace has never been more important. The frequency in which handwashing and surface cleaning should increase, and sanitising hand gel dispenses should be filled and placed around the workplace, as well as being easily accessible. Additionally, you may ask employees to wear masks when entering and walking around the office.
You can also encourage workers to carry out additional hygiene measures by using posters, meetings and training sessions to promote good hygiene within the workplace.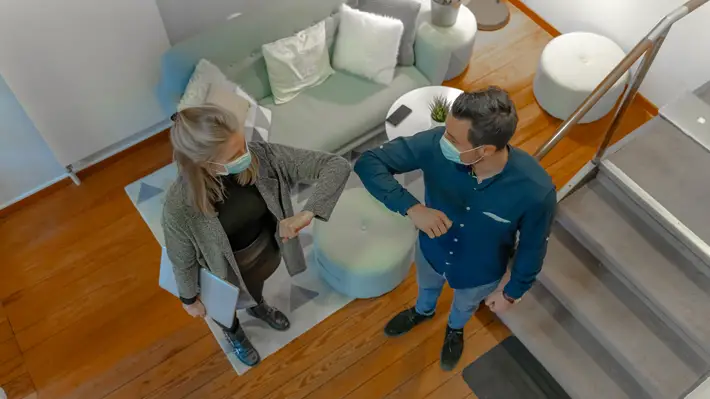 Parking Availability
Prior to the pandemic, many employees may have used public transport to travel to and from work. However, as they return back to the office, some employees may no longer wish to go on public transport to get into work. Many will choose to opt for walking, cycling or will drive into work.
For those that choose to drive, ensuring that there is plenty of parking spaces available to accommodate those who have driven to work. To go the extra mile for employees, investing in workplace EV charging from providers such as ClarkeEV will not only be convenient for those with electric cars, but it could be another source of revenue for the business. For instance, employees of the firm can receive free charging, however for visitors or even other tenants who share the same office block, could be offered a paid-for charge point.
Limit The Amount In The Office
Ultimately, there is no rush to bring every member of staff back into the office once restrictions have been lifted. Instead, it should be a gradual process to ensure that the health and safety measures put in place are not only effective but means that it is also safe for a large workforce to return. When employees are allowed back into the office, only essential staff should be encouraged to return back to work first, and anyone who is able to work from home should continue to do so.
Alongside managing the number of employees returning to the workplace, another factor to counter in is minimising the number of unnecessary visits which are made to the workplace. Prior to visiting, both customers and visitors should be made aware of the social distancing measures in place within the office. Not only this, but you may also decide to limit the number of individuals allowed onsite at any given time.
Staying Updated and Keeping The Team Informed
Rules and regulations regarding COVID are frequently changing, and so it is important that employers are keeping updated to ensure that their employees feel safe when working in the office. Prior to welcoming back employees to the office, employers are asked to complete a risk assessment as soon as possible. This should include taking into consideration which members of the team will be returning to work, alongside what activities or tasks will be carried out on site. Of course, this information may vary from usual practices as many will be working on a phased return to work or running on a reduced service.
Once this has been completed, employers are encouraged to share the results of their risk assessment to help make their employees feel safe at work when they return, but also encourage them to take an active role in managing transmission risks.