Wedding Entertainment: How to Add a Personal Touch to Your Big Day
One of the most significant and unforgettable days of your life is your wedding day, isn't it? To make the day as flawless as possible, every detail—including the dress, the location, and the flowers—is carefully prepared. How about the wedding entertainment, though?
Everybody wants to be certain that every detail of their wedding ceremony is perfect. While it may be tempting to follow current wedding trends, adding your own unique touches is the greatest way to make your day truly memorable.
There are many ways to make your wedding day uniquely you, from the music to the decorations. In this post, we'll look at how to make your wedding entertainment more unique so that both you and your guests will remember it forever.
Best Five Ways To Make Your Wedding Entertainment Unique and Special:
Let's check out the top five ways to make your wedding entertainment even more beautiful and personalized!
1. Finding The Ideal Wedding Ring:
With so many different designs and choices, finding the ideal signet ring can be intimidating. Consider consulting with a skilled jeweller who can walk you through the process to make sure you make the appropriate choice.
As an alternative, you can make your own unique design. Cost shouldn't be an obstacle, particularly if diamonds have no special significance for you and your partner.
Prioritize your own significance over pricey treasures if you're on a low budget. You can choose simple gold bands that have sentimental inscriptions between you and your fiance. Always try to make the right balance while choosing your wedding ring, and don't forget to make sure the two rings have the correct match with the styles.
2. Choosing The Right Music:
The mood of your wedding day can be formed with the help of music, which is a strong tool. It could arouse feelings and excitement or just make your guests feel at ease and enjoy themselves. Therefore, picking the appropriate music for your wedding is essential and should reflect your unique preferences.
Finding the proper DJ is one method to guarantee that you have the ideal music for your special day. Your wedding's tone and atmosphere will be taken into consideration as well as your favourite songs, when making a playlist with a good DJ. Additionally, they can assist you in making music selections that will keep your guests entertained and dancing all night.
Making your own playlist is a further method to give your wedding music a unique touch. Having a customized playlist is a terrific way to make your wedding day feel more special to you, whether you decide to include only your favourite songs or mix in a few traditional wedding tunes.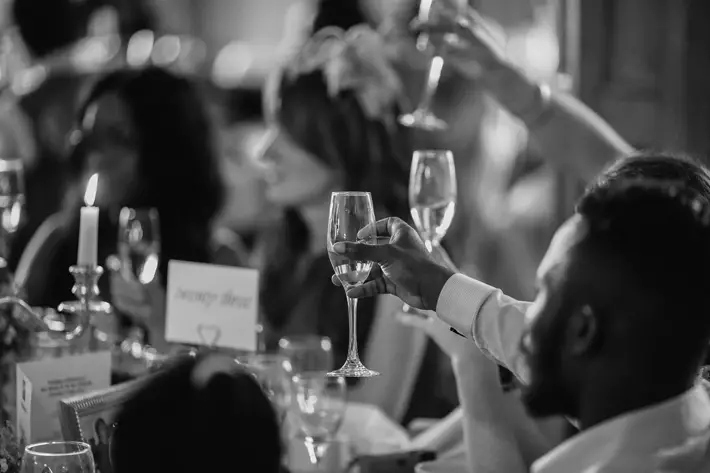 3. Including Your Hobbies and Passions in Wedding Entertainment:
To give a personal touch to the day on which the two of you will tie the knot for life, you can easily add some events related to your hobbies and passions. It will not only set your special day apart but will also entertain your invited guests. As a result, this day will be memorable for everyone.
Suppose you are a professional dancer. If indeed so, you can dance to the music party with your future life partner at your wedding ceremony. As it will create a different experience for your invited guests, it will also be an example of a beautiful expression of love towards your future life partner. As a result, the love between the two of you will increase, right?
You can also make your wedding ceremony more unique and interesting with various interactive elements. For example, you can arrange your favourite games that your invited guests can play.
Magic! Who doesn't like magic? You can perform the magic yourself if you want. If you know very good magic, you can show it to your wedding party. And if you don't know? Some magic can be taught, and you can learn it from the internet world.
4. Implementing Technology to Add a Personal Touch:
Technology is an excellent tool for adding a personal touch to a wedding. A digital photo booth, for instance, can allow your guests to snap amusing, candid images throughout the evening. These images can then be printed or shared on social media to create a lasting remembrance of your special day.
A personalized wedding website is another method to bring a personal touch to your wedding day using technology. You can publish information about your wedding, such as the date and location, as well as post updates and share images with your guests via a wedding website. Not only does this make it easy for your guests to keep updated, but it also provides you with an opportunity to demonstrate your distinctive style and add a personal touch to your wedding day.
Live-streaming your wedding is another excellent way to use technology to personalize your big day. Whether you want to invite friends and family who are unable to attend in person or simply want to share your special day with everyone, you can do so with a wedding video.
5. Personalising Your Decorations:
In your wedding ceremony, decorating with items that represent your individual style can be a great idea to personalize it perfectly. If you love the outdoors, for example, you can decorate your wedding venue with elements that are inspired by nature, such as flowers and foliage, potted trees and plants, etc. If you enjoy the vintage style, you can obviously add vintage accents to your decorations, such as lace, pearls, and old objects. These will make your wedding decor perfect and definitely, will blow everyone's mind.
Personalizing your wedding entertainment is an excellent way to make the day memorable and pleasurable. There are many ways to add a personal touch we discussed in this blog, from choosing the right wedding ring to the music, décor, and technology.
There are also some excellent ways to make your wedding day unique and memorable, such as incorporating your hobbies and passions and creating a personal wedding website where you can publish blogs, photos, and videos of your wedding. Including additional touches, such as live-streaming or digital picture booths, will definitely ensure that your wedding's memories will be remembered for a longer term. So, don't be scared to allow your creativity and individuality to shine through in every area of your wedding.
Remember that the day is yours, and you deserve to make it more memorable and enjoyable. We hope this blog helped you a lot. Have any other excellent ideas in your mind? Don't forget to share those with us!