These Majestic Creatures – Review – Stephen Joseph Theatre
By Elizabeth Stanforth-Sharpe, October 2023
Championing new writing talent has always been a cornerstone of Stephen Joseph Theatre's work, with nearly every seasonal programme scattered with outstanding contemporary pieces. These Majestic Creatures epitomises the very best.
Manchester based Emma Geraghty's original concept for the play began four years ago, and the amount of research she poured in has been phenomenal. It included whales; those who make a life-time work of tracking stranded whales to claim trophies from the carcasses, and whales toured as objects of curiosity in the not-too-distant past. The Yorkshire coastline has had its fair share of ghoulish dead-whale tourism over the years, so when Stephen Joseph Theatre asked Geraghty to be their writer in residence she had the perfect environment to develop a play that she knew needed to be performed in a theatre by the sea.
The Vaughan family have run a working-class Bed and Breakfast in Scarborough since 1983, where the business has twisted around family life; one eye on serving the needs of their guests, the other on dealing with loves, losses, growth, and identity. The kitchen window looks over a beach that has happy memories for the seasonal holiday makers, but is a conduit for loss, sadness and working things through, for the residents. When a whale is washed up, it becomes a metaphor for death, resolution and moving forward.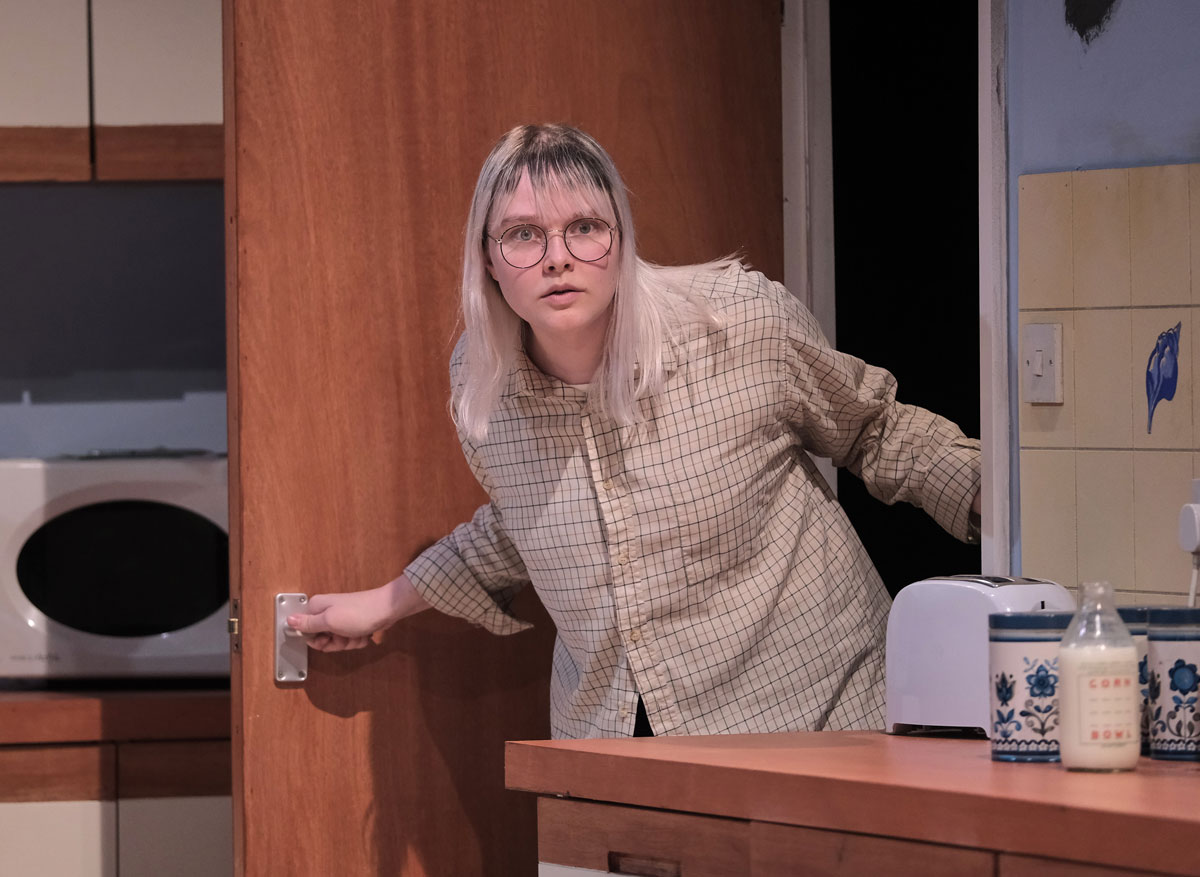 "Deceptively simple"
Max has returned to Scarborough for the funeral of their nan, Edith, earlier than expected, the reasons unfolding with each successive mug of tea. Edith has been the one in the family who accepted Max's queerness and strived to use their right pronouns, and Max wants to write and read a eulogy that reflects their closeness. Max's mum and Edith's daughter, Pam, has not always shared such an easy relationship with Edith, and has her own complex issues to deal with.
In a clever non-linear dialogue, marked by the deceptively simple, but highly effective, device of a calendar that marks the years between 1983 and 2023, Max, Edith and Pam slice away the secrets, lies and fears that have marred their decaying lives, and attempt to salvage the remains with dignity. Family life is a magnificent beast, but mighty hard to deal with when the rot sets in.
How do we let go with honour when something colossal is stranding our capacity to mourn?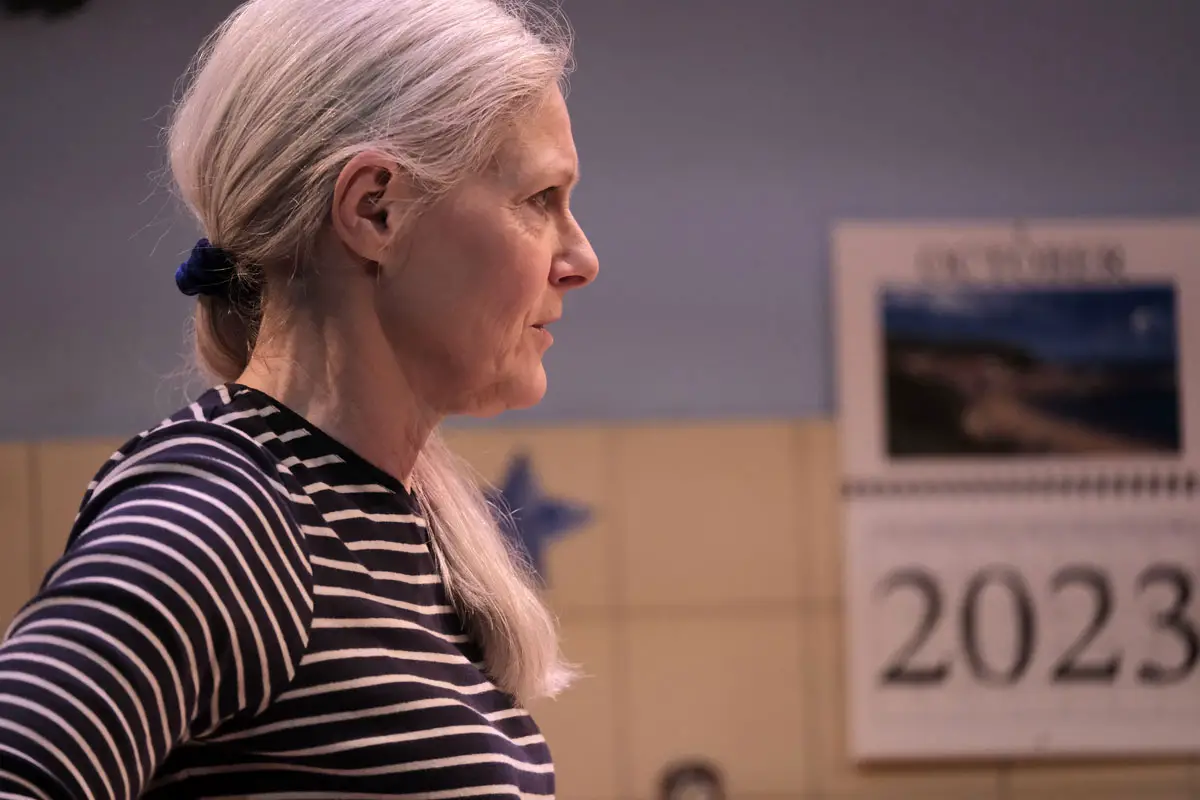 "Intuitive"
Ingrid Bolton-Gabrielsen is a recently graduated Yorkshire actor. York based Andrina Carroll is well-known and much loved by Yorkshire theatre goers. Both are astounding character actors and are well-matched to cover the three generations of the household, sharing characters as easily as slipping into the variety of cardigans, coats and nylon overalls hanging on the hooks behind the door. Geraghty has scripted lines that are, in turn, funny, thought-provoking, educational and tender, with a circularity and maturity of text, and her lines are complemented by strong, intuitive delivery.
Sound designer, Ernest Acquah, is another talented person nurtured by Stephen Joseph Theatre, and for These Majestic Creatures, he embraces the McCarthy space in a very natural, organic way, allowing the soundscape compositions of waves, the kitchen radio, and the sounds of guests arriving and departing, to sweep over the auditorium and then back into the stage area, as synchronistical as the movement of the tides. It's an effective way of drawing the audience into the action, particularly after scene breaks and intervals.
Chloe Wynn's set and costume design is engaging and capable. The walls of the family kitchen melt out into the coastal landscape, making it appear at times as if it is sitting in the belly of a sea mammal, until the very end of the show when both Max and Pam stand outside, ready to face the future. Adam Foley and Jessie Addinall's combined lighting designs add another layer to the tale (or should that be 'tail?).
"Imaginative"
Patricia Suarez is the movement director on the piece – an important role when choreographing three characters of vastly differing ages, played by two versatile actors in scenes that require swiftness and accuracy in timing to make the dialogue land in the correct way.
Pulling all this together is the acute direction of Kash Arshad, former Associate Director at Stephen Joseph Theatre, assisted by Rachel Stockdale.
It is a team that, for the main part, are firm favourites at this theatre, who clearly work tightly together, and this shows in a fun, inclusive production. I heard so many audience members comment on how much they were enjoying the play, and when that happens, it reflects the care that has been poured in by cast and creatives working to one committed goal.
Geraghty can be extremely proud of her script, and Stephen Joseph Theatre are to be congratulated on their imaginative interpretation. The show runs until November 4th, and I really would encourage you to see it.
images: Tony Bartholomew