Strictly Ballroom – Review – Leeds Grand Theatre
By Christine Goode, July 2023
It's opening night for Strictly Ballroom in Leeds and everyone is arriving dressed for the occasion, including my guest who happens to be wearing her incredible 'Shirley' necklace (in homage to the much loved Strictly) that she just happened to make on a certain 'Glittery' TV programme? Ballroom dance is famed for the glitz, glamour and drama and it is lovely to see everyone has dressed to impress tonight.
We enter the auditorium and we see an open stage, it has the most lavish and incredible set and oozes glamour, adorned with feathers, a giant glitter ball and lots of tiny globe lights. Everyone seems to be taking photographs of the set and chatting away excitedly, eagerly waiting for the show to start.
The movie, created by Baz Luhrmann over 30 years ago, is also now a hit musical. A romantic comedy set in Australia among the ballroom dancing competition world of the 90s. We meet Scott Hastings (Kevin Clifton) who is on track to win the prestigious title at the Pan Pacific Grand Prix. Scott finds himself without a partner after displaying his own creative non-regulation steps at a previous competition, much to the disapproval of the judges. Enter Fran, a shy beginner who watches Scott from the sidelines, and offers to become his partner. We follow them on their journey as they overcome the trials and tribulations of the Ballroom competition world, along with their family grievances.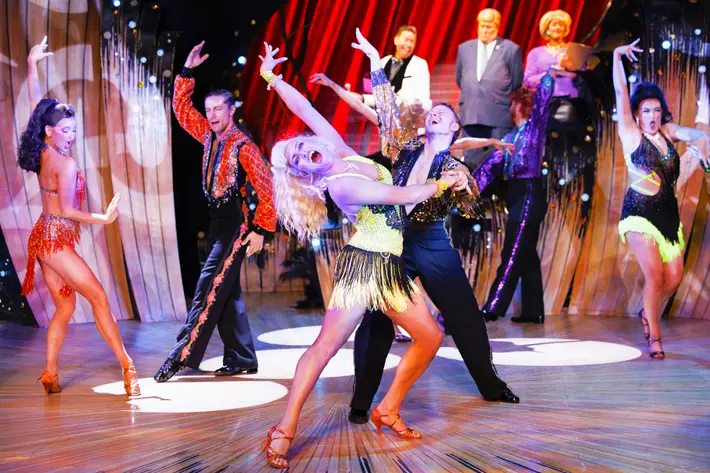 "Comedic timing"
Wow! This show starts as it means to go on, the opening number 'Strictly Ballroom' is huge. The full cast are in stunning sparkly ballroom costumes, setting the scene of a competition in full swing and is complete with over-the-top judges and melodramatic competitors, the singing and dancing throughout, is amazing. Dance with lifts can be difficult, but to also sing a demanding operatic song whilst dancing is very impressive and testament to the cast's vitality.
Kevin Clifton and partner are centre stage. We know Clifton for his impeccable work on BBC's Strictly Come Dancing, however he is also a credible actor and singer, keeping in character throughout with tremendous vocals.
Scott's pushy dance teaching mother, Shirley Hastings (Nikki Belsher) is hilarious, with her over the top outfits, hair and make-up and her constant 'Happy Face' her comedic timing is perfect, especially during one of her 'Melt downs'.
Fran (Faye Brookes) is a triple threat – her acting, singing and dancing are first class, her character progression from the shy bumbling beginner, to a confident passionate dancer and eventually to love interest is perfection.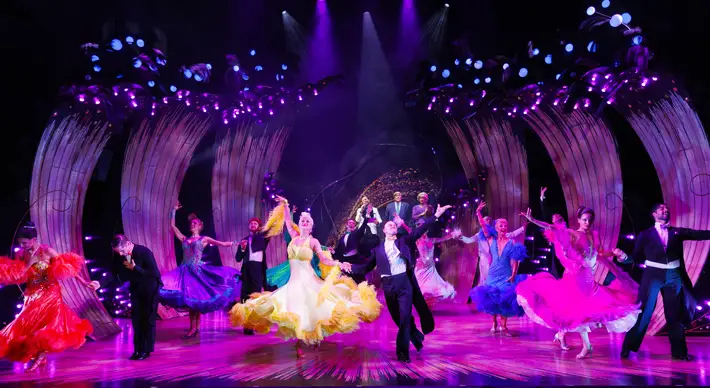 "Exceptional"
JJ Silvers (Olivier Brooks) and Les Kendall (Quinn Patrick) are stand-outs and have us all howling every time they are on stage. With their flamboyant characters they are a nod to the show's director Craig Revel Horwood.
The ensemble cast are very strong, in particular Tina Sparkle (Danielle Cato) with her endless legs whilst high kicking and her strong Latin dance style, also Rico (Jose Agudo) and his show stopping Paso Doble had us in uproar at the end and was incredible to watch.
The costumes, it goes without saying, are incredible. The choreography is exceptional and the dancers are all outstanding, the music is great and ends with the uplifting 'Love is in the Air' leaving everyone singing at the end as they are leaving the theatre.
There is so much happening throughout this entire production you could easily see it again and again and still find something new, this is a musical theatre gem and is now in my top five favourites. Yes, Strictly Ballroom is guaranteed to leave you feeling FAB-U-LOUS DAAHRLING!
'Strictly Ballroom' is at Leeds Grand Theatre until 8th July
images: Ellie Kurttz