Phoenix Dance: The Rite of Spring & Left Unseen – Review – York Theatre Royal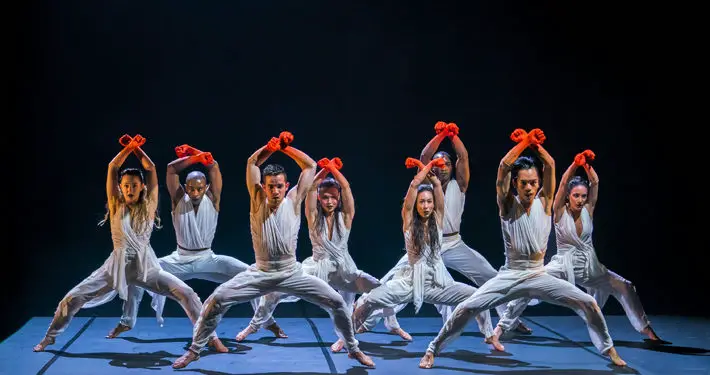 By Karl Hornsey, October 2019
There's a mixture of the old and the new about Phoenix Dance Theatre's latest production, currently touring until November, and featuring two markedly different performances. For the old, there is a vivid re-imagining of 'The Rite of Spring', which premiered more than 100 years ago, and for the new, 'Left Unseen', which was commissioned last year and focuses on our reliance of the five senses. Judging by the audience's reaction, there was an overwhelmingly positive opinion of both performances, and rightly so.
Phoenix Dance Theatre was founded in 1981 and is one of the north of England's leading contemporary dance companies, creating diverse and innovative work that focuses on the spirit of multi-cultural Britain. Last year's Windrush: Movement of the People gained widespread critical acclaim, and this latest offering seems set to further strengthen the company's reputation.
"Outstanding quality"
The show opens with 'Left Unseen', as eight dancers emerge from the shadows to perform a truly unique and emotive piece of dance that will undoubtedly have left every member of the audience leaving with their own take on it. There is no defined story as such or narrative tale, making it a performance that needs to be seen to be understood, as the dancers explore human reliance on the five senses, and how we need them to find our place in the world.
A series of set-pieces featuring anywhere between two and all eight of the dancers gradually draws the viewer into a world of confusion, darkness and disarray. Set to the music of Alva Noto & Ryuichi Sakamoto, and Hildur Gudnadottir, there is no right or wrong to feel about the drama unfolding on stage, with the only uniform belief to take from the performance being the outstanding quality of the dancers involved.
"Challenging piece"
'The Rite of Spring' is a relatively well-known story that caused something of a sensation when first performed in 1913. The brainchild of choreographer Vaslav Nijinsky and with a score by Igor Stravinsky, the ballet focuses on rituals associated with Spring and the sacrificing of a young girl who ultimately dances herself to death.
In the hands of the Phoenix Dance Theatre and choreographer Jeanguy Saintus, the story is transported to the world of rituals, ceremony and celebrations in the Caribbean, and specifically transposes the narrative to include characters from Haitian folklore. Saintus creates a challenging piece that is more celebratory than sinister, as the characters deliver their offerings in the hope of summoning the spirits of Haitian vodou.
The combination of this reworking and the wonderful ability of the dancers to tell the story makes it a beautiful and uplifting version of a classic story, and one that demonstrates the company's ability to attract great talents both on and off stage, to put together truly unique productions.