Gangsta Granny – Review – Bradford Alhambra
By Richard Mansfield, September 2021
A touch of Panto seemed to come early to Bradford on Thursday evening at the Alhambra, much to the delight of a mostly, but not exclusively young and very enthusiastic audience, one which had been denied its regular Christmas fare last year.
The show, brought to the city by an accomplished cast with the Birmingham Stage Company, is based on the children's book of the same name, one written by the prolific author in this genre – David Walliams. The story is one where comedy can perhaps be felt to merge with a kind of morality play.
The story is based around the relationship between eleven year old Ben, ably portrayed by Justin Davies, and his hitherto 'boring' grandmother, played superbly by Isabel Ford. He feels condemned to have to spend his Friday night with her and her games of Scrabble, while his parents go 'awol', pursuing their passion for ballroom dancing. Ben's suffering is compounded by his granny's diet of meals which centre around that Cinderella of all vegetables – the cabbage! Given this scenario, and the intended audience to be entertained, it comes as no surprise that sonic flatulence soon becomes a recurring feature at various points during the performance!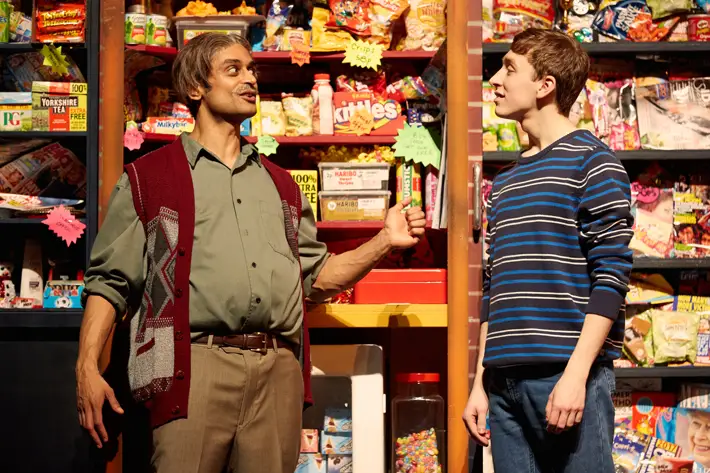 "Fun and hilarity"
In an effort to relieve his boredom, Ben noses around a bit and discovers, on a high shelf, a biscuit tin anonymously containing… jewels! From this discovery comes Granny's revelation that she once lived a notorious life as the 'Black Cat', a thief who had never been caught for her misdemeanours. A serious disclosure, but scenes and events in the narrative, running alongside the main storyline, offer much fun and hilarity and there is rarely a dull moment with almost constant movement and clever changes of scene and set. In this regard much admiration is owed to the creative team supporting this show.
Ben, whose ambition is to become a plumber, is thwarted by his parents desire that he should become a champion ballroom dancer and this forms a side story which nearly scuppers his and his gangsta granny's attempt at the heist to top all heists, that of stealing the Crown Jewels.
At the interval an 11-year-old lad a few seats along our row in the auditorium was heard to declare enthusiastically to his accompanying adult, "I didn't think it would be as good as this!" But even better was to come in the second half, when the pace picked up even more, accompanied by very effective visual effects, particularly that of a swim across the Thames when Ben and Granny eventually gain access into to the Tower of London, via a sewer, which inevitably affords plenty of 'poo' references. This discovery of a route in comes from the lad's knowledge of plumbing and it is crucial in reaching their goal.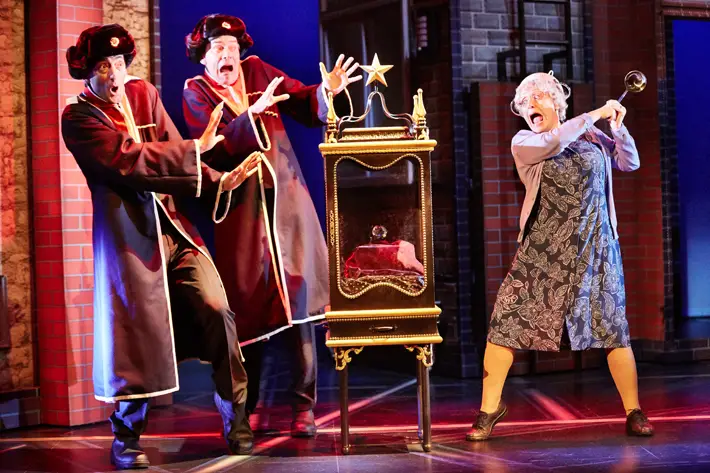 "Enthusiastic response"
In and amongst all this, the cast, several of whom play more than one part very convincingly in their respective characterisations, comes a scene stealer when Irfan Damani, who had previously enacted the tricks of the trade as a kind of Asian 'Arkwright' from Open All Hours transforms himself into Flavio a flamboyant Strictly Come Dancing-like lothario. His portrayal enlivens a mood of involvement among the children in the audience with his clumsy, but enticing entreaty to rumba and from there it is an easy exercise for the cast to have the youngsters standing and clapping to the music and action.
Ultimately, this show achieves the message Walliams may have intended – don't make too many assumptions that your grandparents are boring, don't underestimate them as each may have a tale to tell and possibly one that is surprising.
There is poignancy to the story towards the end, though one might wonder whether this really needed to be the case. Similarly, in order to gain a kind of credibility with her grandson, was the final twist necessary? Is the doubt it leaves in the mind really necessary when the target audience may still have some innocence? But then this is all part of learning the distinction between fiction and reality and kids are probably more clued up than we think these days.
The children appeared to love this and surely part of the entertainment for the adults attending was witnessing their youngsters' absorption and enthusiastic response to what they were part of.
Finally, having mentioned that there are elements of pantomime to this lovely performance and for those familiar with Alhambra pantomime, just what part might the perennial Billy Pearce have played?
images: Mark Douet