Fatal Attraction – Review – Grand Opera House in York
By Karl Hornsey, May 2022
Fatal Attraction concludes its first-ever UK tour this week at the Grand Opera House in York, with Susie Amy, Oliver Farnworth and Louise Redknapp taking the three lead roles in a story that gripped filmgoers the world over in the late 1980s. This production by James Dearden, author of the original screenplay, stays largely faithful to his story, minus the rather more dramatic finale that was required by Hollywood following feedback from cinema test audiences.
Anyone who has seen the film will be immediately familiar with what's happening in front of them on stage. Farnworth, of The Girl on the Train and Hollyoaks fame, narrates the story, giving the audience an immediate connection to the events unfolding. While the setting has moved from the 80s to the present day, complete with all manner of hi-tech video screens that are actually used quite effectively to help drive the story along, New York remains as the location, and it takes a while to get used to the American accents.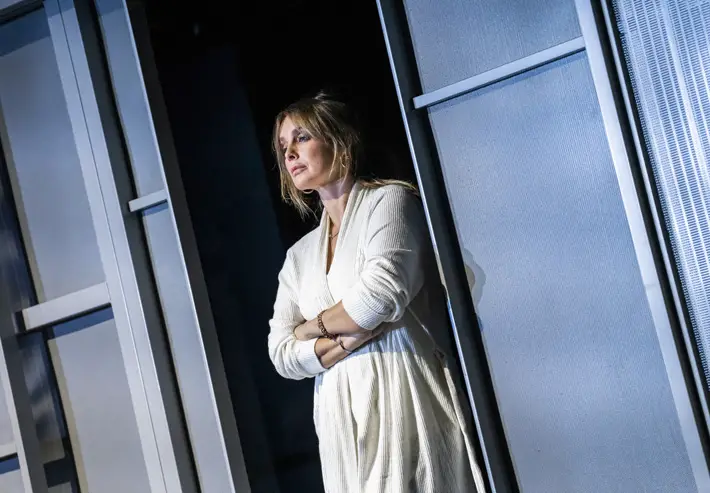 "Outward confidence"
Farnworth, playing Dan Gallagher, meets Alex (Susie Amy) on a night out in a bar with his friend while his wife Beth (Redknapp) is away in the country for the weekend. And, of course, the next part of the plot became the stuff of legends, and saw men of a certain age and inclination forever determined to avoid falling prey to a 'bunny boiler'.
Amy was the outstanding actor for me, completely believable as Alex, whose outward confidence and charm masks deep-seated mental health issues, that only become clear once she has spent the weekend with Dan, knowing that he will be heading back to his wife and child. While Amy stood out, the storyline disappointed, as the pacing was all over the place, with some scenes well mapped out and given time to breathe, but others feeling rushed and functional, almost as if they just needed to be got out of the way to move the story along.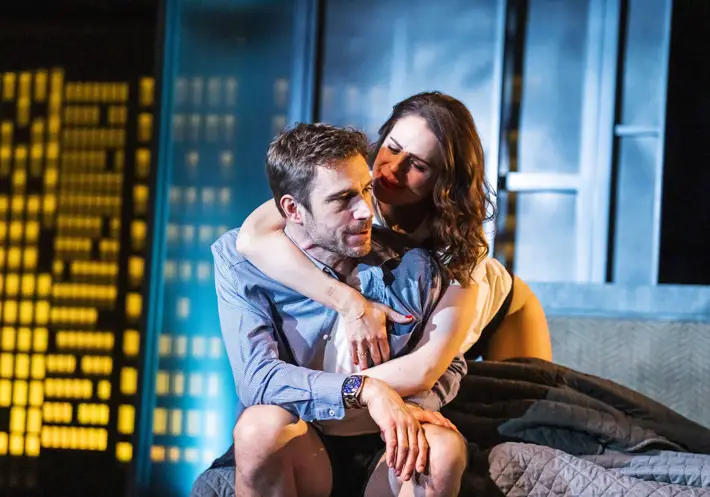 "Brushed over"
One such example being Alex's mental health issues, which were clear and obvious given her actions, but which were somewhat brushed over in the need to get to the next part of the plot. As was the moment when Dan finally confessed to Beth as to what had really been going on, which was over in the blink of an eye.
There are other moments that really didn't work for me, including the infamous 'bunny boiling' scene, which just came across as too comical to be indicative of Alex's state of mind, and having Dan and Beth's child just as a voice from offstage. An updated version of Fatal Attraction, taking into account serious current issues of mental health, misogyny and the travails of unrequited love is undoubtedly there for the making, but by staying so faithful to the original, I'm not sure this was the story that needed to be retold.
Images: Tristram Kenton