Introducing: Shanghai Treason
All guns blazing Celtic punk from Sheffield…
YOUR NAME: Tom (endearingly known as TJ).
BAND NAME: Shanghai Treason.
WHAT DO YOU DO/PLAY? I play guitar, although I mean that in the loosest way possible.
HOW LONG HAVE YOU BEEN TOGETHER AS A BAND/PLAYING MUSIC?
We've been playing as a band since early 2019.
GIVE US 3 REASONS WHY WE SHOULD TRACK DOWN, LISTEN AND DISCOVER YOUR MUSIC?
We're phenomenal.
We're modest.
It's really fun, energetic music for a good time.
WHERE DO YOU SOUND BEST – FESTIVAL, CLUB, BEDROOM – OR SOMEWHERE ELSE?
Probably on mute, but as we've got a few festivals lined up I'd say out in a field or venue somewhere that there's plenty of space to move around.
WHAT WAS YOUR FIRST…
RECORD? A Real McKenzies album, but that was a gift as I don't listen to vinyl (and a pretty good gift at that if I do say so myself).
CD? Probably an album by McFly or Busted, and I'll argue to the death with anyone who disagrees that they're great bands.
DOWNLOAD? I've never actually bought music just as a download; I always prefer to have something tangible when I spend money on it.
SO, WHEN IT ALL GOES RIGHT AND YOU'VE GOT A HUGE QUEUE OF HANGERS-ON AND A RIDICULOUS MANSION, WHAT WILL BE YOUR BIGGEST INDULGENCE, MUSICAL OR OTHERWISE?
For me, personally, it'd either be a really nice old acoustic guitar or a grand piano.
SO, WHEN IT ALL GOES WRONG AND YOU'VE ACRIMONIOUSLY BROKEN UP CITING HUGE MUSICAL DIFFERENCES, WHAT DO YOU FALL BACK ON?
We'd probably be left with no choice but to model for topless calendars full of other muscular and attractive people such as ourselves.
CITE SOME INTER-BAND MUSICAL DIFFERENCES…
Good question. Our singer Sam likes a load of crap music that no one's ever heard of, so there's one. I like a lot of commercial stadium stuff that you'd hear on the radio (and tend to listen to Radio 1 more than any other station). If it was up to our drummer Alex, every song we wrote would be faster than the speed of light. Our banjo player/accordion player/novelty member Hardy starts every day by singing 'Hi Ho Sheffield Wednesday' (to the tune of 'Hi Ho Silver Lining') which no one likes to hear. And finally, the first band our bass player Joel ever saw live was Bewitched, which was how his love of Celtic style music began.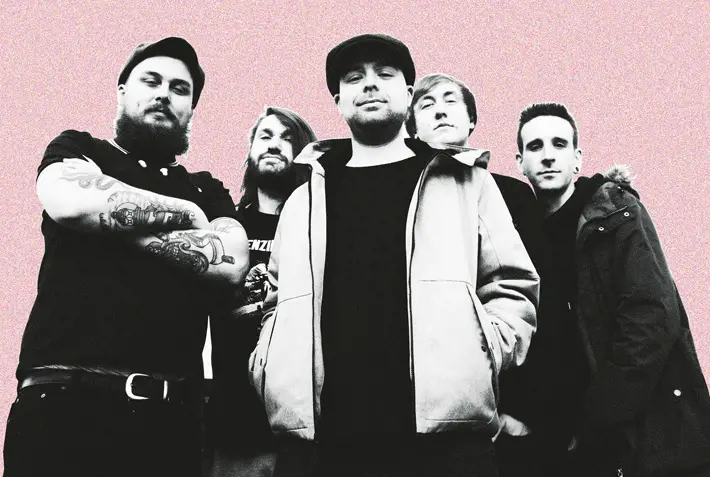 WHO ARE YORKSHIRE'S FINEST IN CULTURE, SPORT AND MUSIC?
As for sport it's got to be the mighty Barnsley FC (people will laugh, but the results speak for themselves). I'm actually from Barnsley so you'd probably be better off asking someone else about culture. As for Yorkshire's finest in music, there's a band from Sheffield called Treebeard who are simply epic, but on a bigger scale I'll give a shout-out to Reverend and the Makers who are a top band with a great message.
NAME YOUR SUPERGROUP – WHO'S PLAYING WHAT, WHO'S ON VOCALS AND WHO'S YOUR BEZ?
Vocals – Freddie Mercury
Guitar – Chris Cheney
Bass – It's only bass – anyone can do that
Drums – Keith Moon
Bez – Well, there can only really be one Bez.
GO SEE THIS FILM: The Naked Gun.
GO READ THIS BOOK: Born to Run (Bruce Springsteen autobiography).
GREAT LOST BAND/ARTIST: Bewitched (I've got your back, Joel).
WOULDN'T BE CAUGHT DEAD SUPPORTING: Boris Johnson. Unless you meant musically? In which case it'd be the Boris Johnson band.
LONDON, L.A OR LEEDS?: LA for me.
AND FINALLY… AS YOU LEAVE THE STAGE, WHAT ARE YOUR PARTING WORDS?
Thank you and goodnight. It's hardly Billy Joel's 'don't take no sh*t from anybody' but it does the trick.
The debut album from Shanghai Treason will be released in June 2021
For more info visit: facebook.com/ShanghaiTreason