Introducing: Downtown Kayoto
Genre-hopping from an alt-RnB base, Hull's Downtown Kayoto…
YOUR NAME: Chiko Chinyadza.
HOW LONG HAVE YOU BEEN PLAYING MUSIC? I've been making it semi-professionally for the past two and a half years.
ANY PAST BANDS OR COLLABORATIONS WE SHOULD KNOW ABOUT? Not any yet, but that's going to change this year.
GIVE US 3 REASONS WHY WE SHOULD TRACK DOWN, LISTEN AND DISCOVER YOUR MUSIC?
1) Nobody in the region is doing what I'm trying to do visually and sonically.
2) I'm constantly evolving and growing so it's an investment, to be able to answer people when they ask you about artists you are excited for from your area.
3) Because we need more creatives from the North of the UK to look up to, right now we live in a time in which northern raised creative's somewhat erase/ hide where they're from.
WHERE DO YOU SOUND BEST – FESTIVAL, CLUB, BEDROOM – OR SOMEWHERE ELSE?
Lol, definitely my room… I'm quite shy and reserved when it comes to displaying my talents for people.
WHAT WAS YOUR FIRST…
RECORD? I've never bought a cd or a record, kind of embarrassing to admit that but my parents owned both so I know what they are, aha.
DOWNLOAD? Kendrick Lamar, To Pimp a Butterfly.
SO, WHEN IT ALL GOES RIGHT AND YOU'VE GOT A BOTTOMLESS PIT OF MONEY AND LONG QUEUE OF HANGERS-ON, WHAT WILL BE YOUR BIGGEST MUSICAL INDULGENCE?
Probably clothes. I really like fashion and if I had all the money in the world, I would probably buy every single piece I've ever wanted. As well as clothes, I'm really into big open spaces, whether it's outside or inside, so I probably would start a really big garden, plan a tree inside my house and decorate it with really cool stuff.
SO, WHEN IT ALL GOES WRONG AND YOU'RE LEFT BITTER AND TWISTED AND CURSING THE MUSIC INDUSTRY, WHAT DO YOU FALL BACK ON?
My family, my sister, my parents, cousins, uncles, grandparents. I would probably go back to Zimbabwe for a year and live really minimalistic, maybe become a farmer and help people that need my help or who are not as fortunate as me.
WHAT ARE YOUR MUSICAL GUILTY PLEASURES?
I think that Love Island music is quite cool… Kinda… I don't know, I just think it's fire. Like the melodies are really cool, they've got really cool Vox stems and they're upbeat and I think it's just because I grew up in an area in which that music was quite popular, so nostalgia ultimately has a big part to play in that.
WHO ARE YORKSHIRE'S FINEST IN CULTURE, SPORT AND MUSIC?
I think that Yorkshire is quite fragmented when it does come to culture. I kind of see it being two separate realms of culture; You see more of a traditional culture but then I see a new wave of people, artists and visionaries ushering in a new age altogether. I think bands such as Bad Boy Chiller Crew is an example of a group that embodies the quote unquote stereotypical Yorkshire attitude but still manage is to bring a youthfulness to how they present themselves. I think what Chiedu Oraka, Deez Kid and Joe the Third are doing with lockdown is really cool, they're impacting the culture in a refreshing way, bringing more London centric textures and sounds into Yorkshire and placing their own unique spin on it.
Other Yorkshire creatives really pushing the envelope are:
SLOWDAZE
LIFE
JHGFX
BROWSE MAG
CHEAPLIFE
LAUNCHPAD
SUNKISSEDMISFITS
MARVTHEAUTOBOY
LETSHAVEASKEG
BOBBY BEASLEYS
These are few that come to mind but there are sooo many more.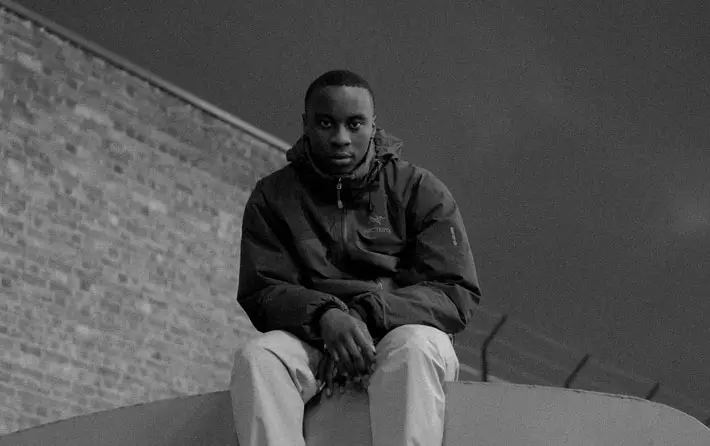 NAME YOUR SUPERGROUP – WHO'S PLAYING WHAT, WHO'S ON VOCALS AND WHO'S YOUR BEZ?
DRUMS: Yousef Dayes
GUITAR: John Mayer
BASS: Thundercat.
GO SEE THIS FILM: Moonlight.
GO READ THIS BOOK: I don't read, lol.
GREAT LOST BAND/ARTIST: Choker.
WOULDN'T BE CAUGHT DEAD SUPPORTING: KSI.
AND FINALLY… AS YOU LEAVE THE STAGE, WHAT ARE YOUR PARTING WORDS?
I really want to be a part of a cultural resurgence in the North, creating our unique language and identity through the methods of fashion music and art. In the future I want to be hosting art exhibitions fashion shows and festivals in the North because these are the birth place of my ideas, and ultimately providing the next generation with the idea that the lack of noise in the North doesn't necessarily mean that it's impossible to execute said ideas, it just means that they can think louder and nothing else.
For more info visit: facebook.com/downtownkayoto
PPL Momentum Accelerator funding supports exciting artists with a growing fanbase and who are working to establish a music industry team. The full PPL Momentum Music Fund is for artists with a team already in place and at a tipping point, ready to take the next step in their careers.  The next deadline for the PPL Momentum Music Fund support is 24th May 2021 at 6pm.  Applications can be made via the PRS Foundation website.