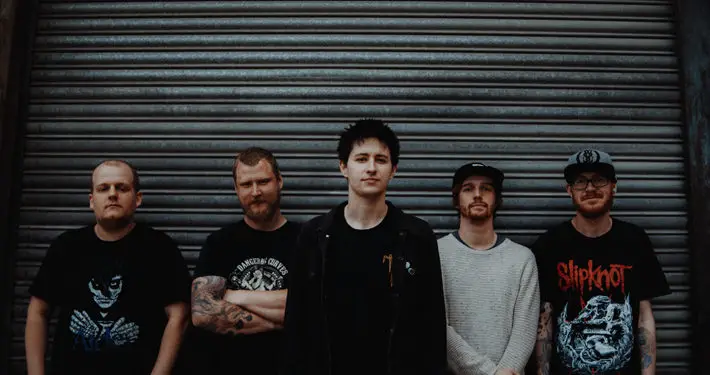 From Halifax, a venomous and chaotic nu-metal upgrade…
YOUR NAME: Jordan.
BAND NAME: Deadlast.
WHAT DO YOU DO/PLAY? Throat.
HOW LONG HAVE YOU BEEN TOGETHER AS A BAND/PLAYING MUSIC? Casually for around six years. It's only in the last two we decided to knuckle down and record what we have.
GIVE US 3 REASONS WHY WE SHOULD TRACK DOWN, LISTEN AND DISCOVER YOUR MUSIC?
It's cathartic, if you're in an angry mood, has elements of 'Nu Metal', if you're looking for a revival, and makes you bang your head.
WHERE DO YOU SOUND BEST – FESTIVAL, CLUB, BEDROOM – OR SOMEWHERE ELSE?
In the practice room, before something inevitably goes wrong at the gig, haha.
WHAT WAS YOUR FIRST…
RECORD? Black Sabbath, Heaven and Hell.
CD? Wheatus, Wheatus.
DOWNLOAD? Heaven's Basement, Filthy Empire (I think).
SO, WHEN IT ALL GOES RIGHT AND YOU'VE GOT A MANSION AND A SUPERMODEL GIRL/BOYFRIEND, WHAT WILL BE YOUR BIGGEST MUSICAL INDULGENCE?
Rock opera, starring Fred Durst.
SO, WHEN IT ALL GOES WRONG AND YOU'VE ACRIMONIOUSLY BROKEN UP CITING HUGE MUSICAL DIFFERENCES, WHAT DO YOU FALL BACK ON?
I'm pretty handy with a camera, something in the photography/film world.
CITE SOME INTER-BAND MUSICAL DIFFERENCES…
We're all on the same page most of the time when it comes to what we listen to, but when it comes to writing, most of us will be aiming for something aggressive and heavy, and Josh (our bassist) will be in his own world jamming out soft little riffs to listen to on a beach in paradise.
WHO ARE YORKSHIRE'S FINEST IN CULTURE, SPORT AND MUSIC?
I've always thought rock and metal fans are the nicest around, there's always that silent approval when you see someone wearing a t-shirt of a band you like. I've got friends who support Bradford, I'll just say them, haha. There's a nice little network of bands in Yorkshire at the minute who we seem to play with. It's an eclectic mix of genre, State Of Error, Defining Lines, When The City Sleeps, Bident, Accident/Happy.
NAME YOUR SUPERGROUP – WHO'S PLAYING WHAT, WHO'S ON VOCALS AND WHO'S YOUR BEZ?
Vocals – Chester Bennington.
Rhythm Guitar – Malcolm Young.
Lead Guitar – Dan Donegan.
Bass – Phil Lynott.
Drums – Brad Wilk.
GO SEE THIS FILM: Joker.
GO READ THIS BOOK: Batman – Long Halloween (comic books count right?).
GREAT LOST BAND/ARTIST: Heaven's Basement.
WOULDN'T BE CAUGHT DEAD SUPPORTING: Queens of the Stone Age, because Josh Homme kicked that photographer. No need was there.
LONDON, L.A OR LEEDS?: Leeds.
AND FINALLY… AS YOU LEAVE THE STAGE, WHAT ARE YOUR PARTING WORDS?
I regret to announce, this is the end. We are going now. We bid you all a very fond farewell. Goodbye. (Puts on the one ring)
Deadlast's debut single 'Feed' is out now
For more info visit facebook.com/deadlastuk