The Christmas Egg by Mary Kelly – Review
By Sarah Morgan
Just when you think you must have come across just about every British crime writer who ever lived, another pops up to astonish, amaze and enthral.
Mary Kelly may not be a big name with huge sales to match, but when it comes to intricately plotted tales, she's right up there with the great dame herself, Agatha Christie.
Born in 1927, she was far from prolific and although many critics believed she had what it took to enjoy a long and fruitful career, her light shone brightly for only a brief period of time. Her debut novel, A Cold Coming, appeared in 1956 and her last, That Girl in the Alley, in 1974 – only eight were produced in between (one, however, The Spoilt Kill, won a much-coveted Gold Dagger Award in 1961).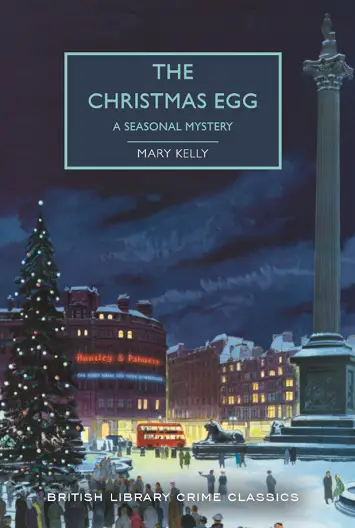 Kelly spent the last 43 years of her life in relative obscurity, eventually passing away in 2017. Thankfully, the British Library's Crime Classics series is attempting to introduce her to a whole new generation of readers via the rather timely publishing of The Christmas Egg.
"Gripping"
But unlike many festive tales, this is not warm, wholesome or cosy. Quite the opposite in fact. The action takes place in snow-swept London and Kent, and manages to weave in tales of Russian nobility forced to flee the 1917 Revolution.
The story begins with the discovery of the body of Princess Olga Karukhin, who has been living an impoverished lifestyle in a small London flat with her timid, alcoholic grandson, Ivan, who has since vanished. She'd led him a dog's life, but could he really have killed her?
Kelly's most prominent detective, Chief Inspector Brett Nightingale, is soon on the case. He unravels a bizarre mystery involving purloined treasures, a damsel possibly in distress, an eccentric jeweller and a gang of ruthless thieves. A few ingenious red herrings pop up to throw readers – and Nightingale – off the scent, while the denouement is gripping and as action-packed as anything featured in a James Bond novel (which would have been hugely popular in 1958, when The Christmas Egg was first published).
As ever with this series, Martin Edwards provides a fact-filled and entertaining profile of Kelly as an introduction, and after reading the tale, it's hard to imagine anybody not wanting to seek out more of this gifted writer's work – it's just a shame there isn't that much of it to find.
'The Christmas Egg: A Seasonal Mystery' by Mary Kelly is published by the British Library, £8.99 paperback