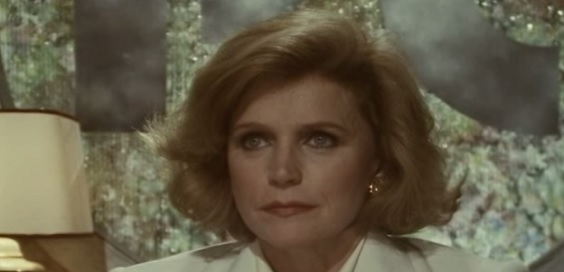 Director: Norman Stone
Cast: Lee Remick, Dirk Bogarde, Eileen Atkins
Certificate: 12
by Sarah Morgan
There's a school of thought that suggests that TV is the new Hollywood. These days, thanks to the overwhelming popularity of superhero movies and CGI-laden blockbusters there are fewer interesting roles for actors to get their teeth into. So they're ditching dreams of big-screen glory for the delights of home entertainment.
There was once a time when TV stars (Clint Eastwood, Steve McQueen and George Clooney to name but a few) left established series to launch their film careers. But now, the opposite appears to be true – you're as likely to see an Oscar-winning star (Anthony Hopkins in Westworld, for instance) on the small screen as you are on the big.
However, if The Vision is anything to go by, that's not a new idea. Dirk Bogarde and Lee Remick had enjoyed considerable film success before the BBC's script landed on their doorsteps. It was the quality of the work that prompted them to take up the Beeb's offer rather than a fat pay cheque.
"Shows the subtle range of Bogarde's acting"
The drama was originally broadcast as part of Screen Two's 1988 season, and must have seemed quite futuristic at the time thanks to its setting in the world of satellite TV, which was then still a relatively new concept.
Bogarde takes the lead role as 'Gentle' Jim Marriner, a has-been TV chat show host tempted to return to his old job by a lucrative offer from The People's Channel, a slightly sinister company headed by Lee Remick's tough-talking executive Grace Gardner.
Her job is to launch the broadcaster across Europe, allowing it to promote its tele-evangelism while plotting total airwaves dominance. Unfortunately, the supposedly happily married Jim has been getting very gentle with his former secretary, which puts the kibosh on his job – but rather than go quietly, he plans to take the whole organisation down with him…
"Sharp and clever"
Bogarde was in his mid-sixties during production, well past his matinee idol years. That means that rather than being distracted by his handsome looks, we can admire the subtle range of his acting. Those who are already familiar with the last 30 years of his career will agree, it was considerable indeed.
Bogarde holds the audience's attention easily, making us feel sympathy towards his character, despite his obvious flaws as a husband and father. Eileen Atkins proves to be a good foil as his long-suffering wife, while a very young Helena Bonham Carter pops up as their free-spirited daughter.
Remick is fine in her rather thankless role, but even she can't outshine Bogarde. The script is sharp and clever, as you would expect from William Nicholson, who also penned Shadowlands.
Although some aspects of the production look rather dated, it sometimes feels as if Nicholson must have had a crystal ball while writing – many points remain pertinent today.
8/10
'The Vision' is available on DVD through Network