Morecambe and Wise: The BBC Collection DVD – Review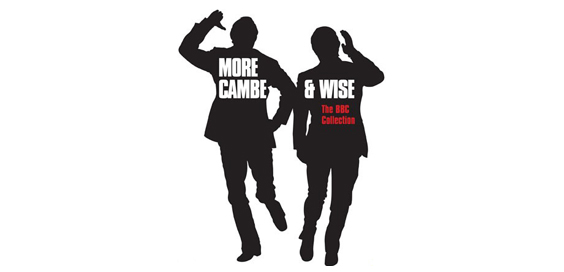 By Sarah Morgan
Christmas just isn't the same without Morecambe and Wise. Eric may have been dead for 35 years and Ernie for almost 20, but they are a part of our national consciousness – and long may that continue.
The pair first met as teenagers in 1940, became friends and formed their double act a year later, making their debut at the Liverpool Empire; they were only separated by Eric's premature death in 1984 at the age of 58 following his third serious heart attack.
Thankfully they live on in the BBC archives – and those of ITV, but it was at the Beeb that Eric 'n' Little Ern really enjoyed their golden period during the 1970s – and it's the BBC that has been raided for this DVD boxset.
"Comedic genius"
They had briefly worked for the corporation in 1954 on their first-ever TV series, Running Wild; the first episode was greeted by the now infamous review: "definition of the week: TV set – the box in which they buried Morecambe and Wise".
After returning to the stage and having a successful run on ITV, as well as releasing three films, they returned to the BBC where they were paired with writer Eddie Braben, a comedic genius who pretty much created the personas we still know and love today.
For instance, it was Braben who introduced the idea of Eric and Ernie sharing a bed, just as their comedy heroes Laurel and Hardy had done decades before.
Braben also penned the 'plays what Ernie wrote', which offered some of the biggest stars of the day their chance to let their hair down – Vanessa Redgrave and, most famously, Glenda Jackson, certainly seemed to be having a ball.
"Plenty here to leave you smiling"
Both are featured in this wonderful boxset, which contains nine series and five Christmas specials, including the record-breaking 1977 festive episode, which was watched by more than 28 million viewers.
All the classic sketches are here, such as the duo's iconic takes on 'Singin' in the Rain' and 'There Is Nothing Like a Dame', featuring the era's prominent male newsreaders, and, of course, Andre Previn's unforgettable appearance as Eric plays Grieg's piano concerto with "all the right notes, but not necessarily in the right order".
There are lots of other moments you may not have seen before to savour too, and although some haven't stood the test of time quite so well, there are plenty here to leave you smiling all the way through Christmas.
It just goes to show that, after all these years, Eric and Ernie are still bringing us sunshine.
'Morecambe and Wise: The BBC Collection' from the BBC is out now from Amazon and major supermarkets