The Real Thing – Live Review – Kings Hall, Ilkley
By Steve Crabtree, September 2023
Hot on the heels of their triumphant support slot for The Jacksons at The Piece Hall in Halifax, and having supplied the first dance for my new wife and I this summer, disco icons The Real Thing took centre stage as headliners at Kings Hall, Ilkley.
And, with their always-there energy that could effortlessly rival any act in their heyday, the group delivered a performance that whisked the audience back to an era where dancing, groove and disco were a part and parcel of life. They'd leave no soul unshaken and no foot untapped, as the opening chords of 'Love's Such A Wonderful Thing' gave us the perfect intro to a brilliant night.
And this one was going to be packed with hits coming at us thick and fast. Songs like 'Can't Get By Without You' and 'Rainin' Through My Sunshine' were high up on the setlist and made us yearn for those sunny days of disco past. And 'Whenever You Want My Love' had everyone in the hall up on their feet, singing every word.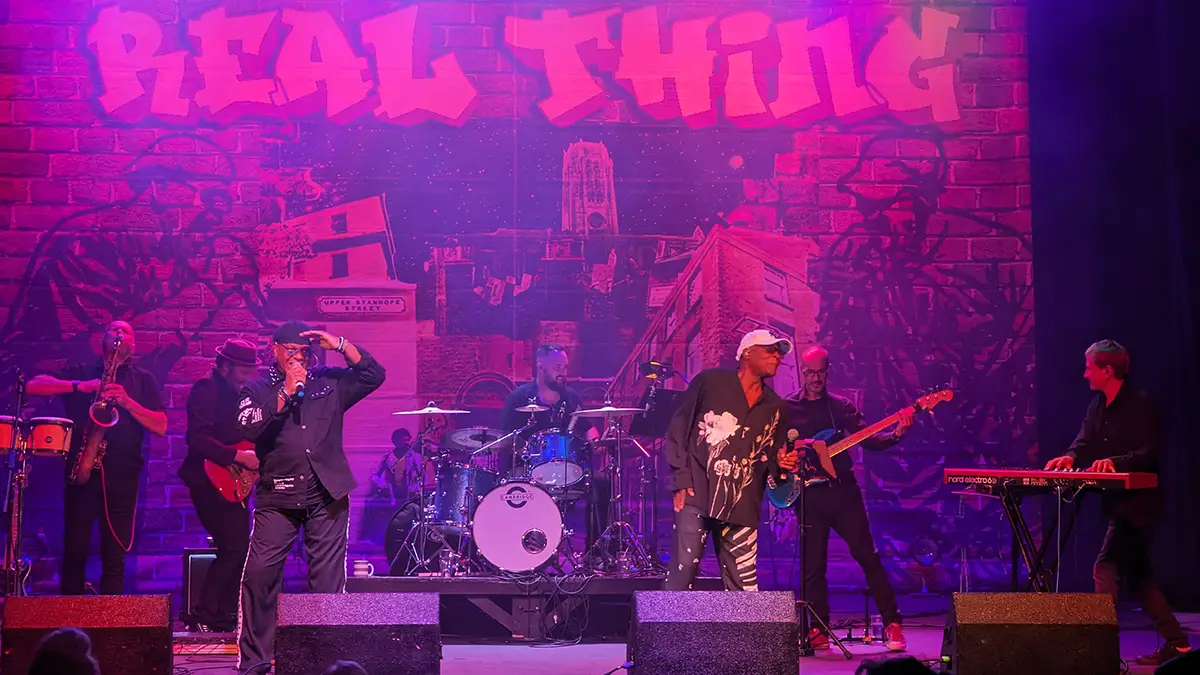 "Magic"
The Real Thing haven't lost any of their magic over the years. Chris Amoo's smooth vocals, complemented by Dave Smith's charismatic presence, were as present as ever. The duo's chemistry was fantastic to see, and their connection on stage was there in every line of every song. But there were more reasons the music sound so good. They were backed up by an ensemble of great musicians who breathed life into every track. They were fully part of the show, and they made sure the music was just as good as it had always been.
The spirit between The Real Thing and their audience was plain to see too. Those down the front weren't just spectators, they were active participants tonight. And the odd chat between Dave, Chris and some of the front row raised a few smiles on and off the stage. It'd also be fair to say it was a more senior audience, made up mainly of people who were around when The Real Thing were in their pomp. So, it was great to see so many shed their inhibitions, get up on their feet and move. Kings Hall had definitely turned into a disco.
A break from the funk came in the form of a modern rendition of 'Children of the Ghetto'. The solemn, but profound tune filled the Kings Hall, and it was impossible not to watch and take in the emotion and depth of the words to this one. A reminder of why this band is celebrated as one of the greatest soul and disco acts of all time. You forget they're from Liverpool and not America!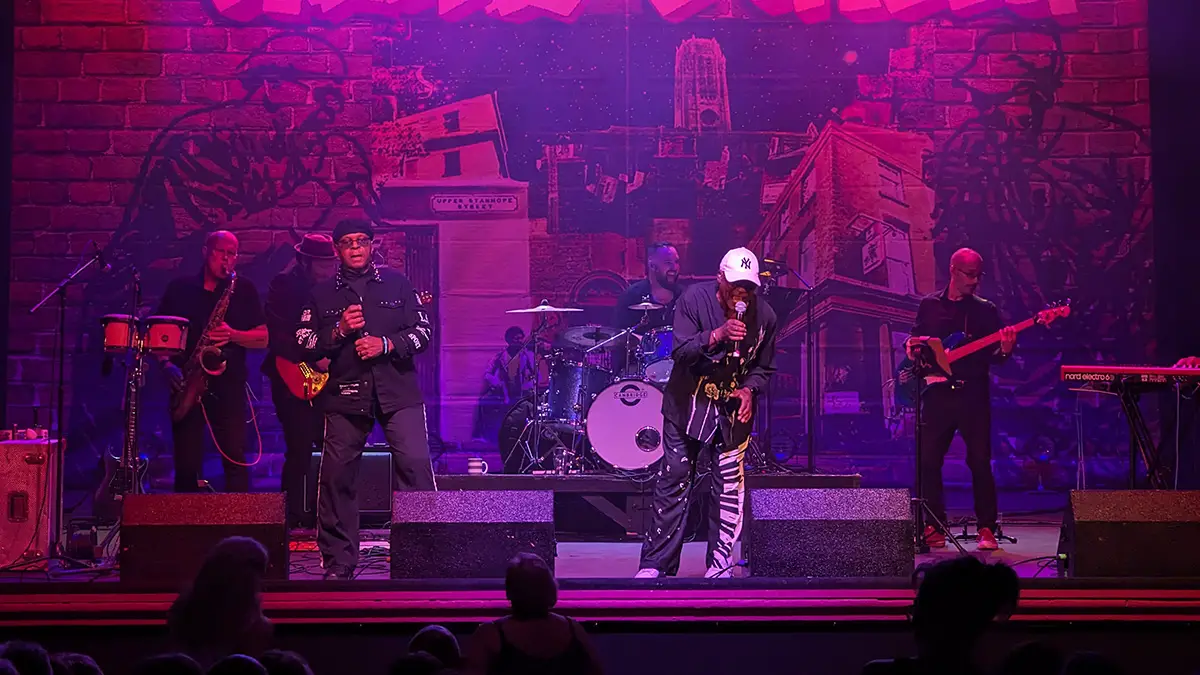 "A living, breathing force"
In an era where live music is more diverse than ever, The Real Thing proved that the classics endure. These songs are around 50 years old, but you wouldn't believe it. And, with a show that was nothing short of wonderful, they reminded us that the soul and disco sounds of the past are not just a nostalgic memory but a living, breathing force that continues to get into our heads, hearts and feet.
As the night drew to a close, they finished with that huge hit that will never-not get airtime.  'You To Me Are Everything' had been teased at us by Chris all evening. And the wife and I enjoyed that just as much as we did on our wedding day, five weeks earlier. So did everyone.
The Real Thing's night at Kings Hall, Ilkley was superb. If you ever get the chance to witness this duo, and their phenomenal band in action, don't miss it. The groove that they get into is as real as it gets. And, if you enjoy soul and disco music, you'll absolutely love their show.
Main Image: Martin Bone