Goldie Lookin Chain – Live Review – Leeds Warehouse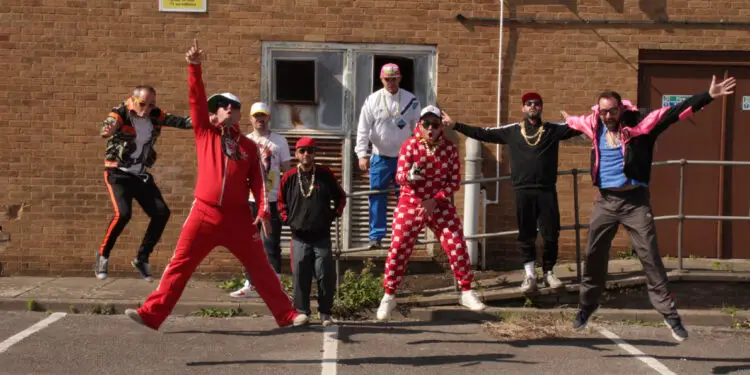 By Victoria Holdsworth, November 2021
Some gigs should come with a serious health warning. As all members of the motley crew of Welsh rappers who make up Goldie Lookin Chain take to the stage with their trademark trackies tucked into their Slazenger socks, the Leeds crowd erupts into an energy-filled frenzy in anticipation of what is to come.
GLC have been selling out venues for twenty years and the crowd tonight spans across a fair few generations, which is always great to see.
This is a delayed tour of their greatest hits and a celebration of over two decades in the music business. As they launch into the inappropriate classic, 'Ice Ice Dildo', sending everyone into a jump overload, the lads help shake off the lockdown blues.
The stage is pretty crammed, which just makes it even more hilarious when they all start dancing. Most of the banter between themselves and the crowd would certainly make your mum blush, and is not really fit for print, so you will have to use your imaginations.
One of my favourites was on the set list tonight, as 'Half Man Half Machine' spreads some grins across everyone's face. Played live it has a certain oomph that isn't usually there, which feeds into the energy even more.
Tonight is back to back comedic bangers with hits such as '21 Ounces', 'Bad Boy Limp' and 'Chain Gang' to name a few. The songs just keep coming at you so much that everything merges into one big hip-hop kaleidoscope of happiness.
"Explosion of silliness"
There are no slackers when it comes to this band, with all the lads taking turns to share vocals, and adding their own special sauces to the mix.
One stand out moment is provided by the main instigator, Eggsy (John Rutledge) as he knocks out a stellar performance of 'Walk This Way', nailing every single note and beat, which is pretty impressive, and the crowd can't get enough of it.
There are some lesser known tracks thrown into the mix, however, when it gets to 'Your Misses Is A Nutter', there is an explosion of silliness which rips through the entire crowd. Everyone is seriously letting loose. 'Soapbar' is another favourite of mine from tonight and there are even tributes paid to their very ordinary off license in South Wales, Baneswell Express, which is pure comedy gold.
It goes without saying that 'Guns Don't Kill People, Rappers Do' is the hit of the night, and the band always manage to make it sound fresh, with the crowd screaming every "Whoop, Whoop, Whoop!" right back at them.
Goldie Lookin Chain are certainly an acquired taste, but have produced 24 albums of comedy gold. Clearly there's much more to these musical jesters than might first appear. At their best, the unique mix of killer beats and carefully crafted comedic satire, is special and unique.