Feeder – Live Review – Leeds O2 Academy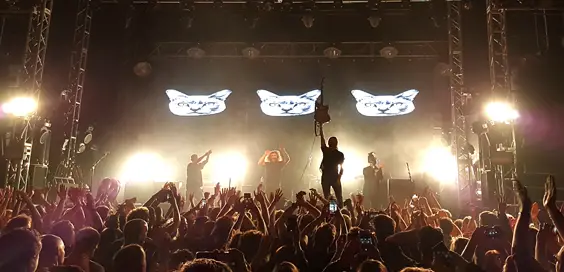 By Michael Davidson, March 2018
Dear reader, let me take you back to the distant and forgotten time of 2005: The Era of Dirty Converse. Daniel Craig had been announced as James Bond, Doctor Who returned to our screens and Star Wars completed its prequel trilogy to commercial (if not critical) success.
November of this year was also the first time I saw Feeder live. Since then, Daniel Craig endures as Bond, Doctor Who remains a flagship of the BBC's line up, Star Wars continues to smash box office records and I still have the Cons! Importantly though, Feeder are still making music, which when compared to the global brands listed above, I believe to be a fitting tribute to their lasting appeal, not least because they had already accumulated over a decade of discography prior to that point.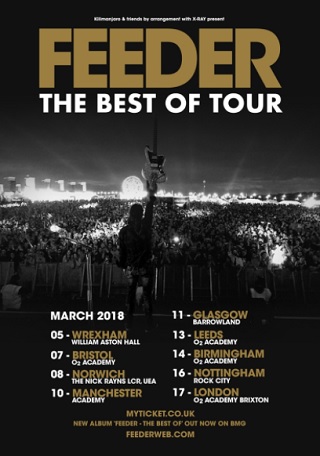 Something that struck me at their recent O2 Academy Leeds appearance was just how inclusive that appeal seems to be. Whether it was their first Feeder gig or their fifteenth, fans both young and old had huddled into the venue to witness the band's 'Best Of' tour with equal parts excitement and anticipation. Thinking back to 2005, I tried to remember if such a varied demographic had always been the case and on reflection; the music video for 'Just A Day' (a montage of homage by fans) is a perfect time capsule of confirmation. I think that this is in part due to their ever-evolving, genre transcending sound.
"History in the chords"
The whole spectrum of that sound could be heard on the night as Grant Nicholas seemingly improvised his way through a set list spanning nearly a quarter of a century. It was great to see him and Taka Hirose still beam with a genuine passion for the music and respect for the crowd. 'High' was a personal highlight, delivered with a sentimental epilogue that really hit home just how much history is in those chords. The legacy of late drummer Jon Lee lived on with tunes from Swim, Polythene, Yesterday Went Too Soon and Echo Park – 'Buck Rogers' in particular brought the whole room together in a climatic frenzy.
Each song evoked a different atmosphere, which the venue's sound system managed to balance surprisingly well. Some songs saw me jumping about ('Insomnia'), others had me standing in quiet appreciation (an acoustic take on 'Silent Cry'). I hadn't heard one or two in a quite a while and enjoyed the revelation that their lyrics, long dormant in the void of my mind, came back to me like I'd heard them only yesterday. While not their latest release, Renegades was the last Feeder album I'd listened to so there was new content to discover as well as the familiar. Admittedly, these weren't quite as well received as some of the band's earlier work, but the unfamiliar will always be disadvantaged against the pull of nostalgia.
"Rich and varied"
It is this mind set that usually leads me to apprehension when listening to a support act, but it has to be said that in the instance of Leeds born Team Picture, my expectations could count themselves very much subverted. They have a fuzzy, rocky, synthy vibe cut with sharp vocals that make for a good combination. I recommend checking them out when they tour Leeds, Wakefield, Manchester and Hull in June.
As a whole, the evening's performance really worked. Not only did it entertain but also served as a welcome reminder of just how rich and varied Feeder's portfolio truly is. A mid week curfew meant that after a two hour set, the venue was practically having to usher them off stage. It was clear that they were happy to be there, happy to engage and happy to put on a show. I was happy to listen.