Cliff Richard – Live Review – Scarborough Open Air Theatre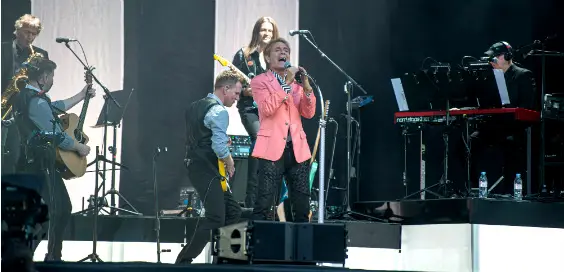 By @Steve Crabtree, June 2019
If you've been here before you might know how much I love visiting Scarborough Open Air Theatre. Last summer I made the 170 mile round trip eight times and was spoilt with a plethora of music legends in what has easily become my favourite gig venue.
So, returning there this summer was something I couldn't wait for. And on a warm Wednesday evening Scarborough had attracted musical royalty. The evergreen Sir Cliff Richard was going to entertain a pretty much sell-out crowd, and little did I know just how fantastic he was going to be.
With a career spanning over 60 years he brings with him a faithful fanbase of a more mature age-group. But there were people of all ages littered around the venue, and I was intrigued to know what the obsession with a performer of his age was all about. And with barely any fanfare, Sir Cliff sprinted on to stage to the thousands of adoring fans who were clearly excited to see their hero.
He started the set with 'Heartbreak Hotel' and 'Wake Up Little Susie', before giving us one of his own. 'Move It' by Cliff Richard and The Shadows was classed as the first true British rock 'n' roll song by John Lennon. Praise indeed. And this is where tonight's magic started.
"A trip through the decades"
Cliff Richard took us on a trip through the decades, and split his show in to the 50s, 60s, 70s and so on. And I thought that was a brilliant way to set his concert out.
Here we were, outside, right by the beach. 'Summer Holiday' could only have been more appropriate if we'd had the weather. But it was a bit chilly tonight and coats, blankets and scarves were out wherever you looked. But that didn't cloud anyone's enjoyment.  Especially not the main man himself.
Cliff Richard was certainly warm. For a man of 78 years old, he's a sprightly guy. He can still move, he can run around the stage, and his energy and enthusiasm was rubbing off on every single person in Scarborough. Oh, and let's not forget the immaculate voice that he still has.
'The Young Ones' was dedicated to anyone under 79 years old, and 'Devil Woman' was a particular highlight of the show. 'Living Doll' too, complete with "GET DOWN!" backing vocals supplied by the crowd. Sadness kicked in when I realised 'Mistletoe and Wine' didn't make the set-list, but that was only temporary. As his jacket man walked on and slipped a white jacket on Cliff, I had a feeling about what might be coming next.
And with that, my night was made. Declaring his fondness of speakers of all sizes, he belted out 'Wired For Sound'. In doing so, he delivered what I thought was song of the night. Those sentiments might have been echoed by everyone else who raced out of their seats and made their way to the front for a dance.
"I love you Cliff!"
Quite a crowd had gathered in front of the stage for the final quarter of the gig. "I love you Cliff!" shouted one of them. "I love you too!" shouted another. "Anyone else?" asked Cliff.  Cliff Richard is funny, genuinely appreciative of his fans, and tells some interesting tales between songs. He doesn't take himself seriously, but he makes sure he entertains his audience and puts on a very professional show.  It spells out just why he's still around after so long. He's still good, takes great care of himself and makes sure his fans who've paid a lot of money over the years are well and truly bowled over by his show.
And bowled over pretty much sums up how I was feeling by the time we'd got to the end of the performance.  He didn't leave the stage once during his 20+ song set. And impressively, he thanked every member of his band, his sound team and lighting guys by their full name. Yet another great, appreciative touch from a great man who has probably never changed.
He ended the show with a resounding rendition of his 1979 hit 'We Don't Talk Anymore'.  A brilliant tune, and a brilliant way to bring the curtain down with every mouth in the OAT singing every word. It left us walking away in to the night on a bit of a high.
I knew I would be coming to see a good concert, but I had no idea I'd be walking away with such a new found admiration for Cliff Richard. It was a gig I'd enjoyed immensely, and I hope he's going to keep performing for a lot longer as I will definitely be going to see him again.