Blue Öyster Cult – Live Review – Leeds O2 Academy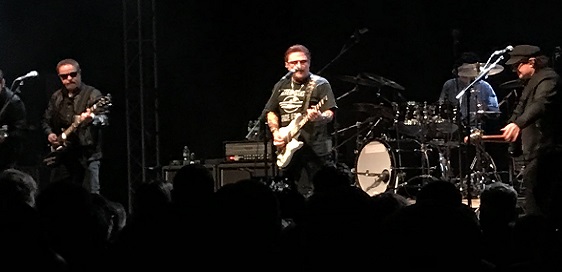 By David Schuster, February 2019
Blue Öyster Cult are a guitar band. Yes, they're a five-piece with drums, bass and keyboards, but for them it's the guitar that's king. Frontman Eric Bloom sports a 1968 black Gibson SG with custom inlay, nicely matching his black jeans, leather jacket and wraparound shades. Think 'rock star', and that's the image that comes to mind. Buck Dharma plays a one-of-a-kind Steinberger in white, customised with holes like a Swiss cheese, affectionately known as the 'Cheeseberger'. Both of these are collector's items and serious investments. It's no surprise then that tonight's performance contains a lot of top-notch axe work. What's more surprising is that they've been playing live now for almost 50 years – and are still sounding this good.
"Are you ready to rock?" shouts Bloom, and the band fire into an opening trio of 'Dr Music', 'Before the Kiss, a Redcap' and 'Golden Age of Leather'. It seems that the capacity crowd in the Leeds O2 Academy are indeed ready to do just that, and there's an enthusiastic response to the opening lyrics of the latter: "Raise your can of beer on high." A sea of plastic glasses is waived, with predictable results. Fortunately, no one seems to mind getting a bit damp, as it's been the warmest February day on record and it's positively steamy in the concert hall.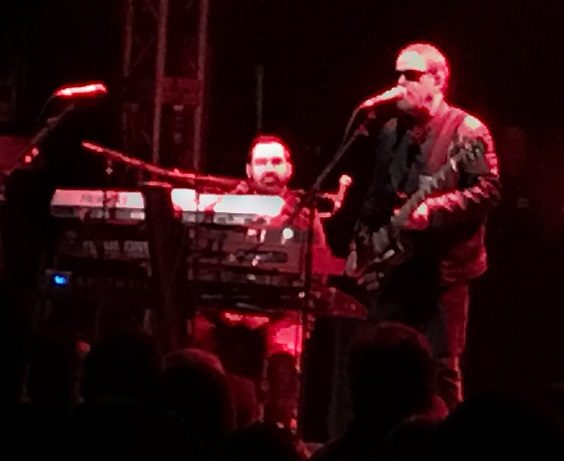 "Sparkling notes"
It hasn't gone unnoticed by the American based musicians either. "This isn't like your British weather," Eric observes. "It was almost like a New York winter here last year." He mentioned it when I interviewed him earlier in this tour, so he clearly hasn't forgotten trying to get around the UK by coach whilst the 'Beast from the East' ravaged the country. There's also a great crowd reaction to the sparkling notes of the riff which begins 'Burnin' For You'. This features a beautiful solo from Dharma, with bell-like notes falling in waves from the amp stack.
For the next section of the show, Bloom swaps places behind the keyboards with Richie Castellano, who can play a mean guitar as well. He's got his own classic, an Ernie ball Axis, resplendent in slime green, which he brandishes proudly in an axe hero pose to the fans. From behind the keys, Eric offers the audience a vote for the next song; 1983's 'Shooting Shark' or 'Harvest Moon' from 1998. There's a slightly greater applause for the former and, with a certain amount of courage and a smile, the vocalist says "Okay, we'll all play the one that got the most acclaim from you."
"Stirring encore"
Fortunately, all five band members do start to play the same track! The highlight of the main set is 'ETI (Extra Terrestrial Intelligence) with its harmonised vocals, changes of pace, volume and fabulous riff, it's an enduring gem, and there's more classics to come; 'Godzilla' and they close with their best-known hit, '(Don't Fear) The Reaper'. In between these is another masterclass in lead guitar, with Buck playing solo over layers of sampled and delayed notes.
A stirring encore of three numbers follows; 'Dancin' in the Ruins', which pleases the bloke next to me and his mates, who have been shouting for it. Then there's 'Hot Rails to Hell', featuring Castellano on vocals, and they round off the evening with the rousing 'Cities on Flame With Rock and Roll', from their first album, way back in 1972.
With two members in their seventies, you'd have to call Blue Öyster Cult 'mature' or 'veterans' but, seeing them in action, you wouldn't call them old. They still rock, and long may they continue to do so.