A Q&A with Slow Down Molasses
Anxious post-punk melodies from Saskatoon, Canada… here's Tyson from Slow Down Molasses
What's the title of your latest release, and what does it mean to you?
Minor Deaths is the title of our latest album. It just came out in October, 2021. The album represents the most focused, aggressive version of the band and comes out of a lot touring of our last album, followed by FINALLY to have some time off to be more deliberate with our writing. Lyrically it ruminates various elements of existential dread and identity, with the title being a slightly self-effacing reference to some of the changes a person may face that may seem overly significant in the moment, but tend to be relatively insignificant.
What was the hardest part about putting this release together, and why?
Actually releasing it… it was meant to come out in summer 2020. We had it very nearly ready and had European shows booked, then the pandemic hit, then we second-guessed a bunch of things and well, dealt with the whole world falling apart, resulting in it being a difficult battle to actually get all the details sorted.
Who produced the release – what did they bring to it?
It was self-produced, but we had the amazing Alaska B from Yamanta // Sonic Titan mix it and she brought a lot to it. She took our already fairly focused written album, and really focused and turned it into something much more direct and heavy than we've ever done before. We tend to have a love / hate relationship with producing ourselves. In many ways it's amazing to have the freedom to do whatever we want… but then that means we have the freedom to do whatever we want, which can result in an almost paralysis of indecision.
What do you want the listener to take away from listening to your music?
A general feeling of unease? A metaphorical sucker punch to the gut? Or something like that, mixed with some hope and general attempts at trying to comprehend the never-ending confusion of modern life.
How does a track normally come together? Can you tell us something about the process?
On previous albums, I tended to bring most of a song to the band, then we'd arrange it together. This album we worked very collaboratively taking smaller pieces of ideas and working out songs and arrangements together. Though on a few occasions, our other guitar player Aaron brought mostly fleshed-out songs, then either Chrix or I would add vocal ideas to them and the band would arrange them together. In a lot of ways, this was the best writing/producing experience I've had as everyone was very focused and keen to contribute, resulting in a lot more interesting elements coming together, instead of me mostly shaping the direction myself.
What band/artists have influenced you the most since you started this project, and why?
Mogwai, Metz, Eric's Trip, Husker Dü. It's hard to stop at just a few, but those ones give a good idea of where our inspiration is at. And I think all of those bands tend to mix very focused, almost pretty, melodic elements, with fairly abrasive and/or chaotic elements. There definitely is a punk, DIY spirit amongst our approach that I think each of those bands has.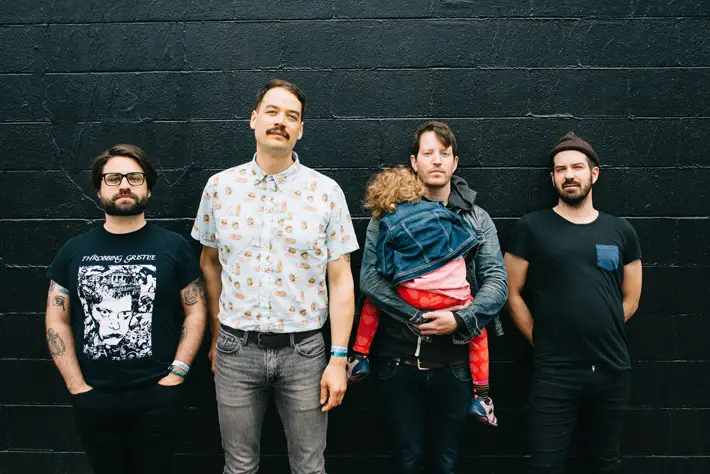 What countries would you like to tour? Are there any standout venues you'd like to play in?
As a Canadian band, we've been amazingly lucky to tour internationally a fair bit, having done numerous UK and European tours. Last fall we were in Estonia for a festival and the country, its music scene and its people amazed us all and inspired us. I'd love to get back there and to tour more around the Baltics and Scandinavia. It seems there are some remarkable music scenes there that I'd love to get to know better! As for venue, we've had the incredible fortune of playing End of the Road festival twice and I can't think of a much more perfect place to play or watch music. Otherwise, I loved playing a Kampnagel in Hamburg and Botanique in Brussels. But also, our home town venue, Amigos Cantina, is my all time favourite place to play or see shows. It's the heart of a very special community and we would not exist with that venue and the people that inhabit it.
If you could pick one track for our readers to listen to in order to get a taste of your music, what would you pick, and why?
The first song on our new album, 'I Need the Darkness' is a great intro to what we do these days. It captures all the tension and release that is crucial to what we do musically.
What ambitions do you have for the band/your career?
Keep going? Tour more? See more places, play with more great bands, keep making music in some form or another. The music industry is a mess, so any day we are still doing things seems special and important to me…
Finally, as you leave the stage, what are your parting words?
Thank you, thank you, thank you!
For more info visit: slowdownmolasses.com