London singer-songwriter keeping rebel rock alive…
What's the title of your latest release, and what does it mean to you?
I released No Rest For the Living last year and what I think it means to me is the songs on it, that are all based on both negative and positive thoughts, sum up how I personally felt during lockdown. The tracks on it are in different styles I wanted to try out. Two or three of them are based on things you would see in a 'B' horror movie, but I like to think most of them are based on personal experience.
What was the hardest part about putting this release together, and why?
I think it was editing when combining the tracks of an actual drum kit for the heavy track 'Bed of Rats'. One of my music friends who's a great jazz drummer, recorded her drums for it and originally the tracks seemed to be a bit scattered. Normally I record and edit with drum track files from offline, but this was a challenge. It was worth working with it though.
What do enjoy most about producing your own material?
It's fun to record on your own in DIY style, like you can either record the same sounding material with hints of originality, or you can try out different sounds and styles and experiment with them. What's most exciting about it is when you don't know yet what result you might end up with.
What do you want the listener to take away from listening to your music?
I want them to realise that no matter how bad and ugly life is when you're in a heavy situation, there's always a way around it by relying and staying close to the positives we have in our lives. Listening to music is one of them, and whatever the listener gets out of any tunes, good or bad, I just hope it helps them in any way it can.
How does a track normally come together? Can you tell us something about the process?
It normally depends on what mood I'm in and what style I want, but mostly I rely on my music library as I listen to all these bands and artists, old and new, that help give me ideas for writing and how to improve whilst writing a new song.
What band/artists have influenced you the most since you started this project, and why?
I have so many to choose from, but one band that has influenced me the most for both my solo project and previous bands I've been in, is The Clash. Most of their songs are just timeless relevant classics, they did it all themselves and recorded in different music styles with their breakthrough album London Calling. Every time I hear Joe Strummer's vocals and rhythm guitar, I get that urge and hype to rebel, and since when I first heard it, I've never returned.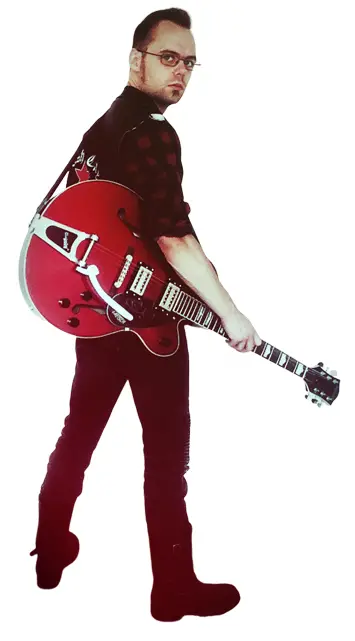 What countries would you like to tour? Are there any standout venues you'd like to play in?
A European tour is my main priority. One of my old bands got as far as Belgium and ever since we broke up I've wanted to get back on the road and play in more countries in the continent. But there are a couple of good venues in London I would like to perform at first, like the legendary Hope & Anchor and the Camden Underworld.
If you could pick one track for our readers to listen to in order to get a taste of your music, what would you pick, and why?
I would recommend listening to 'I Will Never Stop Playin''. It's a tune I wrote months ago in response to Rishi Sunak claiming the Art and Music Industry is of "no value" and that we should refrain in search of new jobs during lockdown. It's rebellious, political and my own take on rockabilly music.
What ambitions do you have for the band/your career?
I would like to keep my project going as a solo artist, but most of the time I want to reform with a new band. A rockabilly trio is what I have in mind, like The Stray Cats, because of the energy and connection they had whenever they either performed 50s rock 'n' roll covers or wrote originals together. Just gotta keep writing, jamming and hope for the best.
Finally, as you leave the stage, what are your parting words?
'From the bottom of my heart, thank you for your support! I'm Jon Crabb, I love you all and look forward to seeing you all again next time. Have a good night!'
For more info visit: facebook.com/CrabCityRocker